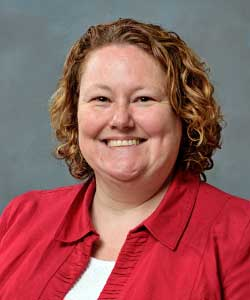 Mahoney, Megan M
Associate Professor
Director of Graduate Studies, Comparative Biosciences
Chair Educational Policy Committee CVM
Executive Committee Neuroscience Program
College of Veterinary Medicine
2001 South Lincoln Avenue
3639 Vet Med Basic Sciences Bldg.
M/C 002
Urbana
,
IL
61802
Education
PhD, Michigan State University
Post-Doc, University of Michigan
BA, Bates College, Maine
Associate Professor, 2016-current
University of Illinois Comparative Biosciences, Program in Neuroscience


Assistant Professor, 2008-2016
University of Illinois Comparative Biosciences, Program in Neuroscience


Assistant Research Scientist, 2006-2008
University of Michigan, Department of Psychology


Postdoctoral Research Fellow, 2005-2006
University of Michigan, Toxicology Program, Department of Pediatrics
Advisor: Dr. Vasantha Padmanabhan


Postdoctoral Research Fellow, 2003-2005
University of Michigan, Reproductive Sciences Program, Department of Psychology
Advisor: Dr. Theresa Lee
Research Interests
My work focuses on the influence of estrogen on the expression of circadian rhythms. In rodents gonadal steroids modify the timing, strength and period of circadian rhythms. Ovarian hormones appear to have a similar effect in women as diurnal and circadian rhythms including sleep-wake cycles and endocrine rhythms (cortisol, melatonin) change between the follicular and luteal phases of the reproductive cycle. Sex differences in circadian rhythms exist and women are more likely than men to experience insomnia, and women undergoing the menopausal transition have significant disturbances in their sleep onset, quality, and efficiency. Hormone replacement therapy alleviates some of these problems. Despite the gender disparities in sleep-wake patterns, and the known sex differences in circadian rhythms in both rodents and humans, relatively little work has elucidated the specific role of ovarian hormones. We use transgenic mouse models which have impaired estrogen signaling to examine the interplay of estrogen on circadian rhythms.


Additionally I am interested in understanding how the circadian timekeeping system regulates reproductive events such as hormone secretion and mating behavior. Reproductive neuroendocrine events occur in a cyclical manner, however, relatively little is known about how the underlying endogenous circadian system regulates reproductive function, or how disruptions in biological rhythms are correlated with changes in fertility, hormone secretion, and pregnancy outcome. Female shift workers and transatlantic travelers are at risk for severe reproductive complications such as reduced conception rates, increased miscarriage rates, smaller birth weight babies, and dysmenorrhea. This is a significant issue for women's health as over 3 million women have flexible or shift work schedules. The number of female reproductive morbidities associated with such altered work schedules is alarming yet the etiology of these health problems is unclear. Our lab examines how disruptions of the circadian clock (jet lag, shift work) decreases reproductive function and alters clock gene expression in female rats.


My interests in the effects of estrogen in the developing organism are extended to understanding how exogenous hormones or hormone mimics can alter the expression of proteins or RNA in sexually dimorphic areas of the brain. I am investigating how endocrine disrupting chemicals that may mimic or block hormones can also influence the functions of the timekeeping system.


The influence of environmental phthalates on thyroid status in cats


The relationship between sleep, hormones, and environmental phthalates in menopausal women
Links
Dr. Mahoney attended Smith College (Northampton Mass) and graduated from Bates College (Lewiston ME) with a BA in Biology. She worked as a research assistant at Harvard Medical School for two years before returning to graduate School to get a dual Ph.D. in Zoology and Ecology, Evolutionary Biology, and Behavior at Michigan State University (2003, East Lansing, MI). Dr, Mahoney moved to the University of Michigan for her post-doc where she participated in the Reproductive Sciences Program and Toxicology Training Program. In 2004 Dr. Mahoney was appointed an Assistant Research Scientist in the Department of Psychology. Dr. Mahoney became an Assistant Professor in the Department of Comparative Biosciences (formerly Veterinary Biosciences) at the College of Veterinary Medicine in May of 2006.
I believe that learning is enhanced when students are interested in the subject they are studying; and once they are engaged in the material then they can hone their critical thinking skills. I want the students to feel that they are a part of the classroom experience, and I think they will learn better if they are involved in talking and analyzing the material rather than passively listening to a lecture. To that end I work hard to infuse energy into the classroom and to convey my enthusiasm for the topics I teach. My ultimate goals are that first students will know the information and not just recognize it and second they will be able to utilize their knowledge in the analysis of novel information.
Structure Function I (Neurobiology portion)
Structure Function II (Neurobiology portion)
Structure Function III (Neurobiology portion)
Neuro and CB courses guest lectures
CB/PSYCH/ENVST 514 Neurotoxicology (Spring of odd years)
Dr. Mahoney's doctorate and post doctoral work focused on how biological rhythms regulate the timing of female reproductive events in two different diurnal rodents compared to nocturnal lab rats. Her dissertation examined the timing of mating behavior, luteinizing hormone surges and gonadotropin releasing hormone neuron activation in the the diurnal murid rodent Arvicanthis niloticus compared to the nocturnal lab rat. During her post doc work at the University of Michigan Dr. Mahoney extended this research to a second diurnal rodent, Octodon degus. Her interests in estrogen and female reproduction were expanded during her toxicology post-doctoral experience. Using sheep as a model, Dr. Mahoney examined the changes in steroid receptor expression in the hypothalamus of animals prenatally exposed to environmental estrogens (BPA and Methoxychlor).
At the University of Illinois Dr. Mahoney has taken her interetest in circadian rhythms, female reproductive cycles, and estrogen in a new direction by 1) examining the effect of disruptions in rhythms (jet lag and shift work) on estrous cyclicity and clock gene expression and 2) characterizing the expression of circadian rhythms in mice with impaired estrogen production or signaling.
Determining how hormone mimics or antagonists (endocrine disrupting chemicals) can affect the expression of biological rhythms.
Investigating circadian rhythms in mice with impaired estrogen signaling
Determining how and where estrogen acts to modulate the expression of biological rhythms
Jet lag effects on reproductive function in rats
Developing a novel model of shift work in rats to determine how conflicts in "work" and light:dark schedules affects health
The effect of prenatal bisphenol-A on the development of the brain (mice and sheep)
The timing of mating and hormone surges in the diurnal murid rodent Arvicanthis niloticus
Comparative Biosciences
Neuroscience Program
Psychology Department
Chair, Educational Policy Committee, CVM
Chair Admissions Committee, Neuroscience Program
Seminar Committee, Neuroscience Program
Graduate College Executive Committee, UIUC
Director of Graduate Studies, Comparative Biosciences, CVM
Society for Neuroscience
Society for Behavioral Neuroendocrinology
Society for Research on Biological Rhythms
Society for Study of Reproduction
2017 Kuhlenschmidt Innovative Teaching Award, College of Veterinary Medicine
2016 Dr. Erwin Small Teaching Excellence Award in Veterinary Medicine
2012-current Faculty Mentor for Teaching, nominated to mentor faculty in their teaching careers, College of Veterinary Medicine
2012 Arnold O. Beckman Research Award, campus award given to "projects of special distinction"
2012 Outstanding Instructor Award, Chicago Veterinary Medical Association
2010-current Teachers Ranked as Excellent (at least 4.4/5 pt scale), University of Illinois
2009 Gordon Research Conference Travel Award
2006 Young Investigator Award, Society for Behavioral Neuroendocrinology
2008 Arnold O. Beckman Research Award, campus award given to "projects of special distinction"
1R01ES032163-01 J. Flaws (PI), I. Bagchi (PI), M. Mahoney (PI), 8/17/2020-5/31/2024
NIH
Gender and sex differences in phthalate-induced toxicity in the reproductive system
This project examines the mechanisms by which a phthalate mixture impacts male and female reproductive physiology and behaviors.


Center for Social and Behavioral Science Small Grant Program, University of Illinois at Urbana Champaign
M. Mahoney (lead PI), C. Davies (Co-PI), J. Flaws (Co-I) and R. Smith (Co-I), 7/31/2020-7/31/2021


Companion Animal Research Grant Program, 1/2020-12/2020
The Association of Urinary Phthalate Metabolites with Feline Hyperthyroidism
$9,312
Role: PI


Carle Illinois Collaborative Research Seed Funding Program, 8/2017-8/2021
Impact of hormonal changes and environmental chemicals on sleep disruptions in a population of menopausal women
$50,000
Role:PI


University of Illinois Campus Research Board, 1/2013-12/2013
Arnold O. Beckman Award: This project determined the developmental period when estradiol modifies circadian rhythms
$23,244
Role:PI