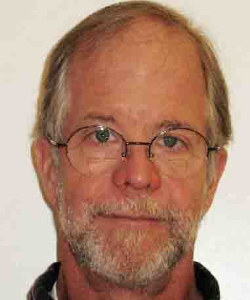 Wallig, Matthew Alan
Professor Emeritus, Comparative Pathology

College of Veterinary Medicine
2001 South Lincoln Avenue
2840 Vet Med Basic Sciences Bldg.
M/C 002
Urbana
,
IL
61802
Education
PhD, Veterinary Pathology, Colorado State University, Fort Collins, Colorado, 1987
DVM, University of Minnesota, St. Paul, Minnesota, 1981
BS, Veterinary Sciences, University of Minnesota, St. Paul, Minnesota, 1979
BA, Zoology/Physiology, University of Wyoming, Laramie, Wyoming, 1976
Teaching is a primary commitment, both at the professional and graduate levels. I have an eagerness for the expansion of knowledge and strive not just to transmit information to students but do my best to teach students how to use that information to solve problems and tthink clearly when confronting challenges in their chosen fields. I also try to pass on to them an enthusiasm for seeking out and acquiring new knowledge. I do my best to be well prepared and organized in order to facilitate learning effectively; I strive to be eager and ready to teach at all times, not just in the classroom setting. Furthermore, I endeavor to teach in such a way that the students will remain interested in continuing their education long after my formal interactions with them. I also have the firm belief that instructors must take into account that students have different styles of learning; therefore, I try to vary my style of teaching within a course to maximize learning for as many students as possible and keep them engaged.
My original research focused on the effects of phytochemicals in cruiferous plants (oilseeds, vegetables like broccoli and condiments like mustard) on overall well being, specifically liver and pancrease. As it became evident that some of these phytochemicals had significant chemoprotective effects on diseases like cancer, my research became more and more collaborative, involving a comprehensive evaluation of phytochemicals and their interactions in the prevention or amelioration of cancer and other chonrci diseases. This comprehensive approach led in many directions, and expanded to include phytochemicals in other plants as well. Being a pathologist, my role was to relate the biochemical, metabolic and nutritional effects to changes at the tissue level. I also have had numerous opportunities to do collaborative research into the mechanisms of pancreatitis, chemcial mehtos for isolating and purifying phytochemicals, the impact of physical activity on disease outcomes and numerous other studies where nutiriontal interventions of various sorts have resulted in significant morphologic impacts on tissue structure and function.
Research Interests
Chemoprotective effects of vegetables such as broccoli and tomatoes and phytochemicals such as polyphenols, carotenoids, isothiocyanates, and other on cancer and chronic disease (e.g. chronic colitis, non-alcholic fatty liver disease, colon cancer, liver cancer)
Relating biochemical and metabolic changes due to nutrients and phyotchemical on tissue morphology and function
Relating the histomorphologic changes associated with chronic liver disease to ultrasound detection of liver disease
Effects of physical activity on chronic diseases (e.g. colitis), healing and repair
Academic Interests
Toxioclogic Pathology
Surgica Pathology
Developing Histopathology Image Banks
Impact of Dietary Consitutents on the Outyomce of Chronic Disease
Pathology Education
Division of Nutritional Sciences
Food Science & Human Nutrition
Current Projects
Collaborative research related to the chemoprevention of liver cancer and the amelioration of non-alcholic fatty liver disease by whole broccoli as well as specific phytochemicals within broccoli
Coolaborative research on early dection of non-alcoholic faty liver disease using ultrasound
Collaborative research on ultrasound based modification of tumor progressoin
Collaborative research on drug delivery systems to adipose tissue to combat insulin resistance associated with obesity.
Collaborative research regarding the effects of phytochemicals in vegetables such as tomato and broccoli on prostate cancer.
Handbook of Toxicologic Pathology, 2nd ed., Haschek, W, Rousseaux, C and Wallig, M (eds.), Academic Press, (2002)
Fundamentals of Toxicologic Pathology, 2nd ed., Haschek, W, Rousseaux, C and Wallig, M (eds.), Elsevier. (2009)
Handbook of Toxicologic Pathology, 3rd ed., Haschek, W., Rousseaux, C. and Wallig, M (eds.), Elsevier, (2013)
Honors and Awards
College of Veterinary Medicine Gordon and Helen Kruger All-Round Excellence Award (1997).
College of Veterinary Medicine Dr. & Mrs. Lloyd Helper Veterinary Student and Faculty Collegiality Award (2002, first time award given).
American Society for Horticultural Science Vegetable Publication Award for most outstanding paper on vegetable crops published by the Society in 2002 (2003).
University of Illinois Nutritional Sciences Graduate Student Association Faculty Award for extraordinary support and encouragement of Nutritional Sciences graduate students (2003).
Honorable Mention, 2003 Campus Award for Excellence in Graduate and Professional Teaching (2004).
The American College of Veterinary Pathologists, Outstanding Faculty Mentor Award, as mentor for the Illinois Student Chapter of the American College of Veterinary Pathologists (2006).
The American College of Veterinary Pathologists, Presidential Award, to honor and recognize achievement or contribution of a member who deserves special recognition (2008).
The Society of Toxicologic Pathology, STP Outstanding Mentor Award (first recipient) for having a significatn role in the training of toxicologic pathologists (20130.
Professional Affiliations
American College of Veterinary Pathologists -- Chair, Training Coordinators Committee (Chair, Demographics Subcommittee, 2000-2002; Chair, Recruitment Committee, American College of Veterinary Pathologists, 2003-2009)
Society of Toxicology Pathology
Society of Toxicology
American Society for Nutrition
American Association for the Advancement of Science
Professional Certifications
Diplomate, American College of Veterinary Pathologists
Recent Press
U of I Study: Fructose Metabolism More Complicated than Was Thought
ScienceDaily (Dec. 11, 2008) - A new University of Illinois study suggests that we may pay a price for ingesting too much fructose. According to lead author Manabu Nakamura, dietary fructose affects a wide range of genes in the liver that had not previously been identified.
Co-authors of the study, published in a recent issue of Biochimica et Biophysica Acta, are Hyun-Young Koo, Matthew A. Wallig, Takayuki Y. Nara, and B. H. Simon Cho of the University of Illinois and Byung Hong Chung of the University of Alabama at Birmingham.
Musings from the CEO of an ethical nutritional supplements company committed to education and community connections.
According to a University of Illinois study in the American Journal of Physiology, moderate exercise helps wound healing in the elderly:
"The key point of the study is that moderate exercise sped up how fast wounds heal in old mice," said researcher K. Todd Keylock, who noted that the improved healing response "may be the result of an exercise-induced anti-inflammatory response in the wound."
Service Activities
American College of Veterinary Pathologists: Chair, Training Coordinators Committee (2000-2003); Chair, Recruitment Committee, 2007-2009; Chair, Demographics Subcommittee, 2007-2010.
Manuscript Reviews for Journal of Agricultural and Food Chemistry, Veterinary Pathology, Toxicology Letters, Canadian Journal of Veterinary Research, Food and Chemical Toxicology.