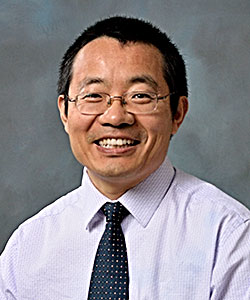 Wang, Leyi
Clinical Associate Professor, Veterinary Clinical Medicine

2001 South Lincoln Ave.
2001 S Lincoln
M/C 002
Urbana
,
IL
61802
Dr. Leyi Wang is Clinical Associate Professor of Veterinary Clinical Medicine and Virology Section Head of Veterinary Diagnostic Laboratory, College of Veterinary Medicine at University of Illinois Urbana-Champaign. Dr. Wang was a certified Veterinary Virologist by American College of Veterinary Microbiologists. After received his PhD degree from Ohio State University in 2009, Dr. Wang undertook his postdoctoral training at University of Georgia and Cincinnati Children's Hospital Medical Center during 2009-2013 and clinical microbiology training in the Animal Diseases Diagnostic Laboratory of Ohio Department of Agriculture during 2013-2017.
Dr. Wang has co-authored over 100 peer reviewed articles and 8 book chapters, and edited two books of Animal Coronaviruses. He is the co-inventor for two US patents. Dr. Wang is a reviewer of NIH and National Pork Board grants, and Editorial Board of Veterinary Microbiology, Archives of Virology, Medicine, Scientific Reports, Journal of Veterinary Diagnostic Investigation, and World Journal of Virology.
Dr. Wang's significant contribution to the field is that he for the first time reported identification of variant PEDV, deltacoronavirus in diarrheic pigs, novel sparrow deltacoronavirus, new Bottlenose dolphin coronavirus, and SARS-CoV-2 in tiger at Bronx Zoo. He has many years of experiences for vaccine development and for the first time to make protein polymers as vaccine platforms by utilizing homodimeric property of proteins. Since 2015, Dr. Wang uses Next-Generation Sequencing technology for whole genome sequencing of pathogens, especially for investigation of food-borne pathogen related illness.
Education
PhD, Ohio State University, Columbus, Ohio
MS, China Agricultural University, Beijing, China
DVM, Shandong Agricultural University, Tai'an, China
Professional Certifications
Diplomate, American College of Veterinary Microbiologists, Virology specialty
Academic Positions
Researcher 3, Animal Disease Diagnostic Laboratory (ADDL), Ohio Department of Agriculture (ODA), 2014-17
Laboratory Scientist 1, ADDL, ODA, 2013-14
Research Associate, Division of Infectious Diseases, Cincinnati Children's Hospital Medical Center, 2012-13
Research Fellow, Division of Infectious Diseases, Cincinnati Children's Hospital Medical Center, 2010-12
Post-doctoral Research Associate, Department of Infectious Diseases, University of Georgia, 2009-10
Research Interests
Diagnosis of viral infectious diseases and vaccine development; Application of Next-Generation Sequencing for characterization of pathogens
VM601
VM606
VM607
PATH 519
Links
Leyi Wang, Patrick K. Mitchell, Paul P. Calle, Susan L. Bartlett, Denise McAloose, Mary Lea Killian, Fangfeng Yuan, Ying Fang, Laura B. Goodman, Richard Fredrickson, François Elvinger, Karen Terio, Kerrie Franzen, Tod Stuber, Diego G. Diel, Mia Kim Torchetti (2020). Complete Genome Sequence of SARS-CoV-2 in a Tiger from a U.S. Zoological Collection. Microbiology Resource Announcements. 9(22): e00468-20.


Kelsey Briggs, Leyi Wang, Kaito Nagashima, James Zengel, Ralph Tripp, Biao He (2020). Regulation of Mumps Virus replication and transcription by kinase RPS6KB1. Journal of Virology. 94(12): e00387-20.


Wen-Hua Kong, Yao Li, Ming-Wei Peng, De-Guang Kong, Xiao-Bing Yang, Leyi Wang, Man-Qing Liu (2020). SARS-CoV-2 detection in patients with influenza-like illness. Nature Microbiology. 5: 675-678.


Leyi Wang, Carol Maddox, Karen Terio, Saraswathi Lanka, Richard Fredrickson, Brittany Novick, Celeste Parry, Abby McClain, Kyle Ross (2020). Detection and Characterization of New Coronavirus in Bottlenose Dolphin, United States, 2019. Emerging Infectious Diseases. 26(7):1610-1612.


Leyi Wang, Richard Fredrickson, Michelle Duncan, Jonathan Samuelson, Shih-Hsuan Hsiao (2020). Detection of Bovine Kobuvirus in Cattle with Diarrhea, United States. Emerging Infectious Diseases. 26(1):176-178.


Anping Wang, Qi Chen, Leyi Wang, Darin Madson, Karen Harmon, Phillip Gauger, Jianqiang Zhang, Ganwu Li (2019). Recombination between Vaccine and Field Strains of Porcine Reproductive and Respiratory Syndrome Virus. Emerging Infectious Diseases. 25(12):2335-2337.


Yang Yang, Ming Xia, Leyi Wang, Sahaana Arumugam, Yajing Wang, Xianjin Ou, Chenlong Wang, Xi Jiang, Ming Tan, Yutao Chen, Xuemei Li (2019). Structural basis of host ligand specificity change of GII porcine noroviruses from their closely related GII human noroviruses. Emerging Microbes & Infections. 8(1):1642-1657.


Leyi Wang, Douglas Marthaler, Richard Fredrickson, Phillip C. Gauger, Jianqiang Zhang, Eric R Burrough, Thomas Petznick, Ganwu Li (2019). Genetically divergent porcine sapovirus identified in pigs, United States. Transboundary and Emerging Disease, 67(1):18-28.