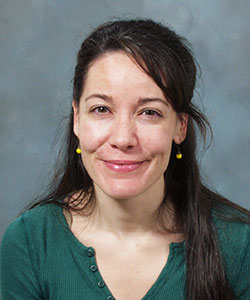 Landolfi, Jennifer
Clinical Associate Professor, Veterinary Clinical Medicine

2001 S. Lincoln
M/C 002
Urbana
,
IL
61802
Education
PhD, University of Illinois, Champaign-Urbana

DVM, Virginia-Maryland Regional College of Veterinary Medicine

BS, University of Maryland, College Park
Professional Certifications
Diplomate, American College of Veterinary Pathologists
Research Interests
Diagnostic pathology of captive exotic and wildlife species
Contributions of host immune response to disease development; most specifically, the immunopathogenesis of tuberculosis in elephants
Development and validation of molecular assays for diagnosis of infectious diseases in exotic species
Links
Manire C. A., A. C. Clarke, D. Wert, J. Landolfi. 2013. Lymphosarcoma in a captive bonnethead shark, Sphyrna tiburo (Linnaeus). J Fish Dis 36(4): 437-440.
Connolly, S.L., J. Landolfi. 2013. What is your diagnosis? Fecal smear from a Mallard duck (Anas platyrhynchos). Vet Clin Pathol 42(1): 111-112.
Gerlach, T. J., M. de Wit, J. A. Landolfi. 2012. Diaphragmatic hernia and right-sided heart enlargement in a Florida manatee (Trichechus manatus latirostris). J Wildl Dis 48(8): 1102-1104.

Landolfi, J. A., S. K. Mikota, J. Chosy, K. P. Lyashchenko, K. Giri, K. Gairhe, K. A. Terio. 2010. Comparison of systemic cytokine levels in Mycobacterium spp. seropositive and seronegative Asian elephants (Elephas maximus). J Zoo Wildl Med 41(3): 445-455.
Naples, L. M., C. Lacasse, J. A. Landolfi, J. N. Langan, J. M. Steiner, J. S. Suchodolski, K. C. Gamble. 2010. Acute pancreatitis in slender-tailed meerkats (Suricata suricatta). J Zoo Wildl Med 41(2): 275-286.
Landolfi, J. A., K. A. Terio, M. J. Kinsel, J. Langan, T. Zachariah, A. L. Childress, J. F. Wellehan Jr. 2010. Orthoreovirus infection in rough green snakes (Opheodrys aestivus): Pathology and identification of a novel orthoreovirus strain via PCR and sequencing. J Vet Diagn Invest 22(1): 37-43.
Landolfi, J. A., S. A. Schultz, S. K. Mikota, K. A. Terio. 2009. Development and validation of cytokine quantitative real time RT-PCR assays for characterization of Asian elephant immune responses. Vet Immunol Immunopath 131: 73-78.
Landolfi, J. A., K. A. Terio. 2006. Transitional cell carcinoma in fishing cats (Prionailurus viverrinus): Pathology and expression of cyclooxygenase-1, -2, and p53. Vet Pathol 43: 674-681.
Landolfi, J. A., J. F. X. Wellehan, A. J. Johnson, M. J. Kinsel. 2005. Fatal human herpesvirus type 1 infection in a white-handed gibbon (Hylobates lar). J Vet Diagn Invest 17(4): 369-371.
Landolfi, J. A., B. O. Karim, S. L. Poynton, J. L. Mankowski. 2003. Hepatic Calodium hepaticum (Nematoda) infection in a zoo colony of black-tailed prairie dogs (Cynomys ludovicianus). J Zoo Wildl Med 34(4): 371-374.
Virginia-Maryland Regional College of Veterinary Medicine Outstanding Recent Alumna 2013