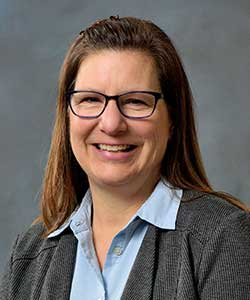 Whittington, Julia K
Clinical Professor, Veterinary Clinical Medicine
Director, Veterinary Teaching Hospital

1008 W. Hazelwood Drive
268 SAC
M/C 004
Urbana
,
IL
61802
Education
DVM, University of Illinois
BS, University of Illinois
Academic Interests
To promote exotic animal health through medical and surgical methods while providing full service hospital care to exotic animal pets. To take a proactive role in client education in order to optimize quality of life and protect the human-animal bond between pets and their owners. To educate veterinary students regarding primary care of all pet animals so that they may prepare for rewarding career in veterinary medicine. To offer medical and surgical care to native wildlife species while instructing students in non-domestic animal principles. To educate the public about native wildlife, natural resources, and ecosystem health. To serve as a sentinel for wildlife diseases in order to identify trends effecting our environment, health, and natural resource conservation.
Research Interests
There are many unanswered questions in the area of veterinary care of zoological species. Many opportunities are available for clinical or collaborative studies with the ultimate goal of identifying and answering clinically relevant questions pertaining to zoological medicine and subsequently disseminating that information to veterinary professionals for practical implementation. Due to the sheer diversity of species seen, exotic pet medicine is an exciting field to be explored and new clinical presentations of disease and new therapies are being discovered to advance the field of medicine for these patients.
Links
Dr. Whittington received her Doctor of Veterinary Medicine degree at the University of Illinois College of Veterinary Medicine in 1997. She practiced small animal and exotic animal medicine in the Champaign-Urbana community until returning to the College in 2001 to develop the Exotic Animal Medicine service at the Veterinary Teaching Hospital and oversee the College of Veterinary Medicine's Wildlife Medical Clinic.
As Service Head for the Companion Exotic Animal Medicine service and Director of the Wildlife Medical Clinic, she greatly strengthened and grew both programs. Under her leadership the Wildlife Medical Clinic gained a reputation for student experiential learning that drew many applicants to the Illinois veterinary college. Dr. Whittington was active in public education and outreach, serving as the Wildlife and Exotic Animal Extension Veterinarian for the college.
Since 2018 Dr. Whittington has served as the Director of the Veterinary Teaching Hospital. During her first three years in the position, she led a $12M hospital-wide expansion and renovation project that included adding 26,000 square feet of clinical space, the first major expansion since the hospital was built in the 1970s.
Her interests include avian, small mammal, and wildlife medicine and organizational leadership and culture.
My idea of what makes a good teacher was initially founded on my experiences with teachers. Central to this foundation was the way in which I learn. Teachers who mentored but didn't preach, who demonstrated patience with clear expectations, and who guided my efforts without judgment of my short-comings were the ones that had the most impact on my learning and were those that made me want to try harder to achieve proficiency. I am a visual learner; see one, do one, teach one is the driving force behind my retention of knowledge. So based on this background, I approached my teaching as a faculty member in a similar manner. What I have learned since then is that every student learns differently and I can be a good teacher by being flexible in my methods. My strength is clinical teaching. I love interacting with students while working on clinical cases and I take pride in watching the students achieve proficiency in their clinical skills. Here, my traditional style of mentoring while the student tries new techniques or learns new information is optimal. The feedback I receive from students is positive and it reinforces for me that I am having a positive effect on the professional development of the veterinary students at the University of Illinois College of Veterinary Medicine.
Wildlife Medicine
Companion Animal Medicine II
Clinical Procedures and Problem Solving II
Comparative Anatomy - Zoo
Basic Zoological Medicine
Wildlife Medical Clinic Team Leader Training Seminar
Small Animal Intern Emergency Care of Exotic Pets Training
Birkenheuer, A., Whittington, J., Neel, J., Large, E., Barger, A., Levy, M., Breitschwerdt, E. Molecular characterization of a Babesia species identified in a North American raccoon. Journal of Wildlife Diseases, 2006;42: 375-380.
Whittington, J., Emerson, J., Satkus, T., Tyagi, G., Barger, A., Pinkerton, M. Exocrine pancreatic carcinoma and carcinomatosis with abdominal effusion containing mast cells in a ferret (Mustela utorius furo). Veterinary Clinics of North America; Exotic Animal Practice, 2006;9: 643-650.
Whittington, J.K. Principles of wound management in wildlife patients. In: Tseng, F.S., Mitchell, M.A., eds. Topics in Wildlife Medicine; Emergency and critical care. Vol. 2. National Wildlife Rehabilitators Association, St. Cloud, MN, 2007.
Wrobel L, Whittington JK, Pujol C, Ho S-H, Ruiz MO, Pfaller MA, Diekema DJ, Soll DR, Hoyer LL. Molecular phylogenetic analysis of a geographically and temporally matched set of Candida albicans isolates from humans and nonmigratory wildlife in central Illinois. Eukaryotic Cell, 2008;7:1475-1486.
Vuolo S, Whittington JK. Dystocia secondary to a perianal fetal hernia in an African hedgehog. Exotic DVM, 2008;10:10-12.
Wiley JL, Whittington JK., Wilmes CM, Messick JB. Chronic myelogenous leukemia in a great horned owl (Bubo Virginians). Journal of Avian Medicine and Surgery, 2009;23:36-43.
Marrow J, Whittington JK., Mitchell M, Hoyer L, Maddox C. Prevalence and antibiotic-resistance characteristics of Enterococcus spp. isolated from free-living and captive raptors in central Illinois. Journal of Wildlife Diseases, 2009;45:302-313.
Burgdorf-Moisuk A, Whittington JK, Gilor S, Coleman D. What is your diagnosis? Atypical mycobacteriosis in a Pionus parrot (Pionus menstruus). Journal of Avian Medicine and Surgery, 2009;23:227-232.
Padgurskis N, Whittington JK, Kohrt L. Rehabilitator's guide to diagnostic postmortem examination and gross pathology in waterfowl. Wildlife Rehabilitation Bulletin, 2009;27:21-38.
Working with wildlife not only provides for a population to evaluate, it introduces new clinical questions that need to be addressed. Wild animals must possess full physical capabilities in order to be released into their natural setting. However, trauma is a common cause for clinical presentation and ocular injuries in birds of prey can be catastrophic. In order to fully evaluate a raptor for release potential, a full ophthalmic evaluation must be performed. However, clinical reference ranges are lacking for even the most common species. Working with colleagues in with the Ophthalmology service, we have just completed a study defining ophthalmic parameters for common raptor species of central Illinois.
Antimicrobial use in animals and the potential development of antimicrobial-resistant pathogens is of concern for human welfare. Wild animals provide for a relevant study population due to their interaction with wild animals, domestic animals, and humans as a result of increased interface between traditional natural boundaries. Diseases that affect wildlife are no longer inconsequential for humans. Through collaboration with faculty in microbiology, we were able to demonstrate that raptors carry a bacterial species in their gastrointestinal tract that is known to be implicated in nosocomial infections in human hospitals. This bacteria can potentially be used as an indicator species to detect changes in the bacteria's susceptibility to antibiotics. This data was published in the Journal of Wildlife Diseases.
Whittington, JK. Wildlife Student Internship. Illinois Conservation Foundation.
Whittington, JK (PI), Maddox, C. Prevalence and Antibiotic-Resistance Characteristics of Enterococcus spp. in Wild Raptors Pre- and Post-Antibiotic Treatment. University of Illinois College of Veterinary Medicine Program in Conservation, Wildlife Population Medicine, and Ecosystem Health
Whittington, JK. Biological and Epidemiological Wildlife Database: Development and Implementation. University of Illinois College of Veterinary Medicine Program in Conservation, Wildlife Population Medicine, and Ecosystem Health
Whittington, JK, Breaux, C. Ophthalmic findings in birds of prey using electroretinography, ultrasonography, and direct exam techniques. National Wildlife Rehabilitators Association Research Grant
Whittington, JK. Advanced Avian Medicine and Surgery Web-Based Course development. University of Illinois College of Veterinary Medicine Innovations in Teaching DVMs.
Whittington, JK. Wildlife Outreach - Wildlife Medical Clinic Educational Program. Oxbow Animal Health Grant.
UIUC Teacher Ranking of Excellent, Fall 2004, Spring 2005, Spring 2006, Spring 2009, Spring 2010
Dr. and Mrs. Lloyd Helper Faculty Collegiality Award, 2005
American Veterinary Medical Association
Association of Avian Veterinarians- AAV Veterinary School Liaison
Association of Exotic Mammal Veterinarians - AEMV Veterinary School Liaison
Association of Reptile and Amphibian Veterinarians
Association of Wildlife Veterinarians
Illinois State Veterinary Medical Association
National Wildlife Rehabilitator's Association
Wildlife Diseases Association
Office of Public Engagement, Wildlife and Exotics Extension Veterinarian
College of Veterinary Medicine Public Relations Response Team
Non-tradition Species Club, Faculty Mentor
Wildlife Medical Clinic Executive Committee
Wildlife Medical Clinic Education Program Supervisor
Veterinary Teaching Hospital Internal Board, Service Head - Zoo Med
Whooping Crane Eastern Partnership
Exotic Pet Medicine, Wildlife