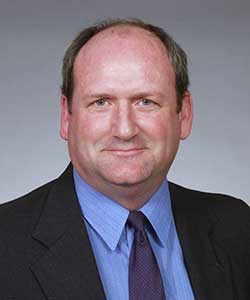 Foreman, Jonathan H
Associate Dean For Academic & Student Affairs
Professor, Veterinary Clinical Medicine
Professor, Veterinary Teaching Hospital

1008 W. Hazelwood Drive
229 Large Animal Clinic
M/C 004
Urbana
,
IL
61802
Education
BS, College of William and Mary
DVM, University of Georgia
MS, Washington State University
Research Interests
Exercise physiology and respiratory disease
Links
Kline K, Frey LP, Foreman JH and Lyman JT. Effects of intravenous sodium bicarbonate and sodium acetate on equine acid-base status. J Equine Vet Sci 2005;25(8):349-354.
Sponseller BT, Valberg SJ, Tennent-Brown BS, Foreman JH, Kumar P and Timoney JF. Severe acute rhabdomyolysis in 4 horses associated with Streptococcus equi subspecies equi infection. J Am Vet Med Assoc. 2005;227(11):1800-1807.
Foreman JH. Effects of different methods of cooling horses after exercise under hot conditions. Equine Vet J, submitted August 2005, accepted February 2006, under revision.
Foreman JH, Constable PD, Waggoner AL, Levy M, Eppley RM, Smith GW, Tumbleson ME and Haschek WM. Neurologic abnormalities and cerebrospinal fluid changes in horses administered fumonising B, intravenously. J Vet Intern Med 2004;18:223-230.
Foreman JH, Waldsmith JK and Lalum RL. Physiological, acid-base, and electrolyte changes in horses competing in Preliminary, Intermediate, and Advanced horse trials. Equine and Comparative Exercise Physiology 2004;1:99-105.
Seino KK, Foreman JH, Greene SA, Goetz TE and Benson GJ. Physiological effects of topical capsaicin in a reversible model of equine foot lameness. J Vet Intern Med 2003;17:563-566. (Winner of UIUC Chapter Phi Zeta Literary Award 2003.)
Foreman JH, Kneller SK, Twardock AR, Chambers MD and Inoue OJ. Forelimb skeletal scintigraphy responses in previously-untrained Thoroughbreds undergoing initial treadmill training. Equine Vet J 2002; Suppl 34:230-235.
Diplomate, American College of Veterinary Internal Medicine