Delivering the Veterinary Curriculum during a Pandemic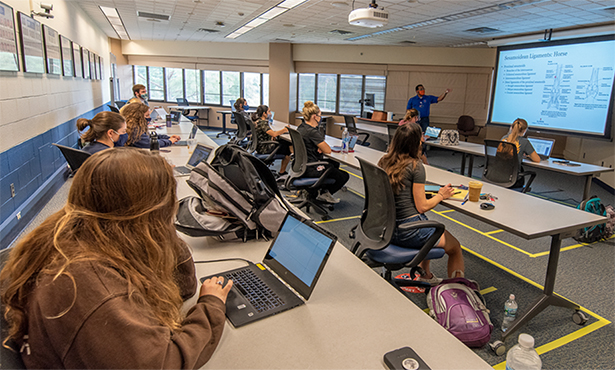 This message will appear in the Spring 2021 issue of the Illinois State Veterinary Medical Association Epitome.
'Students … Remarkably Resilient'
How do you teach 130 students when only 44 can safely be seated in your lecture hall?
This and dozens of other questions faced us as we implemented COVID-19 safety protocols for fall semester. The answers relied on ingenuity, collaboration, flexibility, and a lot of hard work.
In the midst of the worst pandemic in over a century, we at the University of Illinois were extremely fortunate to hold classes in person safely. Thanks to the SHIELD testing program developed here (with indispensable assistance from college faculty and our diagnostic laboratory), our students' education has not been delayed.
"There's no real substitute for in-person instruction," says Dr. Ian Sprandel, course coordinator for first-year instruction, echoing a sentiment embraced throughout our faculty. "Veterinary medicine is a hands-on degree."
Divide and Conquer
Part of the solution for delivering lectures was to divide the classes into five locations to allow adequate social distancing. Students were assigned homerooms. To the extent possible, the groupings reflected living arrangements outside of class to limit exposure. Instructors rotated among the various classrooms, and the lecture was livestreamed to the other four rooms as well as to students under quarantine in their homes. As before, all lectures were recorded and made available to students online for review later.
"Students have been remarkably resilient. The first-year class has shown a lot of grit, accepting that we're still figuring it out," Dr. Sprandel adds.
Of course, laboratories proved more challenging to deliver than lectures.
"Anatomy, anatomy, anatomy," says Dr. Sprandel. "We had to prioritize the material in the first-year labs to maximize the limited available in-person time."
Once again, dividing the class was part of the solution. Anatomy instructors delivered each lab twice. Even so, there was not enough space in the anatomy lab to adhere to COVID guidelines until one-third of the students were assigned to a live-animal palpation lab in the hospital while the remaining two-thirds did the dissection lab.
"The anatomy team worked very hard to create virtual experiences as nearly equivalent as possible for the students who were unable to be physically present," says Dr. Sprandel. Students who were present for the dissection lab also reviewed the material with those who missed it to attend a palpation lab.
Second-Year Labs
For second-year students, lectures and labs were handled similarly. Dr. Cindy Elston, who joined the college this summer as course coordinator for second-year instruction, had spent much of her 25-year veterinary career teaching in veterinary technician programs. She adapted quickly to both the Illinois curriculum and the pandemic safety measures that greatly complicated its delivery.
"Students seem to appreciate the fact that they have the option. There are those who feel more comfortable learning from home and those who appreciate the opportunity to come to class," she observes.
Dr. Elston says a few of the second-year labs were done in person in small groups. "Plate streaking, fecal floats, gram staining were offered to develop these hands-on skills, but otherwise labs were done online.
"I love having the students back in the lab," she says, "and I think they enjoy seeing each other in person."
Challenges
With the focus on delivering equivalent educational experiences whether students are on site or at home, challenges abound but workarounds exist. Over the summer, many instructors took advantage of campus training to make online teaching more interactive and effective. Within the college, IT and i-Learning Center staff provided invaluable support.
During the second half of fall semester, first-year students took their first block of clinical rotations. With the capacity of the hospital greatly reduced due to COVID restrictions, fourth-year students have priority on clinics. First-year students received the five core clinical rotations primarily via online learning, though the farms rotation involved hands-on components.
Proctoring exams for students who are unable to come to the college posed another problem. That solution, according to Dr. Sprandel, involved using a second device with a video camera (typically a phone) to allow the instructor to observe the student who is taking the exam online.
And remembering to be kind and forgiving to ourselves and to each other became an important survival strategy during a time of heightened stress from pandemic-related changes and worries.
Benefits
Some innovations from this semester have proved a boon. Dr. Elston notes that recording the class review before examinations via Zoom, where students could ask their questions live but that could also be viewed later by students who were unable to attend, will improve instruction in non-COVID times.
Dr. Sprandel reports that the histology labs transitioned easily to being delivered entirely online since the subject matter is a two-dimensional image. "We used breakout chat rooms to promote small group work," he says. "We actually saw greater student engagement for histology online than we did when we taught it in person in years past."
Test scores this fall were in line with scores from previous years, indicating that learning was not diminished.
There's no doubt that everyone is looking forward to a return to our regular curriculum once it is safe to do so. Meanwhile, we are thankful for a campus COVID testing program that made limited in-person instruction possible at Illinois. And I am especially thankful for the incredible efforts of our faculty and staff to find ways to minimize disruptions to our students' education.