Directory Profile
Campus Directory
Profile Editors
The following people can edit this profile: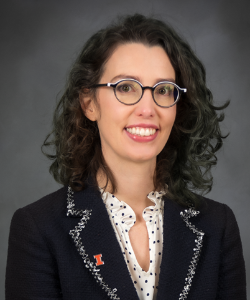 Ashley Elaine Mitek
Teaching Assistant Professor, Veterinary Clinical Medicine
Companion Animal Extension Veterinarian, Office of Public Engagement
Residency Trained, Anesthesiology & Pain Management

Address and Contact Information
University of Illinois
College of Veterinary Medicine
Large Animal Clinic #212 M/C 002
Urbana
,
IL
61802
Education
BS, Cornell University, 2007
DVM, University of Illinois, 2011
MS, Veterinary Clinical Medicine (Anesthesia), May 2018
Internship, Small Animal Emergency Medicine & Surgery, University of Illinois Veterinary Teaching Hospital, 2012-2013
Residency, Anesthesiology & Pain Management, University of Illinois Veterinary Teaching Hospital, 2013-2016 (Board eligible, sitting ACVAA exam for first time May 2019)
Current Projects
Co-Founder, K9 Officer Down Fund, University of Illinois Veterinary Teaching Hospital: A fund that allows for the care of injured working dogs.
Co-Founder, National Educational Campaign for Opioid Overdose in Working Dogs: Free online training video for veterinarians and first responders on how to save overdosed working dogs in the line of duty. This video is currently being used to train federal, state and local canine handlers.
https://www.youtube.com/watch?v=Al108zZF6nc
Pictured above (from Left to Right): Drs. McMichael (DVM), Mitek (DVM), Smith (MD), and Officer Chad Beasley (K9 Handler). Also pictured: Dr. Weir (MD) and Officer Beckman (K9 Handler) with the Carle-Arrow Ambulance team during an EMS training event on working dog care.
Event Organizer & Speaker, Illinois State Police Annual K9 Handler Medical Training, May 2017, May 2018: Coordinate training materials for canine handlers across the state to help ensure they have the ability to appropriately treat their K9 in the field in the event of life-threatening injury.
Pictured above: Drs. Mitek, McMichael and Kling, Misty Croy (dentistry technician) and several 4th year veterinary students from the University of Illinois College of Veterinary Medicine at the annual Illinois State Police In-Service Medical Training for K9 Handlers.
Event Organizer & Speaker, Carle Foundation Hospital/Arrow Ambulance Tactical Emergency Training for First Responders
Research Interests
Innovative Teaching & Learning (focus in Anesthesiology & Pain Management)
Online & Blended Learning
Working/Therapy Dog Care
Honors and Awards
List of Teachers Ranked as Excellent, 2017
List of Teachers Ranked as Excellent, 2016
Courses Taught
VM 601 Clinical Practice I: Small Animal Physical Examination, Imaging & Anatomy Rotation (1st Year Veterinary Students)
The greatest tool a veterinarian can develop is their physical examination skills. First year veterinary students explore the components of a thorough physical examination, and hone their techniques in our world-renowned Clinical Skills Learning Center. Students are also challenged to evaluate cutting edge technology and apply novel scientific literature to their clinical practice. Environmental design, low stress handling and other progressive ways to facilitate physical examination are discussed.
VM 601 Clinical Practice I: An Introduction to Anesthesia Equipment & Clinical Techniques (1st Year Veterinary Students)
Employing case-based and team-based learning, veterinary students use critical thinking skills to grow their understanding of basic anesthesia equipment
By the end of the course, students will demonstrate how to safely use a basic anesthesia machine, and ACVAA recommended monitoring equipment.
Virtual Anesthesia Machine (co-created with the Design Group @ Vet Med): https://vetmed.illinois.edu/courses/interactive/anes-machine-2/amplaunch.html
VCM 524 The Effective Biomedical Teacher (Veterinary Graduate Students/Residents)
What does it take to be an effective teacher in a biomedical curriculum? It's easy to teach, but are your students actually learning? The world of medical education is changing and this course explores the aspects of cutting-edge teaching including principles of active learning, the creation of learning objectives, online learning, Bloom's taxonomy, and case-based learning. Guest speakers from many different units within the University of Illinois participate in this course to give students a holistic view of progressive teaching on our campus.
VM 606 Clinical Practice II: Clinical Anesthesia Techniques & Equipment Review (2nd Year Veterinary Students)
This course builds on VM 601, and prepares students for anesthetizing their first small animal patient
COURSES I TEACH IN:
VM 606 Colloquium: Ethical Pain Management Considerations (2nd year veterinary students)
VCM 673 Companion Animal Rehabilitation Therapy: Pain Management for the Rehab Patient (3rd year veterinary students)
VCM 555: Mechanisms of Analgesia (Veterinary Graduate Students/Residents)
Selected Publications
Mitek AE, Clark-Price SC, Phillips H, Harper T, Schaefer D. "Client perceptions of quality of care following a preanesthetic consultation program with an anesthesiologist." (Accepted by JAVMA, February 2018)
Mitek AE, Clark-Price SC, Boesch JM. Severe propofol-associated dystopia in a dog. Can Vet J. 2013 May;54(5):471-4.
Mitek AE. Letter to the Editor. Re: Pain induced by a minor medical procedure (bone marrow aspiration) in dogs: comparison of pain scales in a pilot study. J Vet Intern Med. 2012 May - Jun; 26(3):445: author reply 446-7.
Mitek AE. From early man to Man O' War: a history of the cribbing horse. Vet Herit. 2009 Nov; 32(2):37-42.
LDAP Details for

Ashley Elaine Mitek