Directory Profile
Campus Directory
Profile Editors
The following people can edit this profile: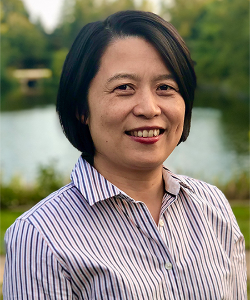 Mei, Wenyan
Research Assistant Professor, Department of Comparative Biosciences

Address and Contact Information
2001 South Lincoln Avenue, Urbana, IL 61802
3420 Vet Med. Basic Sciences Bldg
2001 S Lincoln
Urbana
,
IL
61802
Education
BS, Sichuan University (Biology)

PhD, Shanghai Institute of Biochemistry and Cell Biology, Chinese Academy of Sciences

(Developmental Biology)

Postdoctoral Fellow, University of Pennsylvania School of Medicine (Developmental Genetics)
Research Interests
My lab is interested to understand how stem cells control their self-renewal and differentiation, and how their disregulation causes diseases. We use the intestine and reproductive system as two in vivo systems to address this question. Genetically engineered mice are our research tools due to the fact that mice have close genetic and physiological similarities to humans. Our ongoing projects are to study an RNA binding protein, PTB (polypyrimidine tract binding protein), in regulating stem cell-based tissue regeneration. PTB is known for its role in regulating gene's post-transcriptional regulation, especially those that are critical for stem cell renewal and differentiation. Our recent studies using PTB conditional knockout mice indicate that PTB's function is essential for the control of intestinal epithelium regeneration and fertility. We are currently using these knockout mice together with other available mouse lines to address how PTB-dependent post-transcriptional regulation controls stem cell-based tissue regeneration in the intestine and reproductive system.
Selected Publications
Mei W, Jin Z, Lai F, Schwend T, Houston DW, King ML, Yang J. Maternal Dead-End1 is required for vegetal cortical microtubule assembly during Xenopus axis specification. Development, (2013),

140(11):2334-44

Wallace LM, Garwick SE, Mei W, Belayew A, Coppee F, Ladner KH, Guttridge D, Yang J, Harper SQ. DUX4, a candidate gene for facioscapulohumeral muscular dystrophy, causes p53-dependent myopathy in vivo. Annals of neurology, (2011), 69(3): 540-52.
Mei W, Lee KW, Marlow FL, Miller AL, Mullins MC, hnRNP l is required to generate the Ca2+ signal that causes egg activation in zebrafish. Development, (2009), 136(17): 3007-17.
Yang J, Chan C, Jiang B, Yu X, Zhu G, Chen Y, Barnard J, Mei W*. hnRNP l inhibits Notch signaling and regulates intestinal epithelial homeostasis in the zebrafish. PLoS Genetics, (209), 5(2): e1000363.
Jin Z, Shi J, Saraf A, Mei W, Zhu G, Strack S, Yang J. (2009) The 48 kDa alternative translation isoform of PP2A:B56 epsilon is required for Wnt signaling during midbrain-hindbrain boundary formation. J Biol. Chem., (2009), 284(11): 7190-200.
Rorick AM, Mei W, Liette NL, Phiel C, El-Hodiri HM, Yang J. PP2A:B56 epsilon is required for eye induction and eye field separation. Dev Biol. 2007 Feb 15; 302(2): 477-93.
Yang J, Mei W, Otto A, Xiao L, Tao Q, Geng X, Rupp RA, Ding X. Repression through a distal TCF-3 binding site restricts Xenopus myf-5 expression in gastrula mesoderm. Mech Dev. 2002 Jul; 115(1-2): 79-89.
Mei W, Yang J, Tao Q, Geng X, Rupp RA, Ding X. An interferon regulatory factor-like binding element restricts Xmyf-5 expression in the posterior somites during Xenopus myogenesis. FEBS Lett. (2001). 505(1): 47-52.
Current Projects
There are three ongoing projects in the lab:
The first one is to determine how PTB-dependent post-transcriptional regulation inhibits inflammatory bowel disease and its associated colorectal cancer.
The second one is to determine how PTB controls spermatogenesis through its function in sertoli cells.
The third one is to determine how PTB controls female reproductive function through its role in progesterone receptor-expressing cells.
Professional Affiliations
American Gastroenterology Association
LDAP Details for

Mei, Wenyan