Directory Profile
Campus Directory
Profile Editors
The following people can edit this profile: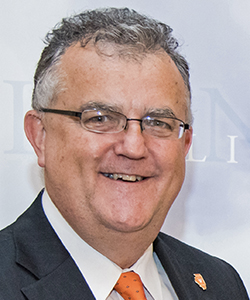 Constable, Peter D
Dean

Address and Contact Information
College of Veterinary Medicine
3505 Basic Sciences Building
2001 S Lincoln Avenue
Urbana
,
IL
61802
Education
Docteur Honoris Causa, Université de Liège, Belgium, 2011
PhD, Ohio State University, 1992
MS, Ohio State University, 1989
Residency, Ohio State University, 1989
BVSC (Hons), University of Melbourne, Australia, 1982
Professional Certifications
Diplomate: American College of Veterinary Internal Medicine, 1990
Diplomate: American College of Veterinary Nutrition (Honorary), 2011
Member of the Royal College of Veterinary Surgeons
Research Interests
Food animal medicine and surgery
Cardiovascular physiology, acid-base balance
Endotoxic shock, hemorrhagic shock, fluid therapy
Gastrointestinal physiology and disease
Cardiovascular changes in sled dogs
Biostatistics and pharmacokinetics
Biography
Peter Constable became dean of the College of Veterinary Medicine in January 2014. He had previously served on the Illinois faculty in the food animal section for 13 years, beginning in 1993 and including a period as interim head of the Department of Veterinary Clinical Medicine. In 2006 he became head the veterinary clinical sciences department at the Purdue University School of Veterinary Medicine.
A native Australian, Dean Constable earned his veterinary degree in 1982 from the University of Melbourne and practiced in Australia and England before joining Ohio State University for an ambulatory internship and food animal medicine and surgery residency. He earned both a master's and a PhD in cardiovascular physiology at OSU. He is board certified by the American College of Veterinary Internal Medicine and the American College of Veterinary Nutrition.
As a clinician and researcher, Dean Constable studied acid-base physiology, fluid therapy, shock, calf diarrhea, surgical conditions of the bovine abdomen, biostatistics, pharmacokinetic modeling, veterinary education and the cardiovascular response to endurance training. He has published more than 180 peer-reviewed articles and 30 book chapters and is a co-author of the tenth edition of Veterinary Medicine: A Textbook of the Diseases of Cattle, Horses, Sheep, Pigs, and Goats.
LDAP Details for

Constable, Peter D