Directory Profile
Campus Directory
Profile Editors
The following people can edit this profile: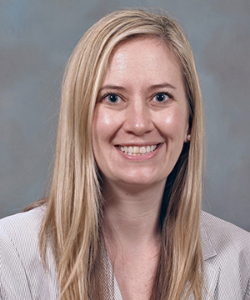 Lundberg, Alycen Paige
Assistant Professor, Medical Oncology
Veterinary Teaching Hospital

Address and Contact Information
Veterinary Clinical Medicine
1008 W Hazelwood
M/C 004
Urbana
,
IL
61802
Education
DVM, University of Minnesota Twin Cities, Saint Paul, MN
BS, University of Minnesota Twin Cities, Minneapolis-Saint Paul, MN
Professional Certifications
Diplomate, American College of Veterinary Internal Medicine (Medical Oncology)
Research Interests
Feline oral squamous cell carcinoma (FOSCC) is a devastating cancer that too many pet cats suffer from each year. Current therapies do not provide more than an average of 3 months survival time, and new treatments are desperately needed. My research focus for my PhD is on targeted therapy for FOSCC with a novel anti-cancer agent that specifically works by targeting certain enzymes that are found in this cancer type.
Biography
Dr. Lundberg received her Doctor of Veterinary Medicine degree at the University of Minnesota College of Veterinary Medicine in 2012. She then completed a one year Small Animal Rotating Internship at Iowa State University in 2013. Following completion of the internship, she obtained a residency in medical oncology at the University of Illinois and completed this in 2016. Throughout her residency, she worked on a Master of Science degree; however, chose not to complete this and instead enrolled into the PhD program to continue her work at a more involved and deeper level.
From 2016-2018, she stayed at the University of Illinois working on her PhD as well as providing clinical service on the medical oncology service as an instructor overseeing veterinary students in their clinical year, as well as training residents and interns. In early 2019, Dr. Lundberg then accepted a faculty position at the University of Illinois as an Assistant Professor of Medical Oncology in the Department of Veterinary Clinical Medicine. She will continue working towards completion of her PhD while in this position.
Dr. Lundberg is one of three investigators in the Comparative Oncology Reserach Laboratory in the Small Animal Clinical within the Department of Veterinary Clinical Medicine.
Courses Taught
Medicine and Surgery II (oncology lectures)
Medicine and Surgery III (oncology lectures)
Medical Oncology Clinical Rotations
Current Projects
Winn Feline Foundation Grant: Targeted Therapy for Feline Pulmonary Carcinoma.
Companion Animal Research Grant: Enhancing the Treatment of Bone-Invasive Feline Oral Squamous Cell Carcinoma by Combining Radiation Therapy with Zoledronate.
Morris Animal Foundation Grant: Targeted therapy for feline pulmonary carcinoma through exploitation of preferential NQO1 expressions and the drug isobutyl-deoxynyboquinone (IB-DNQ).
Past Projects
Characterizing the pharmacokinetics and tolerability of 2 novel DNQ analogues in beagle dogs.
Investigating the pharmacokinetics, tolerability, and anti-cancer activity of IB-DNQ and DNQ analogues in the domestic cat.
Selected Publications
Dorbandt DM, Lundberg AP, Roady PJ, Hamor RE. Surgical excision of a feline orbital lacrimal gland adenocarcinoma with adjunctive cryotherapy and carboplatin-impregnated bead implantation. Vet Ophthalmol 2018; 21(4):419-425.
Lundberg AP, Francis J, Pojak M, Parkinson E, Wycislo K, Rosol TJ, London C, Dirikolu L, Hergenrother PJ, Fan TM. Pharmacokinetics and derivation of an anticancer dosing regimen for the novel anti-cancer agent isobutyl-deoxynyboquinone (IB-DNQ) in healthy cats. Invest New Drugs 2017; 35:2, 134-144.
Lundberg AP, Roady PJ, Somrak AJ, Howes ME, Fan TM. Zoledronate-associated osteonecrosis of the jaw in a dog with appendicular osteosarcoma. J Vet Intern Med 2016; 30:1235-1240.
Kieves NR, Lundberg AP, Wilke VL. Comparative gene approach to the investigation of SNPs within the tenascin-c gene in Achilles tendon injury in the canine patient. Veterinary Evidence 2016; 1(3):1-9.
Slovak JE, Wang C, Morrison JA, Deitz KL, LeVine DN, Otoni C, King RR, Gerber LE, Hanson KR, Lundberg AP, Jergens AE. Endoscopic assessment of the duodenum in dogs with inflammatory bowel disease. J Vet Intern Med 2014; 28:1442–1446.
Honors and Awards
List of Teachers Ranked as Excellent by Their Students: Fall 2017, Summer 2018
Clinical Science Literary Award Winner, Phi Zeta-National 2017
Resident Award, American Association of Veterinary Clinicians 2017
Professional Affiliations
American College of Veterinary Internal Medicine
Veterinary Cancer Society
American Veterinary Medical Association
Phi Zeta- Mu Chapter
Illinois State Veterinary Medical Association
LDAP Details for

Lundberg, Alycen Paige