In July 2023, the College of Veterinary Medicine welcomed 14 senior veterinary students from around the world through the Visiting International Student Program. Although the program had been sidelined during the COVID-19 pandemic, it was restarted when Dr. Clarissa Souza was named the college's coordinator of International Programs in 2022 and has been growing each year.
The program fosters global connections in veterinary education as the visiting students complete up to six-week-long externships in the Veterinary Teaching Hospital. Students have come from Taiwan, India, Indonesia, Brazil, Poland and Hungary.
Dr. Souza, who heads the hospital's dermatology service, is passionate about facilitating the program's success. "For me, international travel really opened my mind to new possibilities," she said. "My main goal for students is that they will realize there's so much more to veterinary medicine than what they can experience in one place."
Illinois veterinary students and staff share their expertise and offer guidance to the visitors, who spend time observing in service areas including small animal emergency and surgery, zoo medicine, food animal, and more. The program provides a unique opportunity for students to immerse themselves in a different culture and experience how veterinary medicine is practiced elsewhere.
A native of Brazil, Dr. Souza advertises the Visiting International Student Program through her many connections worldwide. Students apply online. There is no cost to students, other than transportation and lodging, so it is a low-cost way to explore veterinary medicine as practiced in the United States.
Learning Opportunity
Participants have given positive feedback about the new techniques and applications they learned.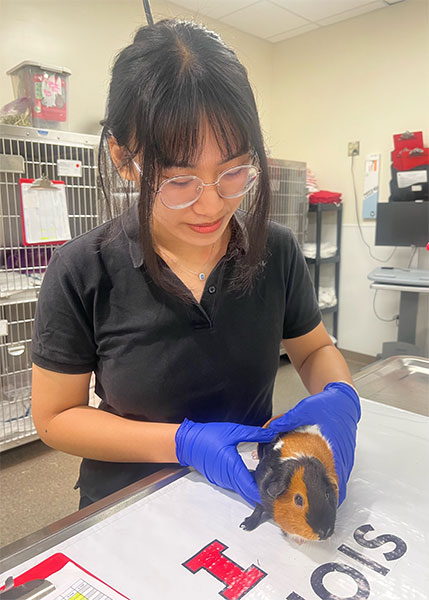 "During my externship at U of I Veterinary Medicine Teaching Hospital, I took part in Food Animal Medicine, Equine Medicine and Zoo Medicine Services," said Phuong Nguyen Ngoc Ha, one of two students who recently visited from the National Pingtung University of Science and Technology in Taiwan.
"Everyone was kind and supported me with my struggles. I also had numerous chances to explore new knowledge and gained experience in various fields in each rotation."
"This is an amazing externship program, and I learned a lot," added Annie Chen, the other Taiwanese student. "Thank you for accepting us for this program"
Benefits for the College
The program not only benefits the visiting students, but also the college, by bringing diversity and fresh perspectives to the hospital. It's also a way to promote the college globally.
"The program is a way for international students to learn about our college and perhaps come back for a graduate or residency program," says Dr. Souza. "Our visitors would be excellent candidates for advanced programs."
By Kara Mangione