Two University of Illinois faculty members, Dean Peter Constable and Dr. Pamela Wilkins, were among the honorees when the American College of Veterinary Internal Medicine (ACVIM) recently presented three Recognition Awards and three Specialty Lifetime Achievement Awards. The awards ceremony took place before an international audience at the ACVIM 2023 Forum, held in Philadelphia, Pa.
The ACVIM is the certifying organization for veterinary specialists in cardiology, large animal internal medicine, neurology, nutrition, oncology, and small animal internal medicine. The organization has more than 3,200 members.
---
Lifetime Achievement in Large Animal Internal Medicine
Dr. Pamela Wilkins was honored with the ACVIM Specialty Lifetime Achievement Award in Large Animal Internal Medicine. The award presents an opportunity to celebrate the most prominent leaders in the six ACVIM specialties.
Dr. Wilkins's recognition notes that she has "taught a huge number of people how to go through the process of scientific study all the way through to publication. She also disseminates information generously and with no expectation of a return." Dr. Anna Hollis, director of equine services at the University of Cambridge, who nominated Dr. Wilkins for the award, concludes that "Her contributions to [our] specialty cannot be understated."
Dr. Wilkins joined the faculty of the University of Illinois College of Veterinary Medicine as professor of equine internal medicine and emergency critical care in 2008. In addition to her ACVIM diplomate status, she is a diplomate of the American College of Veterinary Emergency and Critical Care.
She has received many accolades for her professional achievements, including the Boehringer-Ingelheim Applied Research Award from the World Equine Veterinary Association in 2018, the Ira M. Zaslow Distinguished Service Award from the Veterinary Emergency and Critical Care Society in 2016, and the Intervet/Schering-Plough International Veterinary Emergency and Critical Care Equine Educator Award in 2009.
Dr. Wilkins earned her veterinary degree from Cornell University College of Veterinary Medicine. She completed a large animal internal medicine residency at the University of Pennsylvania's New Bolton Center, then earned a PhD in cardiorespiratory physiology from Cornell. She returned to Penn as a faculty member in 1998, remaining there until she came to the University of Illinois.
She is a highly respected mentor to interns, residents, and graduate students and boasts an extensive publication record, including over 370 manuscripts, abstracts, proceedings, and book chapters.
---
Robert W. Kirk Award for Professional Excellence
Dean Peter Constable received the Robert W. Kirk Award for Professional Excellence. This award recognizes the outstanding achievements and dedicated service of ACVIM Diplomates. Those selected have garnered national and international recognition for their contributions and service in activities ranging from clinical practice to instruction to research and public service.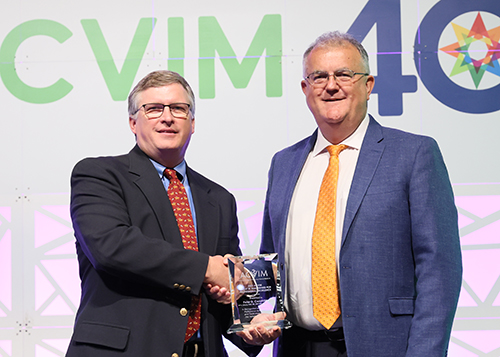 Dr. Constable has served as dean of the University of Illinois College of Veterinary Medicine since 2014. He previously held a faculty position in the college's Department of Veterinary Clinical Medicine from 1993 to 2006, before joining Purdue University's veterinary school as head of the veterinary clinical sciences department. Dr. Constable earned both a master's and a PhD in cardiovascular physiology at The Ohio State University, where he also completed an ambulatory internship and food animal medicine and surgery residency.
His areas of research and clinical expertise span acid-base physiology, fluid therapy, shock, calf diarrhea, surgical conditions of the bovine abdomen, biostatistics, pharmacokinetic modeling, veterinary education, and the cardiovascular response to endurance training. He has published more than 260 peer-reviewed articles and 30 book chapters and is a co-author of Veterinary Medicine: A Textbook of the Diseases of Cattle, Horses, Sheep, Pigs, and Goats, now in its eleventh edition.
ACVIM Video Features Accolades for Dean Constable
To commemorate this honor, ACVIM created a video message that shares reminiscences and congratulations from current and former faculty and graduates of the University of Illinois as well as collaborators from veterinary colleges around the world. These colleagues commend his leadership and teaching roles, his breadth of knowledge not only in large animal internal medicine but in a wide variety of subjects within and outside veterinary medicine, his contributions as the statistical editor of the Journal of Veterinary Internal Medicine, and more.
Despite his many contributions as a researcher and leader, Dr. Constable says he considers his legacy to reside within the graduate students, residents, interns, and veterinary students he has taught and mentored.
Asked what he'd like to convey to those watching the video, he responds. "[S]tay open to the possibilities and take some risk. I've always been comfortable in taking risk, and I think, in the long term, it's better to take the risk than to worry about the what-ifs."