The annual Research Day celebration at the College of Veterinary Medicine took place on April 19. Dr. Annette McCoy, associate professor of equine surgery, coordinated the event and served as master of ceremonies.
She noted, "It was wonderful to see all the great interactions and conversations happening about the exciting and diverse research being conducted in our college. Our student speakers and poster presenters should be commended for their outstanding efforts."
This year the Pensinger Lecture in Comparative Medicine was given by Dr. Natasha Olby, a professor of neurology/neurosurgery and the Dr. Kady M. Gjessing and Rahna M. Davidson Distinguished Chair in Gerontology at North Carolina State University. Her keynote presentation, entitled "Bringing Research into Clinical Practice: Development of the Canine Neuro-Aging Program," described how she uses clinical cases to identify age-related problems that can be mitigated through robust research.
[The photo above depicts Dr. McCoy with Dr. Kari Foss, veterinary neurologist, keynote speaker Dr. Olby, and Dean Peter Constable.]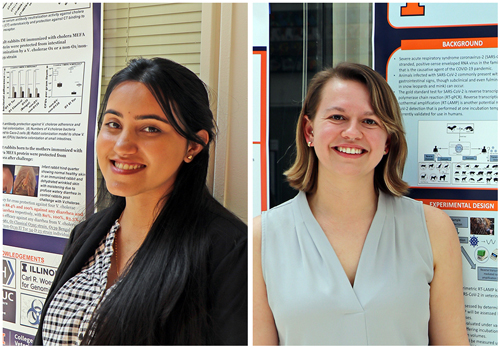 Two graduate students were honored with awards. Dr. Ipshita Upadhyay of the Pathobiology department was awarded the Joseph O. Alberts Award for excellence in research and scholarship. Dr. Aimee Pepper, a veterinary anatomic pathology resident, was awarded the Dr. Victor E. O. (Ted) and Carroll J. Valli Award for proficiency in research and diagnostic medicine.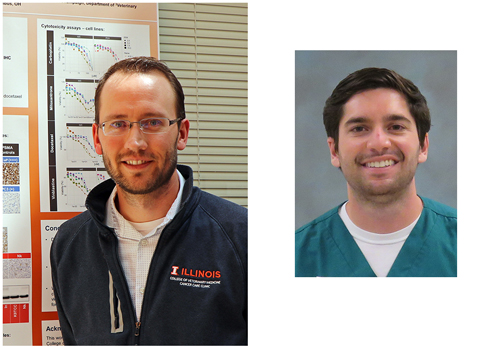 Dr. Matthew Berry and Dr. Anthony Cerrata were awarded the Phi Zeta Literary Awards in Basic and Clinical Science, respectively.
The Research Advisory Committee evaluated abstracts submitted by students and trainees who competed for the opportunity to win prizes in a speaking contest and in a poster contest. More than 80 abstracts were submitted for the competition.
The six students selected for oral presentations were:
Mitchell Ashkin: Propofol-sparing and Hemodynamic Effects of Guaifenesin Co-induction in Sheep
Siqi Li: Immunogenicity Characterization of a Multivalent Vaccine for Porcine Post-weaning Diarrhea
Jinrui (Grace) Lyu: The α5-selective Positive Allosteric Modulator, MP-III-022, Rescues postoperative Cognitive Impairments in Aged Mice
Amanda Seelman: Receptor Tyrosine Kinase Target Validation and Combinatorial Strategies to Circumvent Small Molecule Therapeutic Resistance in Canine Metastatic Insulinoma
Ye Tian: Membrane Phospholipid Remodeling Modulates Nonalcoholic Steatohepatitis Progression by Regulating Mitochondrial Homeostasis
Yung-Tien (Yvette) Tien: Unraveling the "Lytic Switch" Switch From Latency to Reactivation of Marek's Disease Virus (MDV)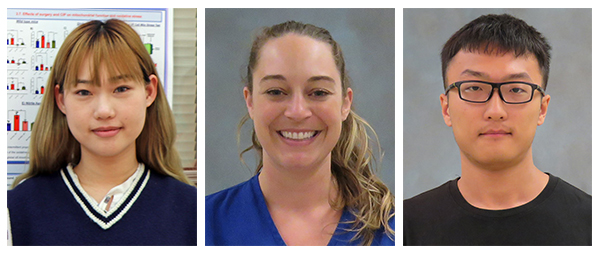 Oral presentation winners were Grace Lyu and Ye Tian, of the Department of Comparative Biosciences, and Dr. Amanda Seelman, from the Department of Veterinary Clinical Medicine. Each received $1000 to be used toward research-related activities.
Six students were selected to present a "lightning talk" to attract visitors to their poster during the noon poster session. The students and their topics were:
Mary Bunnell: Prenatal Phthalate Exposure Alters the Pattern of Fetal and Neonatal Endocrine Puberty in a Sex-Specific Manner
Maris Daleo: Development and Validation of Quantitative PCR Assay for Detection of Spheniscidae alphaherpesvirus 1 in Penguins
Shanny H. Kuo: Pseudomonas aeruginosa Volatile Organic Compounds Cause Airway Mucus Hypersecretion by Activating the AhR Signaling and by Polarizing Toward a M1 Macrophage, Neutrophils, and Type 17 Immune Responses
Maria Nava: Role of Cryptosporidium parvum Calcium-dependent Protein Kinase 5 (CDPK5) in Parasite Virulence and Transmission
Dr. Alison Neff: Mono-2-ethylhexyl Phthalate Alters the Expression of Oocyte-derived Factors and Functional Targets in Ovarian Antral Follicles
Dr. Ana Nobrega: Is It Really Expired? Comparisons of NEW and EXPIRED VCM VET™ Viscoelastic Coagulation Testing Cartridges Using Horse Blood
Lightning talk competition winners were Maria Nava, from the Department of Pathobiology, Dr. Alison Neff, from the Department of Comparative Biosciences, and Dr. Ana Nobrega, from the Department of Veterinary Clinical Medicine. Each received $500 to be used for research-related activities.