This message will appear in the Chicago Veterinary Medical Association Bulletin.
More than 10,000 individuals from 49 states and 14 countries contributed to the College of Veterinary Medicine during the "With Illinois" campaign. The total raised for campus between October 2017 and June 2022 was $2.7 billion. Our college surpassed its own ambitious goal by 50%, achieving a total of nearly $61 million.
I want to thank all our veterinary partners whose support allows us to continue a trajectory of innovation and impact. Your gifts, and those from your philanthropic clients, demonstrate confidence in the veterinary care, expertise, discoveries, and education delivered by the college.
More concretely, this campaign means that we will have 70 additional scholarships to award to worthy students. We will add endowed faculty positions to attract and retain the highest caliber educators and researchers. And we will have a greater opportunity to improve hospital facilities and extend life-saving care to animals whose owners have limited means.
An Entrepreneurial Approach
I'd like to tell you about one alumnus of the college whose generous donations to the college are only a part of how he has chosen to give back to the profession and his community.
I still work almost every day. And I still love what I do.
Because it's not work to me. It's my passion. And it's where I want to be.
Dr. John Coyne
Dr. John Coyne was a member of the Class of 1974. He grew up on an Illinois livestock farm and decided on a veterinary career when, as a 10-year-old, he was put in charge of administering injections to sick piglets. His first job after completing his degree was in a clinic with an entrepreneurial owner. Before long Dr. Coyne had adopted an entrepreneurial approach as well. He went on to attain ownership in 11 veterinary hospitals that employed around 500 staff members and stretched from Moline, Ill., to Westfield, Ind.
Coyne Veterinary Services has created a variety of programs to offer hands-on experience and mentorship and career advancement for veterinary and veterinary technician students and professionals.
Gifts to Help Students, Pet Owners
Long-time supporters of veterinary student scholarships, Dr. Coyne and his family chose to endow two professorships and to name the newly renovated lobby of the college's Small Animal Clinic as part of their significant "With Illinois" campaign gift.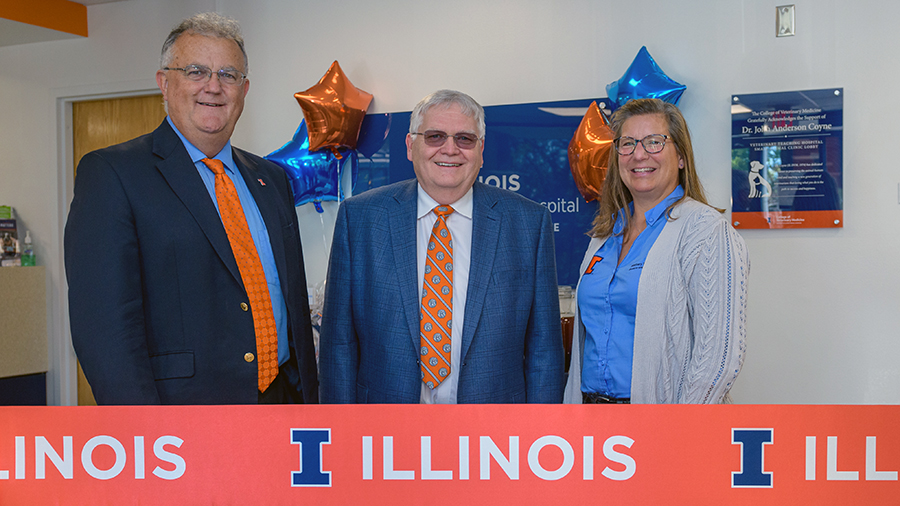 I had the opportunity to speak with Dr. Coyne when he participated in the Hire an Illini Job Fair, our Annual Fall Conference for Veterinarians, and a ribbon-cutting ceremony to dedicate the renovated lobby in his name at the end of September. He also shared his philosophy and advice with our students at the 2022 Awards and Scholarships Celebration.
Words of Wisdom
"I owe this university so much. It has given me the ability to thoroughly enjoy what I do and take care of my family in ways I never thought possible," he said.
"I've been practicing veterinary medicine for almost 50 years now. My personal philosophy is to try new things, then see how I can improve on any and every service. You may want everything to be perfect, but that never happens. Let that go and learn to adapt, improving every step of the way.
"Develop a team of people who work together. If you can collaborate and give your best to each other every day, you'll be fine.
"My best advice is to find what you love. This is the path to success and to happiness.
"I still work almost every day. And I still love what I do. Because it's not work to me. It's my passion. And it's where I want to be."
My thanks to Dr. Coyne and to all our passionate supporters in the Chicago veterinary community.