This message will appear in the Chicago Veterinary Medical Association Bulletin.
Between 2002 and 2012, our college went without a boarded veterinary neurologist. But our steady growth since Dr. Devon Hague joined the faculty 10 years ago has been a success story, for our students, for our patients, and for the neurology specialty.
Meet the Team Members
After restarting in 2012 with two—Dr. Hague and Denise Weber, a veterinary technologist experienced in neurology—the neurology and neurosurgery service will soon expand to 11: three boarded faculty members, four residents, a specialty intern, two CVTs, and a neuro-dedicated client services representative.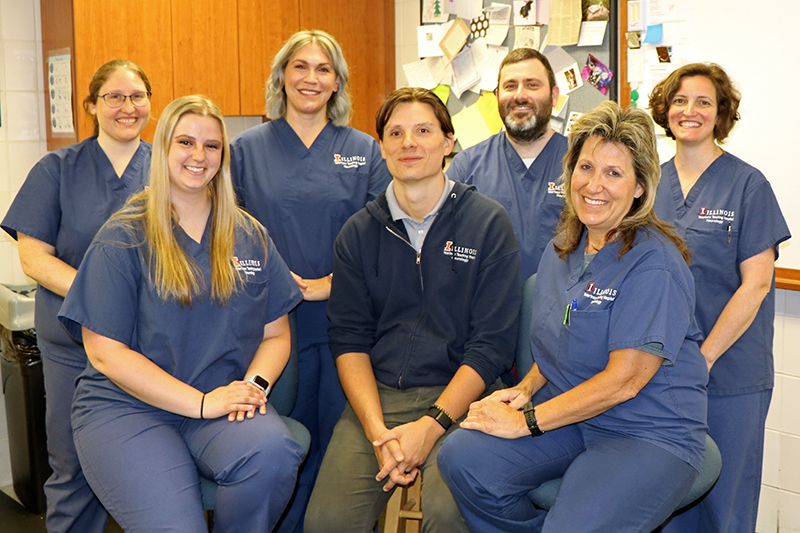 Dr. Kari Foss, an Illinois DVM graduate in 2008, joined the faculty in 2016. Her appointment includes a focus on research. Her main research area is applying advanced imaging techniques in the diagnosis and management of canine epilepsy. She is also collaborating with Texas A&M to offer a clinical trial looking into the role of the microbiome in dogs with spinal cord injury and overseeing a pharmacokinetic study of the intramuscular delivery of the anticonvulsant levetiracetam (Keppra) in an ER setting.
Dr. Rose Krupka Peters will become our third boarded neurologist when she arrives this fall. Dr. Peters, a 2005 Illinois DVM alumnus, says joining the faculty will feel like coming home. Like Drs. Hague and Foss, she brings private practice experience to her new academic role. For a time, Dr. Peters was the only veterinary neurologist practicing in New Orleans, La. Most recently she has been part of a specialty practice in Palm Springs, Fla.
Contributions to Veterinary Neurology
As our neuro service has grown, faculty have incorporated clinically relevant research into their practice. One recent study evaluated the performance of two different instruments—hemostatic forceps and the integrated Babinski tip of an MDF Babinski Buck Reflex Hammer—for testing the cutaneous trunci reflex (CTR) in 65 neurologically normal cats. It was found that both instruments elicited the response in the majority of cats, although with the hemostatic forceps the reflex was more caudally and bilaterally symmetrical than with the Buck Reflex Hammer.
Another recent study examined the diagnostic value of collecting cerebrospinal fluid (CSF) not only near the lesion but from both the cerebellomedullary and the lumbar regions of dogs presented for evaluation of neurologic disease. The researchers found that there may be clinical benefit in collecting fluid from both regions in dogs with lesions that localized to the brain or cervical spinal cord, but there was less diagnostic value in CSF taken from the cerebellomedullary cistern in dogs with thoracolumbar myelopathy.
Training Specialists and Generalists
The neuro service has rapidly grown its impact in offering advanced training opportunities. Coauthors on the CSF study mentioned above involved Dr. Samantha Vitale, who began as a neurology intern and then completed her residency, and Dr. Rachel Lampe, a former resident who now practices in Vancouver, B.C.
Three graduates of the Illinois DVM Class of 2015 were inspired to specialize in neurology through the impact of our faculty. Drs. Caroline Fallon and Hilary Levitin completed their residencies at Illinois, and Dr. Dana Sengewald did her residency at a private specialty practice in Florida.
Dr. Hague is especially proud that her service gives students who do not plan to specialize the tools they need to assess and help neuro cases.
"When we round with veterinary students, we make sure they understand how to conduct a neurological examination and locate the source of the problem," she says. "We encourage students to think about the diagnostics and treatment options they could offer the patient within a general practice setting as well as through referrals."
Dr. Hague says the neurology service loves to hear from former students who need advice on a case. "We do our best to take your calls at any time," she says, even occasionally interrupting a surgery to talk a practitioner through an urgent situation. "Never hesitate to call with questions. We don't expect you to remember everything about neuro!"
Continuing to Educate
At the annual Fall Conference for Veterinarians on September 29 and 30 this year, our neurology faculty and several specialists who did their residencies at our college will offer a full day of neuro topics.
And for those of you who plan far in advance, mark your calendars for December 2023, when Dr. Hague is scheduled to speak at CVMA!