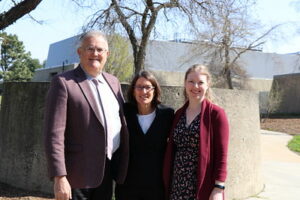 On April 27, the College of Veterinary Medicine held its annual Research Day celebration, offering a showcase of research activity throughout the college and recognizing a number of graduate students for their research.
Dr. Laurie Goodrich, a 1991 graduate of the college, delivered the Pensinger Lecture in Comparative Medicine, entitled "Translational Medicine: Horses, Humans and the Science of Osteoarthritis and Cartilage Repair." Dr. Goodrich serves as the Barbara Cox Anthony Chair in Orthopedics and the director of the Orthopedic Research Center at Colorado State University.
Three graduate students were honored with awards at the event. Andressa Gonsioroski of the Comparative Biosciences department was awarded the Joseph O. Alberts Award for excellence in research and scholarship. Shahbaz Khan of the Pathology department was awarded the Paul B. Doby Award for outstanding research in infectious disease applicable to food animals. Jillian Athey of the Pathology department was awarded the Dr. Victor E. O. (Ted) and Carroll J. Valli Award for proficiency in research and diagnostic medicine.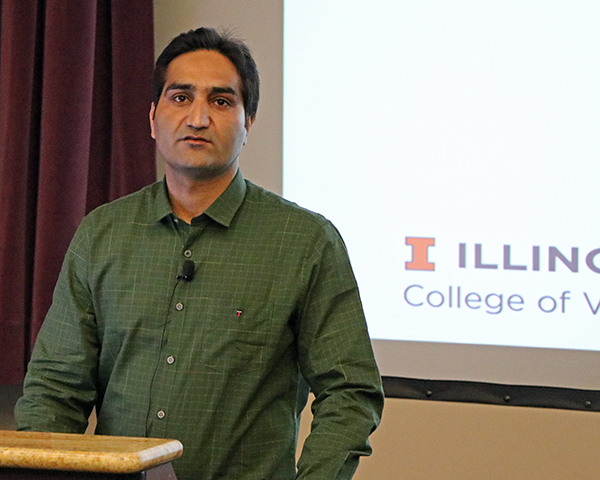 Shahbaz Khan and Rebecca Bishop were awarded the Phi Zeta Literary Awards in Basic and Clinical Science, respectively.
The Research Advisory Committee evaluated abstracts submitted by students and trainees who competed for the opportunity to win prizes in a speaking contest and in a poster contest. Nearly, 60 abstracts were submitted for the competition.
The six students selected for oral presentations were:
Shahbaz Khan: Cryptosporidium parvum pyruvate kinase inhibitors with in vivo anti-cryptosporidial efficacy
Andressa Varella Gonsioroski: Effects of Prenatal and Lactational Exposure to Iodoacetic Acid on the F1 Generation of Mice
Vasiliki Mourikes: Imidacloprid and desnitro-imidacloprid elicit different mechanisms of toxicity in isolated neonatal ovaries and antral follicles in culture
Isha Agrawal: Assessing biosecurity knowledge and practices among Illinois veterinarians and swine producers
Dion Adiriesta Dewananda: Bone Marrow Response to Methicillin-Resistant Staphylococcus aureus Infected Type 2 Diabetic Wound Model
Matthew R. Berry: Evaluating a Procaspase-3 Activating Synergistic Couplet Strategy for Metastatic Osteosarcoma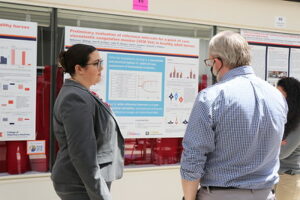 Oral presentation winners were Vicki Mourikes of the department of Comparative Biosciences, Andressa Gonsioroski, and Isha Agrawal from the department of Pathobiology. Each received $1000 to be used toward research-related activities.
Six students were selected to present a "lightning talk" to attract visitors to their poster during the noon poster session. The students and their topics were:
Wei Lu: SEC16B regulates lipid secretion by modulating VLDL intracellular trafficking
Erin O'Leary: Regulation of social behavior by noncanonical genomic imprinting in the monoamine system
Jianan Feng: The Adverse Effects of PFAS on Mouse-Oocyte-in-vitro Maturation are Associated with Carbon Chain Length and Sulfonate Group
Chia-Ming Su: Cellular response to IFN suppression-negative and NF-κB activation-negative porcine reproductive and respiratory syndrome virus infection
Shanny H. Kuo: Pseudomonas aeruginosa Volatile Organic Compounds Causes Mucus Hypersecretion by Activating Ahr Signaling in Chronically Diseased Lungs
Rebecca Bishop: Preliminary evaluation of reference intervals for a novel point of care viscoelastic coagulation monitor (VCM Vet) in healthy adult horses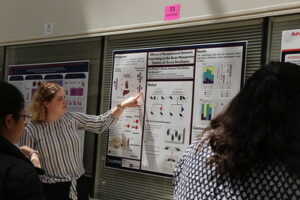 From these, faculty judges selected two winners and the third was the result of a People's Choice vote. Each received $500 to be used for research-related activities.
Competition winners were Rebecca Bishop, Erin O'Leary, and Shanny Kuo.
The poster session presenters and the titles of their abstracts are available as a pdf.