Virologists Advise Routine Testing for Emerging Pathogens in Diarrheal Calves
The sample that arrived at the University of Illinois Veterinary Diagnostic Laboratory in the fall of 2019 came from a petting zoo. The zoo's 10-day-old calf had diarrhea, and the zoo wanted to know what pathogens were present in the fecal sample, in part because of the potential for transmission to human visitors at the zoo.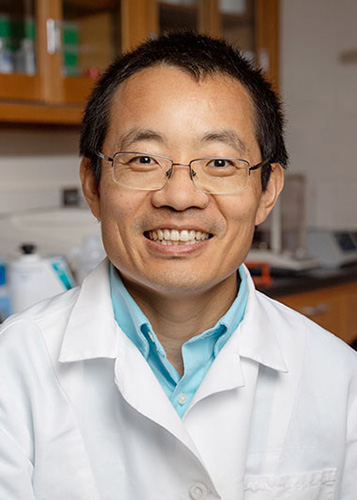 Dr. Leyi Wang, an internationally recognized veterinary virologist, found several common culprits for the gastrointestinal illness: Escherichia coli, cryptosporidium, and Clostridium perfringens.
He also looked for, and found, bovine kobuvirus, which is not presently on the list of "usual suspects" for bovine diarrhea. In fact, earlier in 2019 Dr. Wang's lab had been the first to identify this virus in the U.S. Previously researchers had detected kobuvirus only in Asia, Europe, South America, and Africa.
Then, while conducting a metagenomic sequencing study of the kobuvirus in the sample, Dr. Wang found something he wasn't looking for: Boosepivirus. This was the first instance when boosepivirus was detected in a diarrheal calf in the United States.
Study of 84 Samples Finds 5 Instances of Boosepivirus
Dr. Wang and coauthors Dr. Rick Fredrickson, director of the Veterinary Diagnostic Laboratory, and Dr. Ailam Lim of the Wisconsin Veterinary Diagnostic Laboratory report the case of boosepivirus in the petting zoo calf as well as additional analyses in the current issue of Transboundary and Emerging Diseases.
Prompted by this finding, they looked for boosepivirus in 84 additional samples. These samples had been submitted for a standard bovine diarrheal testing panel in 2019 and 2020. Boosepivirus was identified in five of the samples, four of which had originated in Wisconsin and one in Ohio.
As in the case of the Illinois petting zoo calf, these samples were positive for multiple intestinal pathogens.
"Calf diarrhea is a multifactorial disease, causing economic loss for cattle producers worldwide," says Dr. Wang. "It is the most common cause of death in young calves. The list of viruses associated with calf diarrhea is expanding and includes rotavirus, coronavirus, torovirus, norovirus, nebovirus, astrovirus, kobuvirus, and more. Yet we do not routinely test for many of the newer viruses."
Based on his findings and those of other researchers that have since detected boosepivirus in the U.S., Dr. Wang suggests that the cattle industry take action.
"To more fully understand the emergence of bovine boosepivirus, which may be widespread in the U.S., we believe this virus should be included in the testing panel for calf diarrhea," he concludes.
Genomic Sequencing Reveals Growing Family of Viruses
Boosepivirus was first identified in diarrheal cattle through deep sequencing in Japan in 2009. The name comes from bovine, ovine sapelo-entero-like picornavirus.
"The boosepivirus strain we detected in the calf sample from Illinois is genetically correlated to the strain identified in Japan," says Dr. Wang. "Earlier this year, other researchers reported the virus in sick calves from five different states."
Last year boosepivirus was proposed as a new genus in the viral family Picornaviridae. The Picornaviridae family includes many viruses that cause severe human and animal diseases, such as polio, pneumonia, and foot and mouth disease.
And the family is growing. In 2012, only 12 genera were recognized within Picornaviridae. Thanks to the emergence of high-throughput DNA sequencing technology on clinical samples, there are now 68 proposed genera and more than 60 unclassified viruses in the family.
The article "Genomic characterization of a new bovine picornavirus (boosepivirus) in diarrheal cattle and detection in different states of the United States, 2019," is available online at: https://onlinelibrary.wiley.com/doi/10.1111/tbed.14390
Feature photo by Julián Amé on Unsplash