Above, Dean Constable with Dr. Sophia Ochs, Class of 2021, at the May 15 graduation ceremony. This message will appear in the June/July 2021 issue of the Chicago Veterinary Medical Association Bulletin.
On Saturday, May 15, I had the privilege of officiating at a graduation ceremony that was both the oddest, and in many ways the most moving, of any I have ever attended.
You may recall that in 2020, graduation took place over Zoom. Our new doctors recited the Veterinarian's Oath from their living rooms, in some cases without the benefit of family and friends nearby, and far from our proud faculty members.
The Class of 2021 certainly bore more of the burden of pandemic conditions. Throughout their senior year, they attended clinic rounds via Zoom, were restricted to specific locations when not actively engaged in cases, and followed all public health guidelines, such as social distancing, masking, and bi-weekly testing.
Graduation During a Pandemic
When it came time for their graduation, the student affairs office received a special exemption from campus to carry out a modified in-person ceremony. As we had done for lectures in first- through third-year courses, the class was split into five different rooms in the Basic Sciences Building to maintain social distancing. The ceremony was livestreamed into all the classrooms, and to faculty, family and friends watching from anywhere with an internet connection.
The graduates attended already hooded. When their name was called, they posed for a photo with me (see above) and also, if they chose, with the hooder of the choice—who was present in the form of an enlarged headshot tucked into their diploma cover. Myself and the few other faculty members in the "platform party" went to each classroom in turn to complete the roll call.
There was no carrying of the gonfalon to lead the procession of faculty, hooders, and candidates into Krannert Center's Great Hall. No brass quintet. No cheers and applause from the important people in our students' lives.
Incredible Pride
But there was a faculty address to the class delivered by Dr. Ian Sprandel, recorded comments from five faculty members selected as hooders, and a student response from Dr. Andrew Groenewold. And there was tremendous pride in the class on behalf of the faculty and the students' loved ones.
Over and over again, speakers remarked on the resilience and dedication of the Class of 2021. Another theme was the importance of attending to one's emotional well-being and to caring for colleagues. Most of all, speakers conveyed their incredible pride in these graduates and the certainty that they are ready for any challenge.
Many of these newest graduates are heading into practice in and around Chicago. Indeed, they and their fellow veterinary graduates across the country are in great demand. Count yourself lucky if you are among the practices that managed to secure one of them.
Back to a New Normal
Just as our graduation exercise has moved closer to a semblance of "normal" comparing last year to this one, so the indicators generally are moving toward a relaxing of the most stringent public health restrictions. As of this writing, we are just weeks away from the Bridge Phase in Illinois, with the potential of a return to pre-pandemic conditions by July 4.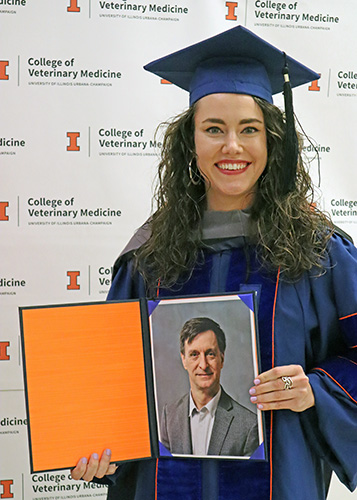 On the Urbana campus, individuals with documented COVID vaccination status will no longer need to undergo routine testing by the time the fall semester begins. Our veterinary hospitals are beginning to allow clients to enter the building in various capacities. And your College of Veterinary Medicine is making plans for an in-person Fall Conference at the i-Hotel on October 28 and 29.
All in all, I have confidence that we are headed in the right direction. I could not be more proud of the effort made by our students, faculty, and staff over the past year. I am amazed by the remarkable work of our Veterinary Diagnostic Laboratory, which performed nearly 2.1 million COVID tests for campus members between August and May.
Importantly, I foresee that a greater attention to personal well-being throughout our profession and the academy will be integral to our new normal.
And I can't wait to celebrate with you in person as we reach the next milestones of Fall Conference, graduation, and alumni receptions.
—Dean Peter Constable