Allis Artis, Associate Director of Business Services, began working for the college on March 2, 2020, just weeks before the COVID-19 pandemic sent non-essential staff to work from home.
When did you begin working at the College of Veterinary Medicine?
I started at the College of Veterinary Medicine on March 2, 2020 but I have been in various other finance roles on campus since March 2003.
Describe your role at the college.
I am the Associate Director of Business Services and I manage the Business Service Center—which has been a challenge during the COVID-19 pandemic, but my team has adapted wonderfully to the adjustments we've all had to make!
Have you held any previous titles or responsibilities at the college?
This is my first position in the College of Veterinary Medicine, but before coming here I was the Assistant Director of Budget and Resource Planning at the College of Education.  I really appreciate the diversity of the University and all the differences between each college on campus!
What is your favorite part of your job?
My favorite part of my job is that none of my days are the same.  I may have an idea of what I'm going to do on any given day, but then I could've received an email or phone call overnight that changes my course for that day.  I like to help people and so serving others comes before any task that can be held off just a little longer.
Complete this sentence: My most memorable day at work was…
every day that I work from home!  I worked in my office at the College of Vet Med just two weeks before the COVID-19 shutdown.  Most people that I have met since coming into this role, I've met by phone, email, or a Zoom meeting.  It's been a challenge to build relationships virtually, but I like a challenge!
What do you enjoy doing in your free time? What is something your co-workers may be surprised to know about you?
Before COVID-19, I didn't have much free time.  I have three kids—my daughter Ava is 14 and my twin sons Mason and Dylan are 9—and they always kept me busy with their various activities.  Since the pandemic, we've had much more free time as a family and—along with my husband John—we have enjoyed exploring various local and state parks around the area and doing some hiking.  I also enjoy creating home décor and decorating my house for each season.
Do you have a favorite restaurant or place in the Champaign/Urbana area?
My favorite local coffee shop is Espresso Royale, and my favorite drink is a Decaf Iced Peppermint Bark Mocha. I love the taste of coffee, but it has to be decaf!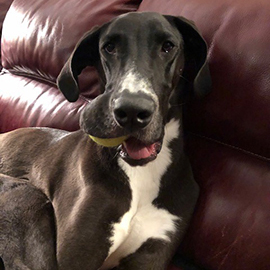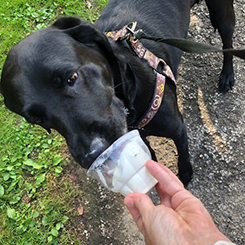 Do you have any pets?
Yes, we have a seven-year-old black lab named Harley Quinn and a one-year old Great Dane named (Poison) Ivy.  My husband is a huge movie and comics fan and so they are named after the DC comics characters.  My son also has two hermit crabs that he named Yummy and Bruh.
Which is your favorite, orange or blue? 
That's a tough one!  But I'd say I prefer to wear blue.
How would you describe the community of the College of Veterinary Medicine?
Everyone has been so warm and welcoming and helpful to me since I came into my position—even virtually—and I look forward to working here for many years to come!