Research, Swine Meetings Key to Success
When it comes to pork production, Illinois may lag behind a few other states—Iowa, North Carolina, and Minnesota, to be exact. But when it comes to preparing veterinary students to enter the swine industry, the University of Illinois is hard to beat.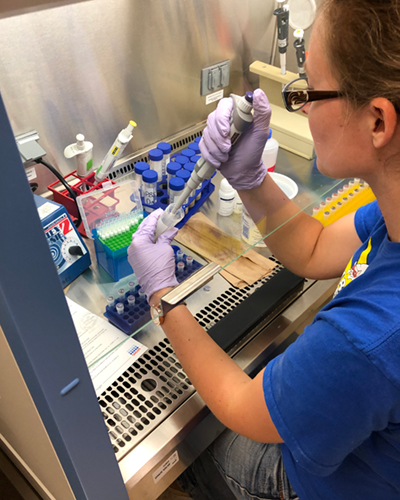 One indicator of our success is the high percentage of Illinois students selected last fall to present at the 2020 meeting of the American Association of Swine Veterinarians (AASV).
"I could not be prouder of our students," says Dr. Jim Lowe, associate professor and head of the Integrated Food Animal Management Systems section. "Competing with more than 60 veterinary students nationwide for 15 oral presentation slots at the 2020 AASV meeting, Illinois students nabbed six slots: That's 40 percent of the presentations from one school!"
Melissa Hermes, Dayna Kinkade, Jessie Kordas, Kristen Leuck, Molly Neiley, and Rebekah Schultz were selected to present at the meeting to be held in Atlanta, Ga., in March. Other Illinois students who will present posters at the meeting 2020 include Laura Glazik, Brian Johnson, Madison Kapraun, Erin Kettelkamp, Lauran Nagel, Tyler Pieper, and Zack Talbert.
Summer Research, Spring Presentations
Dr. Ben Blair, a veterinarian pursuing a doctoral degree in Dr. Lowe's laboratory, made a tremendous contribution to the success of veterinary students working in the lab. Over the summer, Dr. Blair matched student researchers with a project that would complement and enhance their skill-sets. Students spent the summer collecting and analyzing data before submitting their abstracts to AASV for consideration in September.
The abstracts, limited to 550 words and one table or figure, are evaluated on whether the research makes a significant contribution to industry knowledge and has immediate applicability and interest to practitioners. Judges also look at the quality of the data collected, interpretation of results, writing, clarity, and scientific depth.
Research Is Part of the Job
According to Dr. Blair: "On the swine side of things, research is a part of your everyday job. You're going to do clinical trials, vaccines, and treatment regimens. When these students get to practice, they will be prepared to conduct and run a study."
Third-year student Jessie Kordas concentrated her research on swine-farm biosecurity practice. "My work has focused on modifying current methods as well as exploring new methods for disinfection of supplies upon farm entry. Supplies and personal items are constantly moving on and off of farms, many carrying germs that could be detrimental to a naïve herd of pigs," said Kordas.
"Summer externships or internships are another great way for students to rub shoulders with the people in the industry. The people who are going to hire you. The people who change things.

Dr. Ben Blair
"Learning to conduct my own statistical analysis was definitely a challenging part of the research project as a whole. Per the recommendation of Dr. Lowe, I enrolled in a graduate-level statistics course to better analyze my data. I also learned some coding in RStudio from Dr. Blair."
Molly Neiley, another third-year student, applied her extensive microbiology background to swine medicine and will present on optimal flu-surveillance in swine. "We focused on determining the optimal sampling method for detecting the influenza A virus in infected pigs. We wanted to look at which method(s) would be most efficient and most consistent for surveillance purposes," explained Neiley.
Opportunities in Swine Medicine
Understanding the swine industry means leveraging research, large-scale animal care, ethical business practices, and strategic decision-making. Illinois encourages a variety of opportunities for students to receive this training early in their schooling in order to jumpstart careers in swine medicine.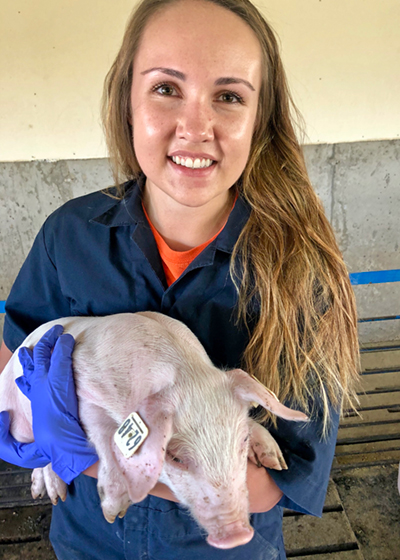 For example, the 120-member Production Medicine Club promotes hands-on involvement with production species outside of the curriculum. Club advisors Drs. Lowe and Blair act as main points of contact between Illinois students and the industry.
"Summer externships or internships are another great way for students to rub shoulders with the people in the industry. The people who are going to hire you. The people who change things," said Dr. Blair.
Third-year student Erin Kettelkamp held an internship last summer through the Swine Veterinary Internship Program (SVIP) at Iowa State University. She was placed at Carthage Veterinary Service, founded by Illinois alumnus Dr. Joe Connor.
"I had the opportunity to learn how to organize and complete a research trial in a field setting. In addition to conducting research, I was able to spend a lot of time shadowing the Carthage vets on herd visits, working alongside farm staff in various areas of production, and honing my sample collecting skills for disease surveillance," said Kettelkamp.
'Exposure to Future Employers'
Involvement with AASV is a must for students hoping to enter the swine industry's unique community. With 1300+ swine industry professionals in attendance, the AASV meeting is the place to be. And the student oral presentation is said to have the highest attendance of any session at the meeting.
"The AASV is a great place to get exposure to future employers," noted Dr. Blair.
Kettelkamp presented at AASV in 2019 on the efficacy of different aerosolized chemical disinfectants and decontamination practices on swine farms. She will also attend the 2020 meeting and present a poster.
"These meetings and internship experiences to me have really highlighted the importance of evaluating animal health individually and on a population basis," Kettelkamp said. "I get excited to think that, as a swine vet, my career does not just revolve around wrangling pigs in a barn, but it is overseeing the health of entire populations, helping to train farm staff, being involved in research and disease surveillance, even dabbling in public health and food safety."
Kordas, who attended the meeting in 2019 with a poster presentation, agrees. "Working in and learning about a new portion of the industry has greatly improved my reasoning and critical thinking skills," she remarked.
Preparing for March Meeting
For now, the six students who will give oral presentations are preparing to confidently present their research and interact with swine industry professionals. Each has written a proceedings paper.
"We try to promote a story approach," explained Dr. Blair, who is continuing to mentor the students and encouraging them to paint a picture with their research. Students will have delivered a multitude of draft presentations and undergone peer and faculty member critiques before heading to Atlanta next month.
By Steph Maurer