'That's Where I'm Going to School'
Note: This profile of 2019 veterinary graduate Dr. Anamaria Cruz is one in a series. For others, visit Alumni News.
I decided to be a vet later in life than a lot of my peers. And by "later in life," I mean junior high.
I think I was an unintentional hipster child. When I was young, all my friends wanted to be veterinarians, and for whatever reason I didn't want to do what everybody else did. So I didn't even think about it.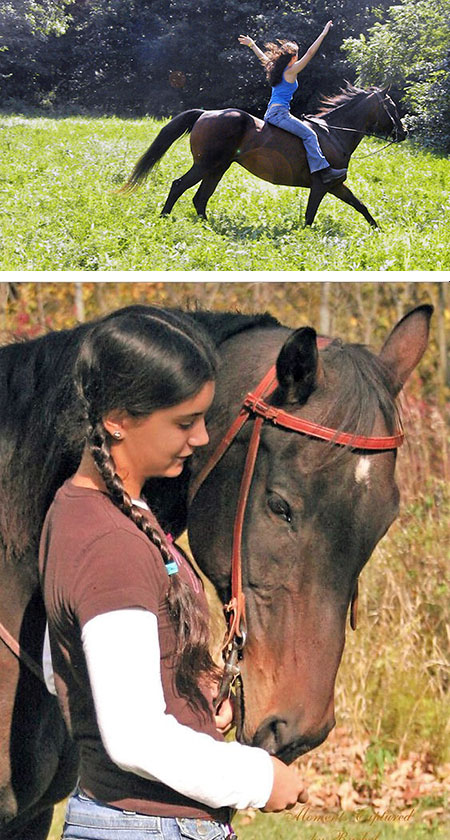 I mean, I grew up riding horses, trained horses for a while, we had dogs, and I was always really interested in animals. Growing up in Peoria, I had Wildlife Prairie Park almost in my backyard. I assumed I would do something with animals. I just didn't know what.
Then around junior high, I remember seeing the College of Veterinary Medicine for the first time … from a soccer field. My brother was playing travel soccer and I went to Urbana-Champaign to watch him. Suddenly, I just knew. I looked across the field and thought, "That's really not an attractive building, but that's where I'm going to school."
(My apologies to any architects out there.)
In junior high, about the same time I realized I wanted to be a vet, I also got my dog, Pixie, and my horse, Annie Oakley, within a month of each other. They've been instrumental in developing my passions and both have taught me a ton. Sadly, I just euthanized my Annie Oakley on May 11, the day after my graduation ceremony. She saw me through junior high, high school, college, and held out until I graduated from vet school. Pixie had a bout with cancer in 2017, but she's been cancer free the past two years. The companionship of both my pets has allowed me a lot of empathy for clients over the years.
Early Interests in Research and Medicine Remain
In high school I remember sitting down at a big table for a scholarship interview across from a bunch of animal sciences professors at U of I. They asked me what I wanted to do and I said, "Well, I really like research and I really like medicine. So I think DVM-PhD is a possibility." They all started laughing! I was just 17! They very quickly stopped, but I'm sure they were thinking, "This poor girl has no idea what she's in for."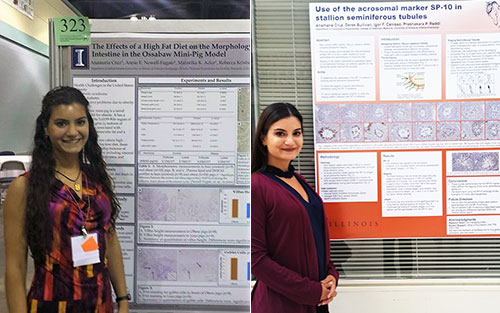 But I got the scholarship! I don't know if they felt bad for me or what, but it's so funny, now that I'm getting my DVM, that I still have not kicked that research bug. I've had the idea way back in the back of my head, and it won't go away.
I think being involved in research labs in undergrad at U of I, particularly with Dr. Romana Nowak in animal sciences, was really instrumental in fostering my interest in research. She was really supportive. She took me to my first research conference, in Puerto Rico. I mean, that's how you get a kid interested in presenting research — take her to Puerto Rico!
Final Six Weeks of Study = Professional Development
For my PD period, I worked for a week at the Henry Doorly Zoo and Aquarium in Omaha. They've got dorms there for the interns, so I actually lived inside the zoo. Then during the day I worked with the reproductive sciences laboratory and the reproductive physiologist there. So I wasn't really working with veterinarians, I was working with researchers.
I had to ask for special permission to do that, but my advisor was willing to work with me because I want to go into research focusing on reproductive sciences with an emphasis on conservation. The Omaha zoo is one of the top places where that is happening, and major discoveries are being made there. They were really welcoming, letting me come and hang out with them for the week, seeing the reproductive sciences laboratory, and of course getting to work with some of the animals on some procedures. It was really, really cool.
I also spent two weeks at Wildlife Prairie Park, which is near and dear to my heart. Throughout grade school I went to the birthday parties and field trips at the park. Then, as an undergrad, I went back and did an internship there with their nature education department as part of one of my honors projects.
So getting to come back six years later and working with the same animals and people, seeing the park as it has developed over the years, was just a very strong emotional feeling for me. Part of it was "Peoria Pride," I think, and also getting to fulfill dreams I never even thought of when I was little.
In fact, I got to hold one of the skunks I worked with when he was a year old. Now he's seven, and I took a picture in almost the same pose from six years ago! It was very cool.
I also did a PD rotation with my mentor at the Peoria Zoo, head veterinarian Dr. Beth Turnbull. She has a private animal practice as well, and I worked in both places with her for a summer after my first year of vet school. Getting to go back with her was very special. She let me take on more decision-making roles this time and handle more procedures at the zoo. I love working with her.
Then I did two rotations at Vet Med, one in emergency medicine, the other in advanced neurology.
Rotating Internship at Specialty Hospital
I have an internship lined up after graduation. It's a rotating internship at VCA Aurora Animal Hospital in Aurora, Ill. These internships are one year long and they're meant to give you the experience in one year that you would receive in three to five years in general practice. So they're pretty intense.
However, the goal is to have a really strong mentorship experience. There are senior veterinarians available if you have questions, or if you feel uncomfortable in situations, or if you haven't done something before. It's more of a controlled leap then total free-falling. At least, that's the hope!
After this internship I would like to apply for a specialty internship or residency in the field of reproductive medicine. It's the aspect of medicine I like the best. It's working with the hormones and solving problems like: "Where is this infertility originating?" "Are there problems with this baby?" It's really what I enjoy the most, and it's more hands-on than straight laboratory work.
But then there are also positions called postdocs. They're usually more for PhD graduates, but some are open to DVM graduates as well. It's this lovely sort of perfect storm combo for me, a mix of clinical and research work. So I've kind of been playing with that in the back of my mind, too.
As told to Jim McFarlin
Note: The top photo shows Cruz taking physiologic measurements of green sea turtles during a two-week summer course on marine animal medicine called "MarVet," based out of St. George's vet school in Grand Cayman.