Virologist Leyi Wang joined the faculty of the Veterinary Diagnostic Laboratory in the summer of 2017. Within 18 months, he had brought two whole-genome sequencers—the lab's first—on board.
The combination of Dr. Wang's expertise and the sequencers' processing power opens a world of possibility for veterinarians, public health officials, and biomedical researchers, who can now incorporate genomic findings into their work rapidly and inexpensively.
Technology around genome sequencing has advanced tremendously. According to estimates from the National Human Genome Research Institute, the cost of sequencing a human-sized genome dropped from $100,000,000 in 2001 to around $1,000 in 2017.
Casting a Wider Net
"The affordability of this technology will enable veterinarians and others to screen more samples and detect pathogens involved in diseases, offering much more robust diagnostics than were possible through previous technologies, such as q/RT-PCR," said Dr. Wang.
"You can have the whole picture now," he said. "It's kind of like a net. We can catch everything inside of the sample. That's the principle for all of next-generation genome sequencing."
Whole-genome sequencers are used routinely for investigations of food-borne outbreaks, to identify emerging and reemerging pathogens in animals and people, and to monitor variants and mutations within pathogens.
Two Sequencers
The lab's two sequencers, both made by Illumina, Inc., have distinct capabilities. The MiSeq, which arrived in January 2018 at a cost of $100,000, is a high-throughput sequencer that performs up to 25 million reads per run. The iSeq was funded through a grant from the Food and Drug Administration to Dr. Wang and arrived last October; it performs 4 million reads per run.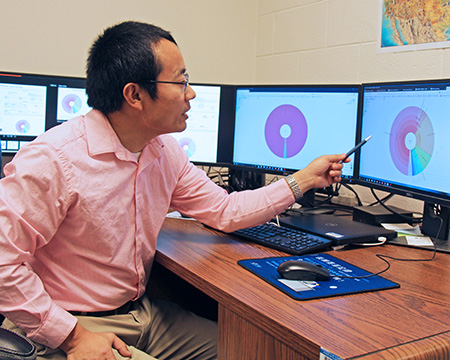 Both machines deliver whole-genome sequencing of bacteria and viruses and can identify multiple agents or novel pathogens in samples. Pricing for whole-genome sequencing through the Veterinary Diagnostic Laboratory varies by target agent:
bacterial sequencing, $180;
viral sequencing, $275; and
metagenomic sequencing, $275
Every assay includes bioinformatic analysis tailored to the needs of the client.
Specimens to be tested include cultured isolates, tissues, blood, feces and body fluids. For more information, contact the Veterinary Diagnostic Laboratory at (217) 333-1620 or vdloffice@vetmed.illinois.edu.
About Leyi Wang
A diplomate of the American College of Veterinary Microbiologists with a virology specialty, Dr. Wang says he accepted the position at Illinois so that he could fully exercise his skills as a virologist. Previously he was part of the Animal Disease Diagnostic Laboratory at the Ohio Department of Agriculture. He earned his PhD from Ohio State University after completing veterinary and master's degrees in his native China.
Dr. Wang's research interests center around diagnosis of viral infectious diseases and vaccine development. Over the past 11 years he has published more than 50 papers that explore disease agents impacting food animal populations, especially pigs, but also other populations, from sparrows, cats, and oysters to human cell lines. He is editor of the 2016 handbook Animal Coronaviruses.