As Researcher, Mentor, Leader, Valli Delivered Impact
At its annual meeting held November 4 to 8 in Vancouver, British Columbia, the American College of Veterinary Pathologists (ACVP) bestowed its highest honor, Distinguished Member, on Dr. Victor E.O. "Ted" Valli, who had served as the dean of the University of Illinois College of Veterinary Medicine from 1989 to 2001.
A Distinguished Member is a diplomate of the ACVP who has rendered exceptionally distinguished service to the organization or who has contributed in an exemplary manner to veterinary pathology. The recipient is nominated, and the nomination is voted upon by the eight-member Council that leads the ACVP.
(In the photo above, Dr. Valli attends a farewell reception at the University of Illinois in 2008, when he and his wife Carroll moved to California after 18 years at Illinois. The photo at right was provided by Dr. Robert Jacobs, professor emeritus at the University of Guelph, who coordinated the nomination for Dr. Valli and personally delivered the award to him in California in December, reporting that Dr. Valli was very pleased to have received the award. "He has a great fondness for the [American College of Veterinary Pathologists] and is proud how effectively the College has worked to ensure excellence in veterinary and comparative pathology.")
'World's authority on hematopoietic neoplasms in animals'
Dr. Donald Meuten, professor emeritus at the North Carolina State University College of Veterinary Medicine, was among those supporting the nomination of Dr. Valli for the honor.
He wrote, "Ted became the world's authority on hematopoietic neoplasms in animals. He brought comparable human diseases to us and carried the similar animal tumors to the medical community. He started 'one health' before there was such a term. He blended classifications on human cancers with lymphoid cancers in animals, described the similarities and pointed out differences. His book, Veterinary Comparative Hematopathology, is a culmination of his years of research and diagnostic expertise that will remain a benchmark in comparative pathology."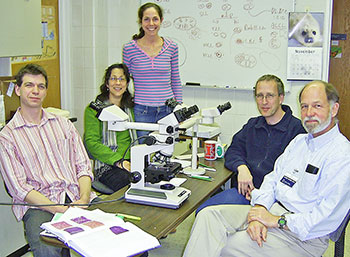 Dr. Meuten is a past president of ACVP.
'Really changed the way … canine lymphoma is assessed'
Dr. Dorothee Bienzle, a professor at Ontario Veterinary College at the University of Guelph, wrote of Dr. Valli: "In 2008, as chair of the Oncology Working Group of ACVP, Ted raised funds to host a group of experienced and inexperienced veterinary pathologists for a review session of lymphoma at Illinois. He also had obtained funds to prepare 300+ sections of canine lymphoma … and had some 20 pathologists spend three days looking at and classifying these sections. This session imparted a great deal of confidence in classifying lymphoma in most participants, and really changed the way in which canine lymphoma is assessed nowadays."
'Significant global impact' through mentoring
Dr. William Vernau, a professor at the University of California-Davis, commented on Dr. Valli's passion for graduate student training.
"His offices are always lined by the theses of the dozens of PhD, Masters and DVSc students that he has been primary mentor to, closely supervising not only their research projects but their training programs in general. These students have come not only from Canada and the United States, but also from Europe, South America, Africa, Asia and Australasia," wrote Dr. Vernau. "In this way, Dr. Valli has had a very significant (positive) GLOBAL impact on both veterinary anatomic and clinical pathology."
In summarizing his remarks, Dr. Vernau wrote: "There are few, if any, veterinary pathologists who have impacted the discipline of veterinary pathology, and the training of more veterinarians, clinical pathologists, anatomic pathologists and graduate students, and in as many different countries, as Ted Valli has. His knowledge and scholarship, experience, drive, passion and mentorship are a unique and compelling combination. He is the father of veterinary hematopathology and truly belongs in the pantheon of veterinary pathologists."
An energy for 'veterinary medicine and … veterinary pathology'
Dr. Anne M. Barger, clinical professor at the Illinois College of Veterinary Medicine and section head for clinical pathology in the college's Veterinary Diagnostic Laboratory, also contributed to Dr. Valli's nomination. Dr. Valli was dean while Dr. Barger attended veterinary school at Illinois.
"He was such an enthusiastic teacher. He is funny, practical and brilliant, a wicked combination for an educator," she wrote. "As a student, I wondered how Dr. Valli found time to teach as much as he did and still be successful as the Dean. It wasn't until I returned to the University of Illinois as a faculty member in 2002 that I came to recognize the energy that Dr. Valli has for veterinary medicine and more specifically, veterinary pathology."
Dr. Barger's term as president of the ACVP came to a close at the November meeting where Dr. Valli was honored.
About ACVP
There are currently nearly 1,700 ACVP diplomates, all of whom have completed a degree in veterinary medicine, at least three years of post-veterinary school training, and have passed the certifying examination in veterinary anatomic and/or clinical pathology. The ACVP, established in 1949, is the oldest veterinary specialty organization recognized by the American Veterinary Medical Association.
About Dr. Valli
Under the deanship of Dr. Valli, the University of Illinois College of Veterinary Medicine benefited from nearly $6 million in Venture Technology funding from the state of Illinois. Dean Valli fostered strong connections with the professional students by hosting welcome and graduation events in his home and by lecturing in histology.
Dr. Valli received a DVM degree from the University of Toronto as well as master's and PhD degrees from Ontario Veterinary College, where he also chaired the Department of Pathology and served as associate dean of research before becoming the dean at Illinois in 1989. He served in the South Alberta Regiment from 1945 to 1954.
Previously Dr. Valli's contributions to the field have been recognized by the Lifetime Achievement Award from the American Society of Veterinary Clinical Pathology in 2011 and by the Theilen Tribute Award from the Veterinary Cancer Society in 2015.