"It was one of those times when you're glad you've had training, but never expected it to be put to full use," recalled Scott Hexum, of the eight-hour rescue mission that took place on the evening of September 22.
Hexum, who is an anatomy instructor at the College of Veterinary Medicine, has long been active in emergency response teams currently as an engineer/EMT-B with the Savoy Fire Department and an assistant staff field instructor of large animal rescue awareness with the Illinois Fire Service Institute. Still, he was not at all expecting the scene he arrived to that night he received the phone call about a horse stuck in mud.
"When I arrived, you could only see four or five inches of [Bella's] back, along with her head and neck. The rest of her body was submerged in mud. At that point, it was much more severe than expected," Hexum said.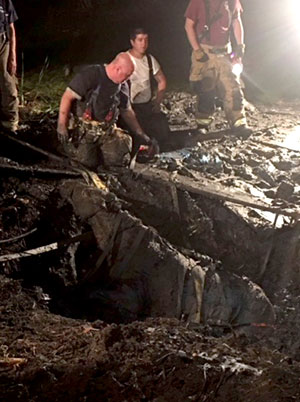 The property on which Bella lives sits at the west end of Willard Airport in Savoy, Ill. Due to the slope of the land, the residence sits about 10 feet below the airport and receives much of the run-off following a heavy rain. Such a rain led to a thick mud on one area of the farm, which created a lot of suction, causing Bella to become stuck.
Becky Harris Patrick, Bella's owner, explained how Bella was found.
"Both my horses went in [the mud], and one managed to get out. The barn owner saw Tequila, my quarter horse. Tequila nudged the property owner into Bella's direction, neighed out, and Bella answered," Patrick said.
Upon Bella's discovery, the Savoy Fire Department was immediately called to the scene. By the end of the night, there were eight fire departments present including Willard Airport Crash/Rescue and the Urbana Fire Department's Technical Rescue Team, an ambulance in case of any rescuer emergencies, and Reynolds Towing Service, which provided a backhoe and forklift.
The initial strategy of placing boards around the pit to shore up the mud did not prove successful. As Bella felt her first sense of freedom, she would move, causing mud to collapse back into the hole. Eventually, exhaustion hit, and for a while, she showed less resistance to our efforts to free her.
It was then that the backup reinforcements were called. Trees and fences had to be knocked down to allow heavy-duty equipment to be brought to Bella's location.
Veterinary resident Dr. Ilana Miller Glasberg and fourth-year veterinary student Kayte LaFollette were also on the scene, watching for and treating injuries. They placed a catheter in Bella's external jugular vein so she could receive fluids; after the first bag of fluids was administered, the IV became displaced.
As mud was being dug out more efficiently by heavy machinery, a sling was brought out with the hope of securing Bella to safely pull her up onto the bank. It was not a simple task; the sling would ride up and pinch her forelimbs, according to Hexum. However, with level-headedness and cooperation, the team was able to effectively secure the sling low on Bella's belly, and gently lifted her out to safety.
After close to eight hours of rescue attempt, Bella was transported to the Veterinary Teaching Hospital at 4 a.m. There, veterinarians checked Bella for signs of dehydration, compression injuries, and possible kidney problems and rhabdomyolysis—a breakdown of muscle tissue that releases damaging proteins into the bloodstream. After receiving the stamp of approval, Bella was sent home later that afternoon with instructions for her owners to keep an eye out for any possible signs of delayed impairments.
Fortunately, Bella recovered fully. Without proper care during the rescue, the outcome could have been much different.
"There were a couple of times it didn't seem promising," said Hexum. "A definite sense of urgency could be felt, but you have to suppress that because you risk severe injury—such as [her] hooves being pulled off from the suction—if you try to rush the process."
"Everyone was patient and did a fantastic job working together. It was very rewarding to have such a good resolution to this issue."
—Emily Luce