Dr. Daniel E. Snyder is grateful to the University of Illinois for the great education and opportunity he gained here, which have fostered his successful 30-year career in the pharmaceutical industry.
His history with the College of Veterinary Medicine began when he entered the PhD program, where he worked in the lab of Dr. Paul Fitzgerald, one of several outstanding parasitologists on the faculty at that time, along with Dr. Norman Levine and Dr. Kenneth Todd.
"Dr. Fitzgerald took a chance on me and invited me to be a part of his laboratory team," Dr. Snyder said in 2011, when he and his wife, Barbara, established the Dr. Paul R. Fitzgerald Memorial Parasitology Scholarship. "He was one of my early mentors who gave me my career start, and I will always appreciate what he taught me."
Dr. Snyder not only completed a PhD at the college in 1983, he then earned a Doctor of Veterinary Medicine degree here in 1987. (In the photo above, taken in 1983, Dr. Snyder is at the right; with him, from left, are Dr. Todd and Mrs. and Dr. Fitzgerald.) Since 2011, Dr. Snyder has served as an adjunct associate professor at the college.
The Snyders' scholarship is one way they can make similar opportunities available to today's students.
"The cost of getting a veterinary degree is currently quite high, and students are graduating with significant loans," says Dr. Snyder. "If I can provide some modest financial support to current students who have excelled in a scientific discipline that has been my career, I would say this is a win-win situation."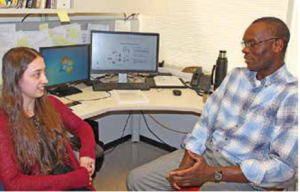 Hailey Prohaska, a second-year student, was encouraged to apply for the Fitzgerald scholarship by Dr. William Witola because she demonstrated excellent performance and interest in his parasitology class.
"Not only will this scholarship help financially, but it has acknowledged my hard work," Prohaska says. "It lets me know that someone has recognized my accomplishments and dedication to my field, which builds my confidence."
Prohaska hopes to educate her future clients on the importance of parasite preventives. She also plans to continue being a mentor for high school and pre-veterinary students by offering job shadowing, volunteering, and guidance.
"It can be difficult for students to find their first veterinary experience, and I want to help with that," Prohaska says. "I am thankful for the veterinarians that did this for me, and I want to pay it forward."
By Da Yeon Eom