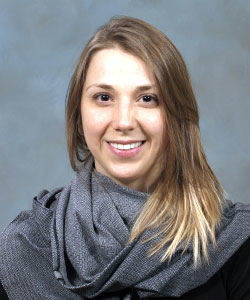 Keating, Stephanie
Clinical Associate Professor, Veterinary Teaching Hospital
Service Head, Anesthesiology

1008 West Hazelwood Dr.
2001 S Lincoln
M/C 002
Urbana
,
IL
61802
Education
Doctor of Veterinary Science (DVSc) in Anesthesiology
University of Guelph; Guelph, ON, Canada


Doctor of Veterinary Medicine (DVM) with distinction
University of Guelph; Guelph, ON, Canada


Undergraduate Life Sciences Studies
Queen's University; Kingston, ON, Canada
Professional Certifications
Diplomate of the American College of Veterinary Anesthesia and Analgesia


Certificate in Laboratory Animal Medicine, University of Guelph; Guelph, ON, Canada


College of Veterinarians of Ontario licensed


North American veterinary licensing examination certified
Academic Positions
Post-graduate Research Assistant
Manuscript writing and textbook chapter editing with Dr. Carolyn Kerr
University of Guelph; Guelph, ON
External Placement in Laboratory Animal Research
Pain and welfare research with Dr. Paul Flecknell
Comparative Biology Centre; Newcastle, UK
Research Assistant in a Summer Leadership Research Program
Immunology and vaccine research with Dr. Pat Shewen
University of Guelph; Guelph, ON
Research Assistant
Gastrointestinal disease research with Dr. Christopher Justinich
Gastrointestinal Disease Research Unit; Kingston, ON
Research Assistant
Stem cell and cardiac research with Dr. Robert Rose
Toronto General Hospital Research Institute; Toronto, ON
Research Assistant
Veterinary anesthesia research with Dr. Carolyn Kerr
University of Guelph; Guelph, ON
Anesthesia Summer Student
Ontario Veterinary College; Guelph, ON
On-call Technician
Animal Health Laboratory; Guelph, ON
Animal Care Assistant, Avian-Exotics Service
Ontario Veterinary College; Guelph, ON
Industry Positions
Anesthetist in Private Practice
West Toronto Veterinary Surgery; Toronto, ON
Toronto Animal Eye Clinic; Toronto, ON
Mississauga-Oakville Veterinary Referral Hospital; Oakville, ON
Associate Veterinarian
Heartland Pet Hospital; Mississauga, ON
Research Interests
Pain assessment
Adjunctive therapies for pain management
Locoregional anesthesia
Cardiopulmonary effects of anesthetic drug combinations
Immunological effects of anesthetic and analgesic agents
Links
Dr. Stephanie Keating is a board-certified specialist in veterinary anesthesia and pain management. She received her veterinary degree from the Ontario Veterinary College and practiced in the Toronto area before returning to the Ontario Veterinary College, where she completed her residency and Doctor of Veterinary Science graduate degree in anesthesiology.
Dr. Keating also has an interest in the wellbeing of laboratory animals and received certification in laboratory animal medicine from the University of Guelph. She spent a couple of years as an anesthesiologist in private referral practice before joining the anesthesia team at the University of Illinois. Her desire to contribute to the field of veterinary anesthesia and pain management has led her to stay actively involved with research and serve as a reviewer for a number of peer-reviewed journals.