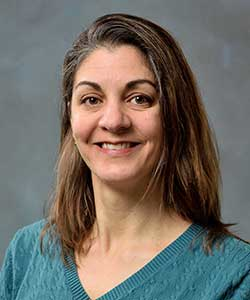 Selting, Kimberly Anne
Associate Professor

1008 Hazelwood
M/C 004
Urbana
,
IL
61802
Education
DVM, Colorado State University, Fort Collins, CO
Internship, The Animal Medical Center, New York City, NY
MS, Colorado State University, Fort Collins, CO
Residency (medical oncology), Colorado State University, Fort Collins, CO
Residency (radiation oncology), University of Missouri
Professional Certifications
American College of Veterinary Internal Medicine (Specialty Oncology)

American College of Veterinary Radiology (Radiation Oncology)
Academic Positions
Associate Teaching Professor, University of Missouri

Research Interests
Past research interests include the use of biomarkers (from blood, urine, and breath) to screen for and monitor cancer as well as chemotherapy toxicity (specifically cardiotoxicity), novel anticancer chemotherapy drugs, samarium-153-DOTMP (a bone-seeking radiopharmaceutical) to treat primary and metastatic bone cancer, and improved estimation of body surface area for more accurate dosing of anticancer drugs.
Current research interests include continued research on cardiotoxicity, novel anticancer drugs, improved multimodal treatment of feline oral squamous cell carcinoma, and an overarching goal to develop an improved understanding of the effect of radiation and various fractionation schedules on the tumor microenvironment.
Dr. Selting has focused more of her work on solid tumors such as osteosarcoma.
Links
A native of Colorado, Dr. Kim Selting completed her undergraduate and veterinary studies at Colorado State University. Following a one-year rotating small animal internship in medicine and surgery at the Animal Medical Center in New York City, she then moved to St. Louis. There Dr. Selting spent one year in emergency work and three years in small animal private practice. She then returned to the Colorado State University Animal Cancer Center to pursue a residency in medical oncology.
At the completion of this training, Dr. Selting had earned a master's degree and was board-certified by the American College of Veterinary Internal Medicine in the specialty of Oncology. Dr. Selting then joined the faculty at the University of Missouri from 2002-2017. In 2013, she completed a non-conforming residency in Radiation Oncology and achieved board certification by the American College of Veterinary Radiology.
In July 2017, Dr. Selting accepted a position as Associate Professor at the University of Illinois to develop a radiation therapy program.
Dr. Selting served as president of the Veterinary Cancer Society in 2017-18. She is also the past president of the Veterinary Cooperative Oncology Group and past member-at-large for the Veterinary Cancer Society, as well as past chair of the Oncology Certifying Examination Committee.