We hope you enjoy the tour! Do you want to skip to the Large Animal Clinic or the Veterinary Medicine South Clinic?
Small Animal Clinic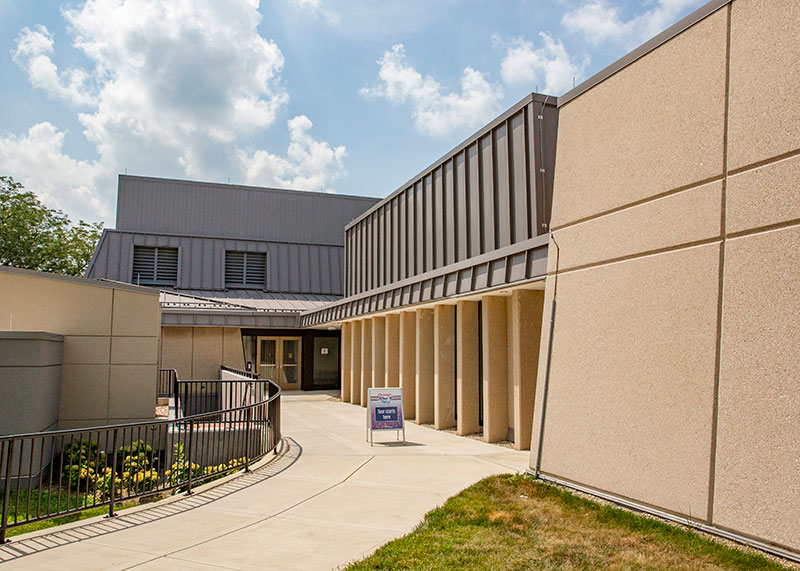 Small Animal Surgery Addition: This 9,000 sq. ft. wing features eight operating rooms, including an interventional radiology suite. A large central charting area, sub-sterile procedure room, surgery prep areas for people and instruments, and a rounds room with windows into two surgery suites support patient care and student education.
Anesthesia: Multiple workstations in an open floorplan facilitates safe and efficient anesthetic induction, surgical prep, and monitoring of patients. Dog and cat wards provide caging pre-operatively. The adjacent rounds room (Stop E) affords students a view into the workspace, integrating instruction and clinical service.
Dentistry: The renovated space has nearly twice the footprint, with four dental tables and dental imaging to accommodate a robust caseload.
Intermediate Care: This new ward optimizes care for patients that are post-operative or are hospitalized but in stable condition and do not require intensive care. Here, trained veterinary nursing staff oversees fluid administration, pain management, and monitoring of small animal patients.
Anesthesia Rounds Room: (See B above)
Isolation Ward: For potentially infective small animal patients, this four-chamber area includes an entry where PPE is donned or doffed, a treatment room to perform procedures or evaluations of animal patients with an infectious disease, and two animal-housing rooms. Patients can be observed through a gallery window and via video feed.
Student Lab: Here students may perform basic diagnostic preparation and testing using centrifuges, staining stations, and microscopes.
Small Animal Imaging: Situating a digital radiography machine and workstation for the first time near small animal surgery and ER greatly speeds imaging for post-operative small animal patients and those presenting for urgent and emergent conditions after hours.
Intensive Care Unit: The new location at the center of the Small Animal Clinic and immediately adjacent to ER facilitates advanced nursing care for our most critical small animal patients.
Small Animal Emergency Room (ER): The ER is a busy hub of the Small Animal Clinic at all hours. The new space features multiple treatment stations arranged in an open floorplan so caregivers can coordinate efforts and triage patients efficiently. Designated dog and cat wards hold patients awaiting treatment or transfer. A consultation room provides space for conversations with clients.
Emergency/Critical Care (ECC) Rounds Room: Featuring state-of-the-art resources for multi-media presentations, this room will be used for both consultation and instructional purposes by students, staff, and clinicians.
Blood Bank: This space, which is also the future home of a coming dialysis service, features a refrigerator for blood products and room for caging for small animal patients undergoing transfusion or dialysis therapy.
Purina Nutrition Resource Room: This room, made possible in part through a gift from Nestle Purina, will be used to store and prepare veterinary diets for small animal inpatients. A workstation provides access to online nutritional resources.
Medication Dispensary: Staffed by licensed pharmacists and technicians, the dispensary administers hospital-wide pharmaceutical services, including compounding. Temperature-, pressure-, and humidity-controlled hazardous drug and non-hazardous drug clean rooms meet USP800 standards.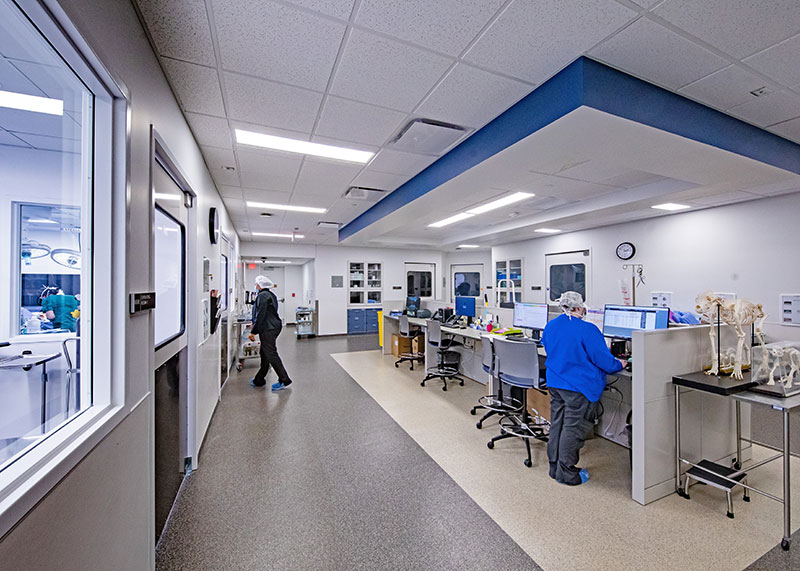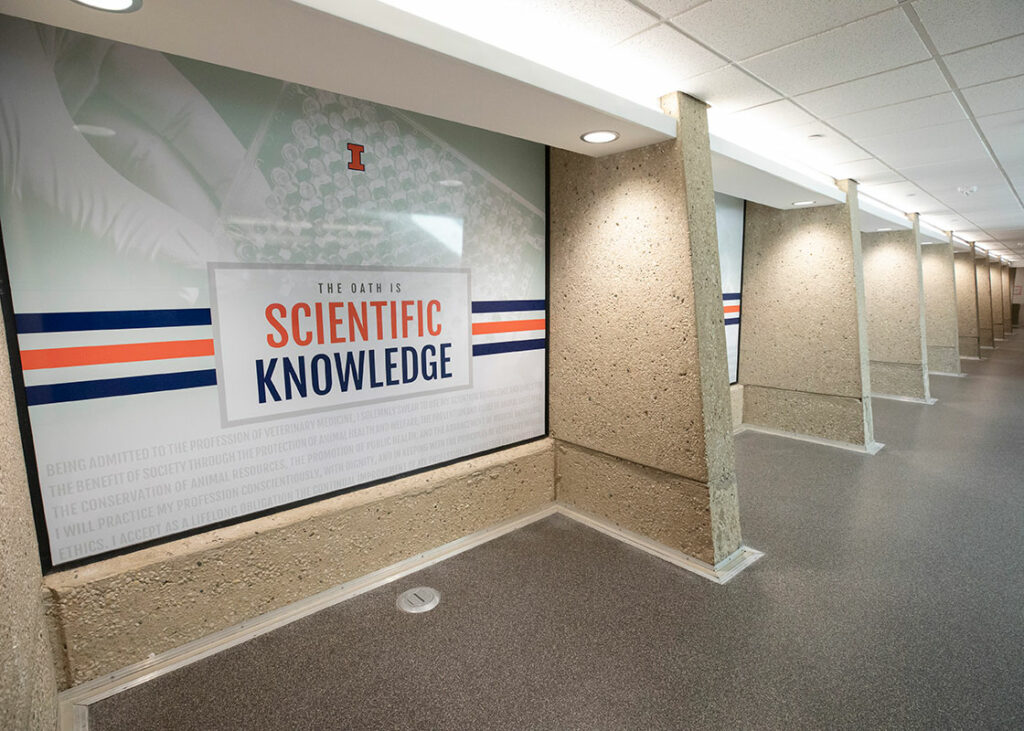 Large Animal Clinic
Computed Tomography (CT): Installed in conjunction with the state-of-the-art linear accelerator in 2019, this Siemens Definition 128 slice CT is used to acquire diagnostic images both for small animal patients undergoing radiation therapy for cancer treatment and for other patients. It also has interventional radiology capabilities. The hospital's range of imaging technologies, including a 3T MRI, digital radiography, and sonography, delivers remarkable diagnostic options for clinicians and patients.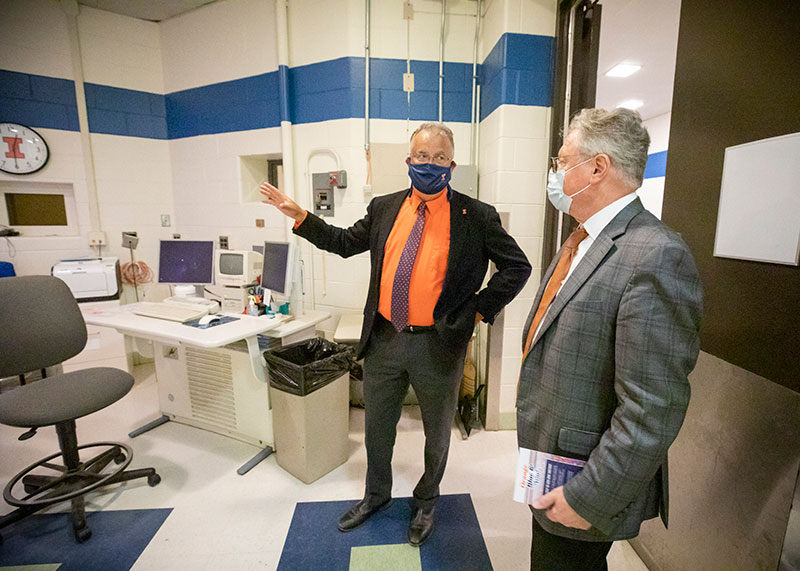 Equine Surgery Suite: The first phase of a multi-year project to improve patient handling safety and efficiency was launched this summer, when central sinks were removed from the anesthetic induction room to provide more functional space for surgical preparation of equine patients.
Food Animal Reproduction and Medicine Service: In early 2020 the chute and gate system used to manage cattle and other food and fiber animals was replaced as part of a major renovation of Ward 1.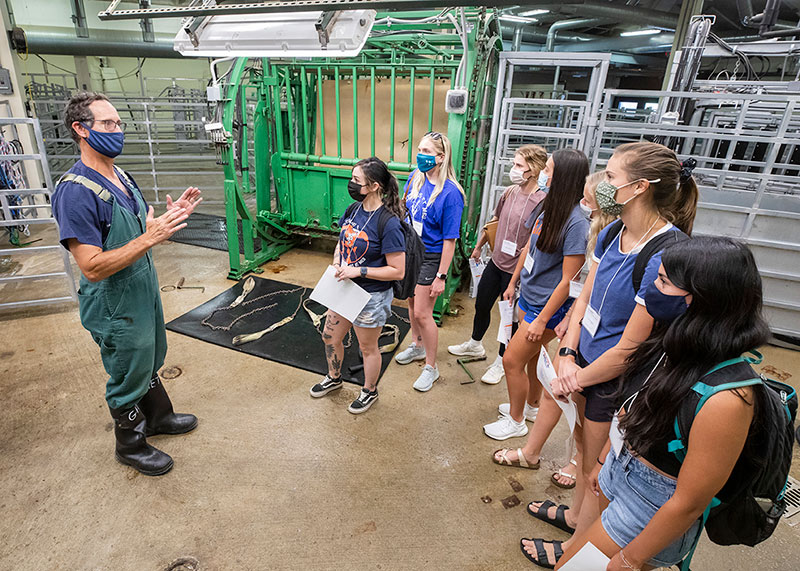 Equine Lameness Arena: Here clinicians conduct in-depth evaluations of horses for medical and performance issues in a safe and comfortable environment. Exercising horses can be observed under soft and firm footing conditions, including a 100-foot-long cement straight track. The arena footing, made from 100% recycled material, was generously donated by Kruse Cushion Ride.
Mobile Surgical Unit for Shelter Medicine Program: In 2015 a grant from Pet Smart Charities elevated our shelter medicine program with this mobile unit. This program gives students the opportunity to advance their surgical skills while sterilizing pets from shelter partners and underserved owners throughout central Illinois.
Veterinary Medicine South Clinic
Lobby: In January 2020, the small animal primary care, zoological medicine, and shelter medicine services of the hospital began offering care here. These services use the same health information system as the rest of the Veterinary Teaching Hospital but have an onsite medication dispensary and Cubex unit for pharmaceutical needs. The lobby provides segregated spaces for clients with dogs, cats, and companion zoological species. A monitor that livestreams animal-related video engages waiting clients.
Exam Rooms: Small animal primary care and zoological medicine share five exam rooms, each outfitted with a wall-mounted exam table, comfortable seating, a wall-mounted monitor for sharing patient information, a sink, and storage for supplies.
Laboratory: All services share this space where diagnostic samples are prepared. Testing options include basic hematology, cytology, fecal evaluation, and commercial benchtop tests. Video microscopy facilitates real-time training of veterinary and veterinary technician students.
Treatment Room: Adjacent to three exam rooms and the laboratory, this shared area features three exam tables for patient care as well as caging where patients can be monitored.
Dental Suite: Routine dental care for companion animals and zoological species is performed here. The room includes dental imaging technology and two dental stations (one wet and one dry table), and anesthesia equipment, which is operated by personnel within the zoo med or primary care service.
Prep and Sub-sterile Procedures Room: Patients may be treated in this space or may undergo anesthetic induction and other preparations for surgery.
Operating Room: Two operating tables have ceiling-mounted surgical lights, one of which is also equipped for video display of the surgical field for observers. Pass-through cabinets provide easy access to surgical supplies from central sterile.
Dog Ward: This is one of four animal housing wards to accommodate various species. It has caging for small to medium-sized dogs and runs for large dogs, with outdoor access.
Central Sterile: All services prepare and sterilize surgical packs and supplies here.
Imaging Room: Service personnel acquire digital radiography and ultrasound images, and consult boarded radiologists virtually as needed.
Shelter Medicine Office: In partnership with regional shelters, the shelter medicine program provides spay/neuter surgeries, outreach, and health care for community pets throughout central Illinois as well as in the hospital's junior surgery suite. The faculty office and mobile surgical unit are headquartered here.
Wildlife Medical Clinic: When the clinic moved in here in 2018, the program got its first purpose-built space since its founding in 1978, after occupying a series of spaces within the hospital.
Wildlife Ambassador Residence: Thanks to a generous private gift, our ambassador educational animals enjoy six large raptor enclosures with outdoor and temperature-controlled indoor spaces. Two indoor enclosures serve our reptile and mammal ambassadors. Arena bench seating will be installed to enable public outreach programs. New walkways connect the South Clinic and the Veterinary Teaching Hospital.