Ghanaian Student Finds Program 'Very Helpful'
Akosua Kumi Nyarko is in the fourth year of a six-year veterinary degree program at the University of Ghana. She says a friend told her about an educational opportunity she might find beneficial, even though it was more than 5,700 miles away: the Summer Research Training Program (SRTP) at the University of Illinois College of Veterinary Medicine.
"One morning, I received a WhatsApp message from my friend with the link," Nyarko says via Zoom. "She is also here in Ghana, she saw it on Twitter when it was retweeted by someone she knew. She had me in mind and said, 'I'm sure you would like it,' so I applied."
"The program has a webpage, and we get international applicants periodically," says Dr. Lois Hoyer, professor of pathobiology and associate dean for research and advanced studies, who has directed the program for the past 13 years. "During the pandemic, though, it was not possible to bring an international student to Illinois."
Zoom Facilitates Inclusion
The SRTP provides training for veterinary students who want to hone their research skills. Each student conducts a small research project under the guidance of a faculty mentor. The program also provides instruction in the responsible conduct of research and scientific writing and explores career opportunities for veterinarian scientists.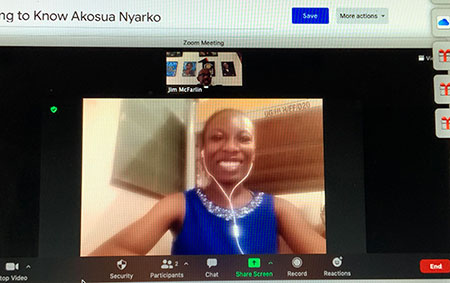 "Conducting our instructional sessions online makes them available to anyone who wants to participate," says Dr. Hoyer, "so I invited Akosua."
Nyarko is attending the program's sessions on responsible conduct of research, scientific writing, and careers for veterinary students. Does she find them helpful? "Very, very, very helpful," she beams. "I've actually learned a lot. I learned how to do abstracts, how to design a poster, learned about doing research in the field. Very helpful."
Inclusion of veterinary students, especially those from developing countries, into the community of aspiring researchers has been a frequent topic of discussion for the Research Committee of the American Association of Veterinary Medical Colleges (AAVMC), which Dr. Hoyer has chaired for the past year. One potential venue for outreach is the National Veterinary Scholars Symposium (NVSS), the annual summer venue where aspiring veterinarian scientists present their research projects while networking with peers and program directors.
Create a Stronger Future
Although NVSS has been an in-person conference since its inception approximately 20 years ago, COVID-19 necessitated the change to an online format last year and again this year. Dr. Hoyer believes that this consequence creates an opportunity.
"Many people are thinking about the lessons learned from the pandemic," says Dr. Hoyer. "Rather than simply going back to the way things used to be, there is room to create a stronger future from our recent experiences. Perhaps in future years, NVSS will provide the opportunity for international students who cannot travel to the meeting venue to participate virtually."
Dr. Caroline Cantner, the AAVMC's director for professional development, agrees. "The AAVMC and our sponsorship partners welcome and embrace increased international participation in the NVSS as a key element of the program's future development," she notes.
"While reducing the barrier of travel time and expense is one aspect of increased international participation, the next step will be to continue the balance of synchronous and asynchronous programming opportunities. We look forward to seeing what our 2021 registration numbers tell us regarding international participation and continuing to meet the needs of the academic veterinary research community."
Nyarko's participation in the Illinois SRTP is one step in the direction of greater international interactions among veterinary students. She plans to attend the NVSS later this summer—virtually, like everyone else.
Drawing Comparisons
In the meantime, participation in the Illinois instructional sessions has provided some notable comparisons between Nyarko's experiences as a veterinary student in Ghana and those training at Illinois.
While Illinois veterinary classes have approximately 130 students each, Nyarko's class at the University of Ghana has 17 students. With seven female students, Nyarko's veterinary class has the largest number of women in the history of the University of Ghana. This statistic is very different from the Illinois veterinary classes, which are approximately 85% women.
In fact, all the participants in the Illinois SRTP this year are women, placing Nyarko in good company.
"The male students treat us equally," Nyarko says, of her program in Ghana. "I would absolutely take another online course, if the opportunity arises."
By Jim McFarlin