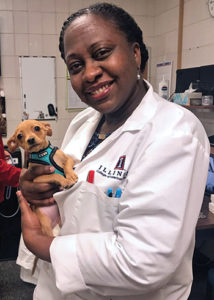 Orthopedic surgeon Dr. Tisha Harper and surgery resident Dr. Kyle Chu are seeking dogs for a clinical trial to compare the effectiveness of epidural injection to that of peri-articular infiltration of a long-acting local anesthetic (liposomal bupivacaine) for pain control in dogs undergoing tibial plateau leveling osteotomy (TPLO) surgery.
Inclusion criteria for this prospective, randomized, clinical trial include:
Age between 1 and 8 years
Weight between 15 and 50 kg
Good general systemic health
At least 3-day washout period from administration of oral analgesic medications, steroids, and/or a non-steroidal anti-inflammatory drug (NSAID) before treatment and surgery
The cost of the liposomal bupivacaine or epidural injection of morphine and bupivacaine (dependent on treatment group assignment) and two additional days of hospitalization and monitoring will be covered by the study. The cost of surgery is the responsibility of the owner.
For more information, visit: go.illinois.edu/NocitaEpiduralClinicalTrial20-21
To request additional details or to refer a patient, please contact Dr. Kyle Chu at 217-480-5556 or klchu@illinois.edu.