Dr. Marilyn O'Hara, a member of the college faculty since 2001, was killed in a collision on Sunday, September 30, 2018, at the age of 58. The clinical associate professor in the Department of Pathobiology is remembered for her dedication to the research process and for her kindness.
As founder and director of the Geographic Information Science and Spatial Epidemiology laboratory, she studied "the spatial and temporal variability of pathogens, the spatial dynamics of transmission of disease agents among hosts, and the relationship between environmental factors and health."
She earned bachelor's and master's degrees in geography from the University of Illinois and a PhD in geography from the University of Florida. Her work united a range of disciplines—including scholars who are biologists, ecologists, veterinarians, public health managers, and medical entomologists—in practical efforts to find patterns of disease that could be exploited to improve health.
"Marilyn was a fantastic colleague, mentor, scientist, and friend for people in the Department of Pathobiology and people at the University of Illinois," wrote Dr. Joanna Shisler, interim head of that department, in a message to department faculty and staff.
Dr. O'Hara was at the forefront of research into the impact of West Nile virus on people and animals in Illinois. She led projects to analyze data regarding infection risk and to improve risk-mitigation efforts, especially in heavily impacted counties in the Chicago area.
In 2017 she became the leader of the University of Illinois-based portion of a CDC-funded grant creating the Midwest Center of Excellence in Vector Borne Diseases.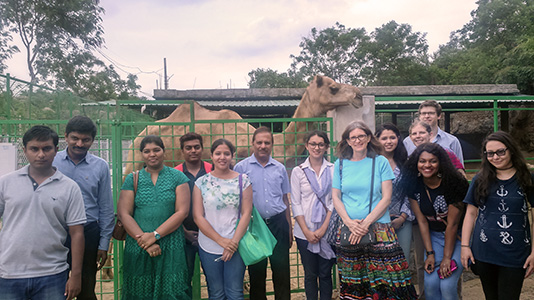 She was active in many One Health initiatives, including helping to organize a 2018 symposium, called "Uniting Infection Biology for One Health," as part of the campus sesquicentennial celebration.
She was involved closely with One Health research in the Indian subcontinent. As a Fulbright-Nehru Senior Scholar Research Fellow in 2012, she built a strong collaboration with the University of Delhi College of Medical Sciences. In 2016, she returned to India with a summer course called "One Health India" that engaged Illinois veterinary and undergraduate students in a 15-day program in India focused on rabies and dengue. The course brought Illinois students and Indian students together to consider new solutions to address these diseases.
In addition to her role as an advisor to a dozen graduate students in multiple departments, she was known for her mentoring and teaching across disciplines. Dr. O'Hara also served as a mentor for veterinary students in the college's Summer Research Training Program.
A visitation is scheduled for Friday, October 5. Memorial gifts may be directed to the College of Veterinary Medicine via the University of Illinois Foundation, 1305 W. Green St., Urbana, IL 61801. More information is available at the Sunset Funeral Home website.