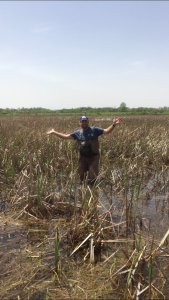 This week, we added a few more helping hands to the Kane County Blanding's team!  You Na Jeon, our visiting fourth-year veterinary student from Wisconsin, stuck around to help for the week and on Wednesday, we had a surprise visit from Dr. Allender himself and our very own WEL and Blanding's alum, Dr. Erin Newman!
The nasty weather carried over from last week and with the multiple cold, rainy days and a lot of flooded wetland, we found most of our traps empty this week!  This gave us more time to track down most of the adult female Blanding's turtles fitted with radio-transmitters so I could sample them and perform thorough physical exams before they start their journeys toward nesting grounds.  Stay tuned for more info on turtle nesting later!  Each turtle's transmitter gives off a signal at a specific frequency that can be picked up by our heavy-duty antenna and receiver when it's within range.
Watch the video below for a better idea of how we use this technology to keep track of these turtles!
BONUS THIS WEEK: You Na and I spotted a common snapping turtle attempting to cross the road, and stopped traffic to help him safely to the other side – on World Turtle Day no less!!