Dr. Matt Allender
Lab Director
Dr. Allender is a zoo and wildlife veterinarian that graduated from the University of Illinois in 2004 with his DVM. He went on to complete a MS investigating the health and disease of box turtles and massasauga rattlesnakes prior to completing a residency in Zoological Medicince at the University of Tennessee and Knoxville Zoo. He then joined the faculty at the College of Veterinary Medicine at the University of Illinois and jointly completed a PhD studying the Epidemiology of Ranavirus in free-ranging chelonians. He currently teaches, performs research, and provides clinical service for free-ranging and captive wildlife. College of Veterinary Medicine at the University of Illinois Bio Page.
Dr. Krista Keller
Dr. Keller is a veterinary specialist in Zoological Medicine with a passion for Zoological Companion Animals, or non traditional species that are a part of a human family. She is an Assistant Professor in the Department of Clinical Medicine at the College of Veterinary Medicine. Dr. Keller teaches, performs research and provides clinical service for captive zoological patients. Her current research is exploring the epidemiology of cutaneous mycosis (Nannizziopsis spp.) in companion lizards and elucidating prognostic indicators in captive wildlife.
Dr. Laura Adamovicz
Research Scientist
Dr. Adamovicz is a 2012 DVM graduate of the Virginia-Maryland Regional College of Veterinary Medicine. She joined the lab in 2015 as a PhD Fellow and completed her PhD in 2018. Her project assessed the wellness of wildlife indicated by the health of the eastern box turtle, ornate box turtle, and silvery salamander. Currently, Dr. Adamovicz is continuing her research program at the lab, mentoring students, and developing diagnostic assays to further the lab goal of saving the world.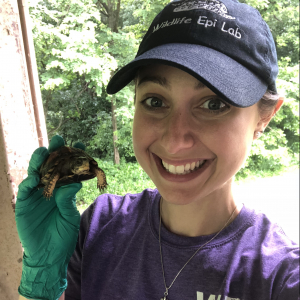 Emilie Ospina, MS
Research Associate
Emilie is a research associate and technician for the Wildlife Epidemiology Lab. She completed a MS at the University of Illinois in Natural Resources and Environmental Sciences. Emilie performs diagnostic assays and assists in on-going research projects in the lab.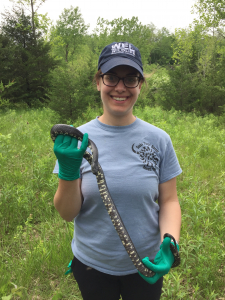 Dr. Ellen Haynes
Dr. Ellen Haynes is a third year PhD student studying the epidemiology and treatment of Snake Fungal Disease. She earned her DVM from Cornell in 2013 and joined the lab in 2017.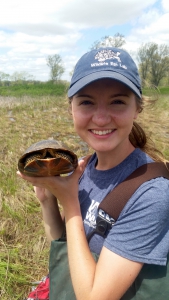 Marta Kelly
Class of 2020
Marta has worked on various projects with box turtles, Blanding's turtles, alligator snapping turtles, and snakes. Her research includes investigating disinfectant strategies for snake fungal disease. After graduation, she plans to continue conservation efforts through public education in a small animal medicine setting.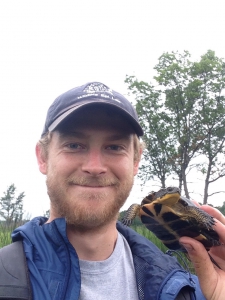 John Winter
Class of 2020
John has been involved in multiple projects in the lab through chelonian field work and lab animal care for snakes, turtles, and bearded dragons. He has authored two publications with the lab including assessing leukocyte quantification methods in box turtles and pathogen prevalence in Blanding's turtles. In the future, John would like to develop a career in zoo and conservation medicine and research.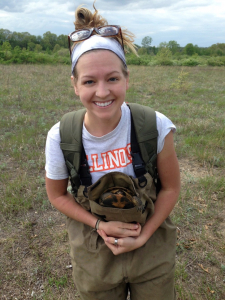 Lauren Mumm
Class of 2020
Lauren's research involves analyzing hematology and plasma biochemistries of the state-endangered Blanding's turtle.
Megan Gramhofer
Class of 2020
Megan's research involves looking at snake fungal disease and educating the public on the importance and value of snakes.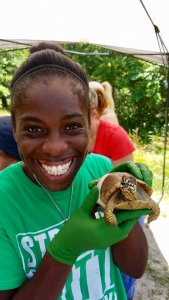 Taylor Jones
Class of 2020
Taylor's project focuses on detecting the prevalence of herpesvirus in Alligator Snapping Turtles.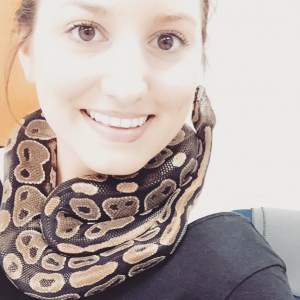 Caitlin Hemby
Class of 2020
Caitlin's research focus is on projects involving fungal disease in bearded dragons.
Dr. Jeremy Rayl
Class of 2021
Jeremy completed his PhD in Comparative Biosciences with a focus on wildlife epidemiology as part of the Veterinary Medical Scholars Program. He researched the immune function of turtles in response to ranavirus in the lab and in the field. He has been a part of many other projects during his extended time with the WEL, and he particularly enjoys work with RNA in both host and pathogen.
Kirsten Andersson
Class of 2021
Kirsten has a passion for zoological and conservation medicine. She has spent the last two summers doing fieldwork with Blanding's turtles and is working on a case study associated with one of the turtles. She is also conducting research with plasma protein levels and how those might be an indication of the health in this particular Blanding's population. She is excited to see how these projects continue to impact this species!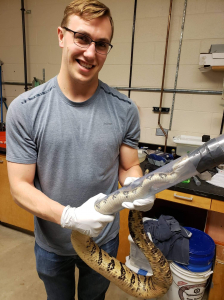 Bryce Dibadj
Class of 2021
Bryce's research involves determining if snake fungal disease can be detected in snake sheds, a retrospective study on Anseriformes survival and determining a method for producing thrombocyte/leukocyte rich plasma in bearded dragons.
Katy Klein
Class of 2021
Katy is excited about all Zoological Species. This past summer she was co-turtle team leader, where she helped fellow veterinary students learn and improve on reptile handling and blood collection. She is currently finishing her manuscripts on her two latest projects: eastern box turtle (EBT) lactate levels and EBT hematologic differences using two different anticoagulants.
Ivana Levy
Class of 2021
Ivana is excited to pursue a career in zoological companion species. She is currently working on four research projects that are focused on prognostic indicators for survival in guinea pigs, rats, and eastern grey squirrels. She has loved working in the research lab because of the hands on experiences as well as the group collaboration. Her favorite animal colony is the bearded dragons.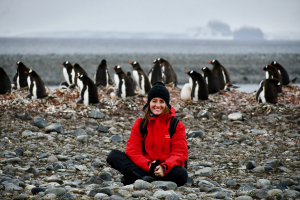 Brina Gartlan
Class of 2021
Brina loves all wildlife, but specifically reptiles and amphibians. Her latest project assessed ocular health in Eastern and Ornate box turtles!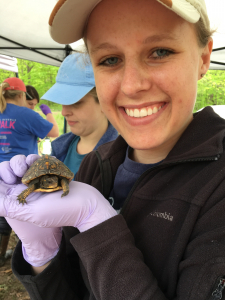 Greta Doden
Class of 2021
Greta is studying the prevalence and antimicrobial resistance patterns of Salmonella spp. in wild eastern box turtles.
Aubrey Engel
Class of 2021
Aubrey is eager to work with any and all zoological species. Her research projects include characterization of population health in Blanding's and painted turtle populations in northern Illinois and the development of a real-time PCR assay for the detection of Terrapene herpesvirus 2 in Eastern box turtles.
Katie Vivirito
Class of 2021
Katie is interested in epidemiology, zoonotic disease, and public health! She is part of team snake and has enjoyed two summers spent on snake fungal disease surveillance throughout the Midwest. Her research involves finding new field-accessible diagnostic techniques for snake fungal disease.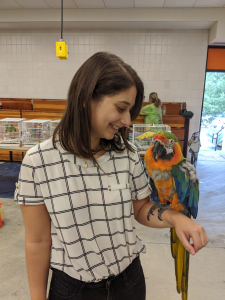 Eliana Foltin
Class of 2022
Eliana spent the summer determining prognostic indicators of survival for passerines that entered the Wildlife Medical Clinic. Her current research involves using CT scans to develop a body condition scoring system for bearded dragons.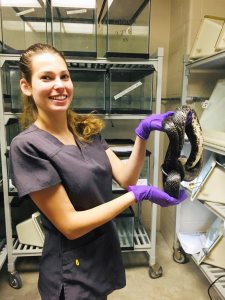 Michelle Waligora
Class of 2022
Michelle is interested in zoo medicine and surgery. She is currently working on a project involving the spatial analysis of Ophidiomyces positive snakes. She is also working on prairie rattlesnake hematology with respect to an Ophidiomyces challenge with temperature differences. In the future she will be helping with Blanding's turtle research in Lake County.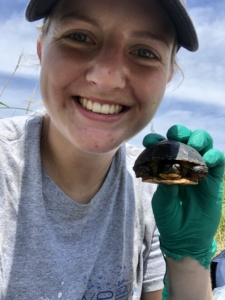 Kelcie Fredrickson
Class of 2023
Kelcie will be turtle team leader this upcoming summer and will be beginning her research project on a shell fungus, Emydomyces testavorans, that has impacted multiple turtle species.
Leena Roy
Class of 2023
Leena is excited about all zoological species. She is currently exploring opportunities within the lab to develop a project in subsequent years.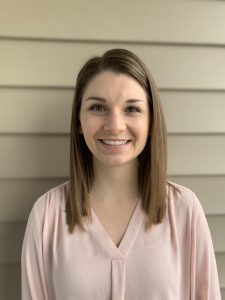 Kayla LaDez
Class of 2023
Kayla is interested in pursuing a career in companion zoological medicine. She is currently exploring various topics within the lab and is excited to develop a project!