This week was filled with a lot of hiking ft the wonderful Sam. Sam has been traveling around to the different counties helping the teams out as well as conducting turtle sampling on her own. We were so happy to have her this week. She helped make all the long hikes enjoyable and even told us some cool stories about her past travels to help animals.
With nesting still in full swing, our sample numbers remained low, however, we were met with an amazing opportunity. We were invited to help out with a few female turtles that were being induced. We were tasked with keeping a careful eye over the turtles as they laid one egg after another until they eventually ran out. This had to have been one of the most amazing things I have gotten to experience.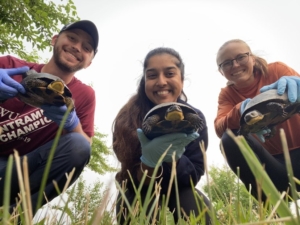 When Blanding's turtles are ready to lay their eggs, they will set out their search for the perfect spot where they will then use their back legs to dig out a hole to hold the eggs. Once the hole is to their satisfactory, they will lay their eggs. In a single clutch, a turtle can lay between 6 to 21 eggs. When they are all done, they use their back legs to push the dirt back over the eggs and make it look as if nothing happened. Seeing this process from start to finish was incredible.
All in all, this week was filled with a ton of exercise and awesome memories. I never thought that I would be able to hold a freshly laid turtle egg but here I am checking it off of my bucket list.
Now the for Week 5 Tallies
Total Turtles Sampled:  16
Surina's Fall Count: 7
How many times did Surina Flood her Waders: 0

How did the musician turtle get off his back?
He rocked, and he rolled.