A short story by Vroom
'Twas certainly a week. A hot and humid one at that. Temperatures rose up to 95F last week, with the RealFeel at a consistent 108F. We just wanted to find our turtles – was that too much to ask? Alas, fate had other plans for us.
Sunday began innocently enough, with a fun trip to Brookfield Zoo and CT scanning tons of turtles. We put them in a little line, and scanned about 5 at a time. This will help us learn whether we can see disease using methods other than our typical blood testing and swabs. Us Lake County folks finally got to meet up with all our friends at Kane and Cook counties, who even came back to Turtle Town to do lab work. We got pizza, so all in all the night was a success.
We had some friends join us for fieldwork on Monday! Carly Clark and Maris Daleo, our famous box turtle team and the people who get to hang out with the turtle dogs, were up in Lake County for some swamp experience. We spent the day tracking and sampling some turtles in Spring Bluff, and even got to see Frank again, a wild Blanding's we removed a tumor from not too long ago!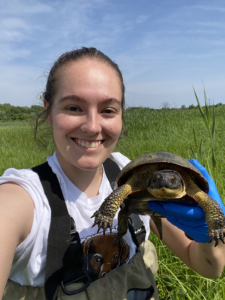 Carly and Maris hung out with us one more time this week – our goal was to find 15 turtles, more than doable with 4 people. The only problem is, although all of these turtles have transmitters (therefore can be tracked), they're pretty small. It took us quite a while to find our first turtle, but something tragic happened in all that time I was digging through the muck – my phone was gone.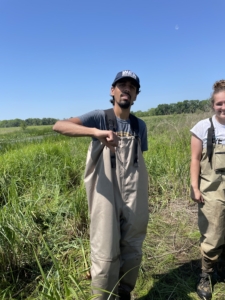 Where could it have gone?? It was literally just here, in my wader's pocket. I reached the inevitable conclusion that my phone was now the swamp's phone. The swamp was it's home now, and I could do nothing about it. I implored my friends to help me look one last time for my phone before we left. I plunged my arms into the water and sifted through mud once again, expecting nothing. Wait, what's that thing that's hard and feels kind of like a phone case? I raised my phone triumphantly above my head, relieved. 
Aaaand then we kept looking for turtles.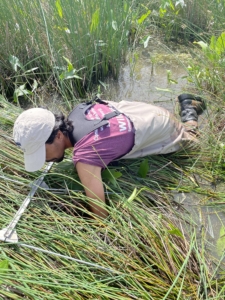 Key Takeaways; "When in the swamp, have a waterproof phone case." -Plato I think circa 55 B.C.