Hello Turtle Friends and Welcome to the first official post of the 2023 Kane County Turtle Field Season blog! This blog is brought to you by your friendly neighborhood vet students Surina and Nick.
Now for a little get to know you…
Surina just finished her first year of veterinary medical school at the University of Illinois and is from the Chicagoland area. Before coming to UIUC, She received a BS in Biology and BA in Music at Benedictine University in Lisle, IL. She hopes to pursue a career in Zoological and Aquatic Medicine where she would be able to work animals around the world as well as institutionally. Surina is most excited to see all the different personalities of the different turtles she encounters and be able to conquer the marsh without falling.
Nick is an upcoming third year student from Cleveland, Ohio. He studied Biology and Environmental Science at Walsh University in Canton, Ohio. Nick's goal is to become board certified in zoological medicine and work with a variety of animals in a captive setting, all while advocating for their conservation. He is most looking forward to wrangling as many turtles as possible with the rest of the team and improving his animal handling skills.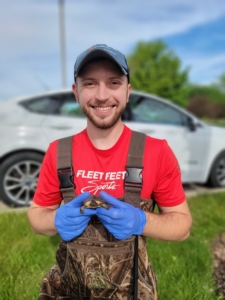 Stay tuned for weekly updates of our turtle filled adventures…