What a week! This was a trap week, and we had some wild stuff happening. We caught plenty of turtles, and even a few Blanding's that have never been caught before! We gave them ID's and names right there in the field and released them. One of them became "Porkchop" – he's definitely going to get bullied in turtle high school.

We have seen over 70 turtles and we've only been up here for 2 weeks – for those of you who don't know, that is INSANE!!
I (Varun) even practiced taking blood from a snapping turtle for the first time – luckily, it went great! The little dude looked a lot like mini bowser (you can see i've proved it comparison below) – I know he looks like he wants to eat my finger but I swear he was nice:
Pulling traps is a heck of a time, because you never know what you'll get! We found tons of crayfish, normal fish, and even frogs! Due to us being absolutely overrun with frogs, I will be giving you the best frogs we find each week!! Our first entry in the weekly frog™ is this wide-eyed weirdo that Marg found in a trap at Pine Dunes (P.S. i love him):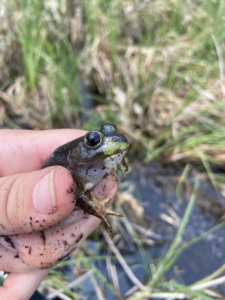 Lastly, we had a bunch of help up in Lake County on Friday – we sampled 11 turtles total and lab work was a breeze with everyone there!