Simply put, a wetland habitat is an outdoor ecosystem containing reeds, aquatic invertebrates, amphibians, and of course, water. It's a place where many types of fresh water life convene to reproduce, rear young and acquire the resources they need for survival. Unsurprisingly, most natural wetlands are forgotten, and subsequently neglected, due to their annual desiccation period. During this natural phase of a wetland's life history, people are inclined to mistake these areas as non-functional habitat and develop the land for anthropogenic uses.
So how does CRESO rectify the issue of dwindling wetland habitat in eastern Tennessee? They build and maintain vernal ponds all over Oak Ridge and Anderson County. The wetlands crew and I spent Thursday morning planting native flora around a wetland that was recently constructed behind the CRESO building. The kids share some of their wetlands knowledge in the following video.
DISCLAIMER: Even though I sound fairly audible at the beginning of each clip, some of the student responses are pretty quiet. I attempted to fix this with editing software but I apologize if certain parts are hard to hear.
I am so INCREDIBLY proud of these students! They labor for hours in the blistering sun with smiling faces, positive attitudes and an unyielding curiosity to discover and learn all things nature. Major kudos to my wetlands team – my project would be impossible without your service and dedication!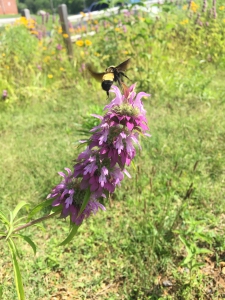 By planting native plants we can promote native pollinator diversity
Construction of the CRESO wetland on 6/15/16
CRESO students collect data on invertebrates at Robertsville wetland
The CRESO wetland post-planting of wild flowers and grass seed