Welcome to Blanding's Summer 2020 Blog 1
Hi everyone, welcome to our turtle-tastic blog! Our names are Sam and Kayla and we are the vet students who will be showing you what it's like researching the Blanding's Turtle in Lake County Illinois. We are thrilled to get the chance to take you on our adventures in the swamp this summer and can't wait to teach you all about the Blanding's Turtle in our weekly blogs. Before we get into the fun of showing you our vlog, here are some introductions!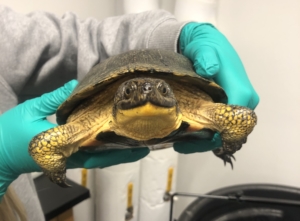 Hi! I'm the star of the show. I am a Blanding's Turtle. Blanding's turtles are semi-aquatic turtles that are native to the United States and Canada, but we are endangered in many states, including Illinois. I love to spend my time swimming in the marshlands and basking in the tall grasslands. People like Sam and Kayla come see me every summer to make sure my friends and I are staying happy and healthy. Projects like the Blanding's Turtle Recovery Program make sure my family and I will be living in this population for generations to come. Make sure to tune in all summer to see my beautiful yellow smile!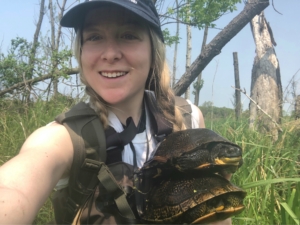 Hi my name is Sam! I am a rising third year veterinary student and this is my second summer working with the Blanding's Turtles. Last year I looked into the body condition score of this species, and I will continue looking at that, as well as researching RNA pathogens in the Blandings. I am extremely excited to get back to working with my favorite turtles in the field, and to start working with my new partner Kayla.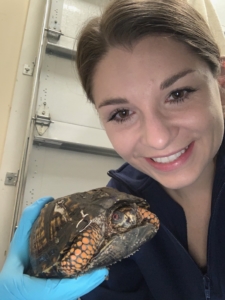 Hi my name is Kayla! I am a rising second year veterinary student. I am very excited to spend this summer working with Sam and the Blanding's in Lake County. This year I am going to be working on a project looking at erythrocyte sedimentation rate as another way to measure health in this species.
And thats our little team! Make sure to watch our first vlog below to get a peak at whats currently happening in the field, what we are doing to prepare for the big move, and obviously for some cute Blanding's turtles. See you next week!