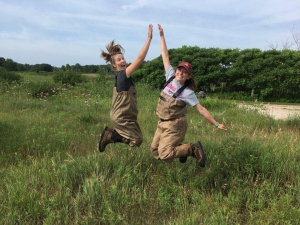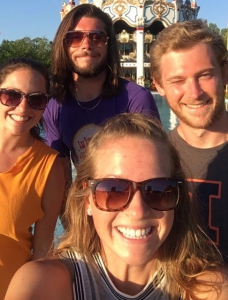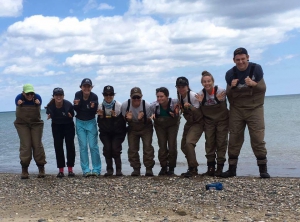 This week, we are going to change things up! We wanted to showcase the incredible, amazing, wonderful, fantastic team we have been working and living with this summer so we asked everyone to write a little bio about themselves!! Working with this group has truly been an awesome experience and they help make work fun every day! Lauren and I have been able to learn so much from these folks and this summer has been all the more enjoyable because of each and every person we have gotten to hang out and work with. So without further ado, here's the talented people we have gotten the opportunity to spend our summer with:
Gary is the wildlife biologist for the Lake County Forest Preserve District who, amongst a thousand other things he's responsible for throughout the year, spends a large chunk of his time, especially during summers, caring for and monitoring Lake County's Blanding's turtle population. Gary has been hand-raising the head started turtles and monitoring these populations for many years. We feel extremely lucky to have been able to learn from Gary as he has been sharing his experiences and knowledge with us all summer. We cannot thank him enough!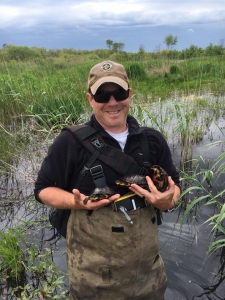 Gary Glowacki
Origin: Schaumburg, IL
Current: Antioch, IL
Undergrad: Valparaiso University
Grad School: Purdue University
1.) Coolest thing learned this summer: The coolest thing I have learned is probably that there is still so much to learn. Even after 13+ years, I have come to realize that there is still so much to understand about Blanding's Turtle ecology and conservation. This year has also reinforced the realization that the place I dedicate so much of my time and effort is one of the most amazing natural areas in the world. Not only does it contain a globally significant population of Blanding's Turtles, it also supports a huge diversity of plants and wildlife, including hundreds of globally rare species.
2.) Why is Blanding's Turtle Conservation important: Aside from being one the coolest species on the planet simply worthy of our conservation efforts, Blanding's Turtles act as a flagship species symbolic of the threats faced by many other species found in the region. As such, conservation efforts that address issues like habitat loss and fragmentation and associated road mortality, disease, increases in human-subsidized predators, climate change and pollution, may also improve the status of many other species which share its habitat or are vulnerable to the same threats.
3.) What do you want to be when grown up: The starting shortstop for the Chicago Cubs. If that doesn't work out, being a biologist that focuses on conservation of threatened and endangered herps would not be a bad gig either 😉
Callie is the master's student who is currently searching new areas for Blanding's turtles in Lake County as part of her thesis work. She has been working with Blanding's turtles here with Gary for the past three years and we are so fortunate for her to share her expertise when going in to the field to search for turtles to collect sample from!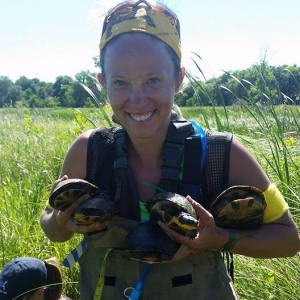 My name is Callie Klatt Golba and I am currently a master's student at Northern Illinois University working with Blanding's Turtles in Illinois. After graduating from undergrad at Butler University with a degree in Biology and Spanish, I have been pursuing a career in conservation biology with a focus on reptiles and amphibians. I have been lucky enough to work with Wood Turtles and Blanding's Turtles, which are two species of endangered, freshwater turtles. Working with these unique turtles has allowed me to develop my knowledge of the natural world, while spending countless hours in beautiful places. This has been an awesome summer so far, because we have a talented team and have found that our population of Blanding's is larger than we previously expected!
Turtle/wildlife techs: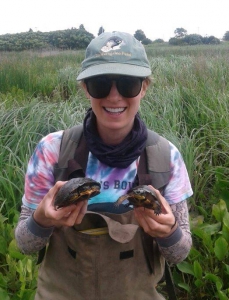 Hello World! My name is Elizabeth Marie Mullen, born and raised in Wheaton Illinois. The event that got me saying "how neat is that!" was when our team accomplished capturing 114 Blanding's over the course of 5 days. This experience has shown me how truly exceptional the teams dedication is towards the survival of this species. The focus, drive, and hard work put forth everyday to track and capture these turtles sheds light on the amazing impact we as humans can have especially when working together. This exciting experience has given me added drive towards a career in conservation biology. My hopes are to preserve, restore, and create better understanding with the public about the importance of our natural world.
Ed McDonald: I am a recent graduate of Frostburg State University located in western Maryland, but I am from Bensalem, Pennsylvania, which is a Philadelphia suburb. The moment I knew that I liked
working with these tiny shelled angels was last summer when I was the song bird tech at a wildlife refuge in New Jersey. I spent weekends volunteering with the wood turtle head-start project and it was that experience that helped me to get this Blanding's turtle position in Illinois. Living in Wauconda this summer has been great, while working the night shift I was on a routine schedule of going to the Lake Michigan beach every other day and now on weekends, I like to roll out into the neighborhood on my skates with my jams and greet our very friendly neighbors. I currently have no future jobs lined up, once this summer ends I will be spending some much needed time at home seeing family and friends. For now, I would like to keep finding seasonal positions like this. I think it is a great way to travel and see the country but ultimately, I would like to settle down in local or state government so that I can have the opportunity to continue assisting in research projects or taking control of my own.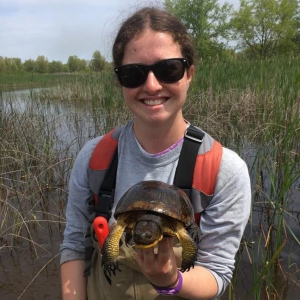 My name is Emma Buckardt and I'm from Deerfield IL. I will be a junior at SUNY-College of Environmental Science and Forestry majoring in Environmental Biology. The coolest thing I learned was probably how large the population is in Lake County and and therefore how important it is for the conservation of Blanding's turtles in general. I have grown up in Lake County all of my life and have been around the Forest Preserve system. This will always be home to me so getting to work to conserve such an important population of an endangered species was a wonderful way to help give back to the place I grew up. Plus turtles are pretty cool!  When I grow up I want to do research of my own helping endangered species. Also I want to do Environmental Education to help the next generation become interested in preserving and learning about the world around them.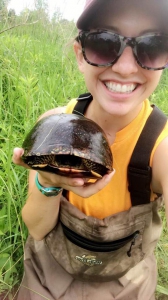 Hello! My name is Katherine Waguespack and grew up in Richmond, Virginia. I recently graduated from Virginia Tech with a Bachelor's degree in Wildlife Conservation. I graduated with the mindset that I had confidently narrowed my career goals down to research birds. Little did I know that this summer would cause a major shift in those goals as I mainly worked with reptiles and amphibians. Right now I am working as a Wildlife Monitoring Technician but also working with the Blanding's Turtle Project. I discovered that I have a love for herps, especially turtles and snakes. Blanding's turtle conservation is important to me because it reiterates the issue of habitat fragmentation and its effects on wildlife. Ultimately, I hope to become a Wildlife Biologist to make some kind of positive impact on the natural world.
¡Hola! My name is Verónica Anadón and I'm a tropical biologist from Puerto Rico. During my first 15 years working in conservation, I focused on saving threatened birds and their habitats at a local and international level, and mainly in Latin America and the Caribbean. I moved to Chicago three years ago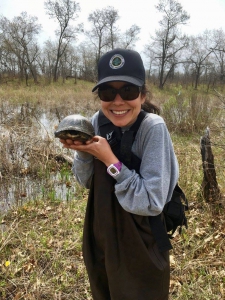 because love crossed my path and he happened to be living here. I applied to this internship because first, turtles are one of my favorite animals and I always wanted to work with them, and second, I wanted to learn about nature in the Chicago metropolitan area firsthand.  The coolest thing that I have learned during this internship is that though I thought that nature in this area would behave as part of a continental landscape it actually acts as if the forest preserves were individual islands. Nature is so limited and fragmented by urban development that it needs help from people in order to survive. Blanding's turtle conservation is important to me because it is one of the key species that represents the health of the local ecosystem of the Midwest which is my current home, and where I want to put my knowledge to work. I learned very early working in conservation that in order to save species we have to start locally on the ground to make a broader impact at a regional and global level. The people that will take care of nature in the long-term are the people that live close to it. In the future, I see myself continuing to be happy and working in conservation on the ground to save species in collaboration with a diverse group of people, melding my experiences of working in Latin American and the Caribbean with the way people do conservation here. I consider myself very lucky to work under the leadership of Callie and Gary who openly share their knowledge about Blanding's turtle conservation and local ecosystems. I'm grateful to have been working alongside a much younger generation which is smart, capable, and hard-working and who deeply care about nature. Thank you team for all your support and patience with my Spanglish! It has been a great summer for me!
Sam Hannabass: Last May I graduated from Virginia Tech with a degree in Wildlife Conservation. Since then I've been bouncing around seasonal field positions working on several conservation research
projects to try to figure out what I want to do in the future. I've spent time working with bats, piping plovers, bobwhite quail, large cats, and now Blanding's turtles. I'm now en route to my next field job working with wild turkey in Tennessee after spending a few days at home in Salem, VA visiting family I haven't seen in a few months! When I grow up I want to do exactly what I'm doing now: traveling everywhere I can to help whatever animal I can and to learn everything possible about wildlife. Working with Blanding's turtles has been one of the most fun experiences I've had so far! I've always loved turtles, but this was my first opportunity to work with them. Blanding's conservation is important to me because I think it's our responsibility to minimize the damage we as humans do to this planet. Since habitat loss and pet trade are two of the most significant causes for population declines, it's very important to do our part in helping this species bounce back and thrive.
Courtney Klatt: I'm from the Chicago suburbs and attended Indiana University to study Biology and Spanish. In the future I'm hoping to go graduate school and continue doing research. The coolest thing I learned this summer is about the different conservation efforts, such as head-starting and raccoon removals, that are in place to help this population of Blanding's turtles succeed. My favorite part about working with the Blanding's turtles this summer has been getting to spend all day in the field. We spend the days tracking and trapping turtles and hoping that we can hand capture at least a few!
Aaron is our one non-turtle crew roommate who is running an incredible program for Lake County this summer called Youth Conservation Corps. The program is aimed at getting high school students involved in conservation work by doing things like helping clear invasive species from Lake County!
Aaron Wolf is a Lake County native, growing up muddy as can be in the Buffalo Creek Forest Preserve. After high school, Aaron shipped off to the Marines serving
from 2004-2008. When he returned home. Aaron studied advertising and public relations at DePaul University and worked in that field for a few years before realizing his true calling as a professional tree-hugger. After one too many spreadsheets, Aaron quit his job downtown to start his outfitting and guide company, Adventures Accessed. Now, Aaron's goal is to help people build a meaningful connection to nature through immersion in the backcountry. Working as a licensed outfitter/guide with the national forest service, Aaron spends his summers providing programs for urban youth and adults alike. At the same time, Aaron runs the Youth Conservation Corps program for Lake County Forest Preserves. While doing this work simultaneously, Aaron maintains the belief that inspiring, guiding and educating our youth about conservation and stewardship is one of top priority for the preservation of our planet and sanity. Now, lets have pizza!