Lauren Got Stuck in the Rain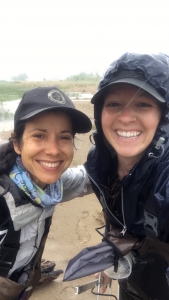 I wouldn't say got stuck as much as I would say willingly chose to get out of the vehicle while it was raining, with a radio antennae in hand, to track turtles. Rain or shine, during nesting season it is important to know where our turtle friends are because when they start moving they really go and we want to let night crew know who should be on their radar. It was gloomy, rainy all week, but one day was a torrential downpour. Was it fun? Under any weather condition it is fun, but this was a bit rough. Would I do it again? Probably because, turtles. What did I learn? To put my raincoat over my waders instead of tucking them. How did I learn this? During the monsoon that came through Thursday, the rain hit my jacket (did not absorb hence rain coat) and ran down into my waders for about five hours straight while in the field eventually making it so that I was calf-deep in water inside my waders.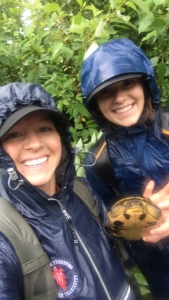 And She Got Lost
What happened out there on that torrential downpour day? It was my first time I truly got lost in the field. After two summers of the same field sites you would think I would have it down but apparently sheets of rain make things appear different. After I tracked a turtle to her pinpoint location, I gladly reached my already drenched rain coat sleeves into the shallow pond she was in to scoop her up and be on my way back to the car for sampling (it is important to keep our samples dry). It was only after about 15 minutes walking back to the car that I decided to take a gander at my GPS and realize I was walking in the exact opposite direction. Now, on a sunny day on a trail this wouldn't be that bad. In a marsh of knee deep water under flood warning this may have been the worst. I finally made it back to the car, sampled her and of course now had to return her. Luckily I found a landbridge that took me fairly close to her location and I only had to walk in deeper waters for a short while. Unfortunately, I wish I would have found that landbridge earlier that day.
New Turtles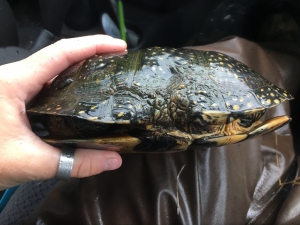 Gnarly – Lauren found her while in the rainstorm; she's an adult, she's gravid, and she has gnarly looking bridges between her carapace and plastron
---
---
Turtle Count:
137