Welcome to our Blanding's blog, where we are excited to share our summer turtle adventures with you! The school year just ended, the field season has officially started and we are more than thrilled to get our feet wet (literally and figuratively). As a part of Dr. Matt Allender's Wildlife Epidemiology Lab, we as veterinary students are gearing up alongside a team of biologists from Lake County Forest Preserve District to help protect and conserve our state-endangered friend, the Blanding's turtle. Our next few months will be spent tracking, trapping and "hand-capping" (those we incidentally come across in our path) Blanding's turtles in the wetlands of Lake County to collect samples for population health and disease analysis.
Lake County Forest Preserve District has long been acting, for at least a decade, to improve conservation efforts for Blanding's. The goal of their recovery program is "to ensure long-term Blanding's turtle persistence in Lake County through the management, conservation and/or re-establishment of viable, free-ranging populations of Blanding's turtles at a minimum of three focal conservation areas." They have worked hard to monitor home range and nesting sites, enforce predator control, and initiate a head-starting program to take steps towards sustaining a population. Because of their dedication to saving a species, further decline in population sizes have been prevented. As a key piece to every successful population, we as vet med students are working to assess a vital component — general health. Understanding population health will positively contribute to conservation efforts for this species.
Meet the Team
Lauren Mumm
Hello, it's me again! I couldn't resist another summer of fieldwork and am excited to be back with the Blanding's turtles. This time I am coming in with a second year of veterinary school under my belt. As a Minnesota-native where Blanding's turtles are not endangered, it is a bit disheartening to know that in other parts of their geographic range, populations are not as sustainable. Last summer my project in general focused on Blanding's turtle health and hematology. I am continuing this project by collecting a second season worth of data, as well as adding a component evaluating blood parasites.
My first week back in the field has been amazing; I was itching to get out of the classroom the last few weeks. Embarrassingly enough, I did "dump my waders" day one. I took a little tumble in the marshes allowing water to swarm over and into my chest high waders, completely soaking myself. Usually you are excused for doing such a thing on the first day but I was told as a veteran I had no excuse. The punishment? I had to bring donuts for everyone. It is clear walking in waders has not come back to me so quickly. On the plus side, I got my first hand-cap for the season already! He was a head-start born in 2015 named Gator, and this was the first time he had been seen in the wild since his release in 2016. This little turtle was from the LCFPD Adopt-A-Turtle program, and the individual who "adopted" him will now receive updated info and photos of him. Adopting a turtle allows the public to get involved and stay updated on Blanding's conservation. Last year, I gifted my grandmother an adopted turtle for her birthday, whom she named Lady Liberty.
My goals this summer are to utilize the tools I gained from the second-year classroom, contribute to the conservation of a native endangered species, share with you what I learn every week, and of course try my best to find that very special, Lady Liberty.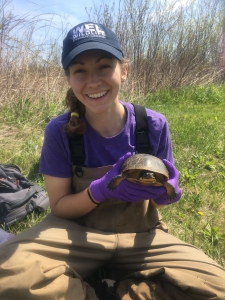 Kirsten Andersson
Hello! My name is Kirsten Andersson, and I am from Pittsburgh, Pennsylvania (Go Steelers!). I recently graduated from Purdue University with a B.S. in Animal Sciences. I have always had an interest in exotic animal species, but that passion only grew stronger with my internships at the Pittsburgh Zoo and PPG Aquarium and at the National Aviary. I am thrilled to have an opportunity to work with Blanding's turtles in the field while developing my clinical and laboratory skills. My project centers on trying to learn more about the diseases that could be contributing to the decline in the Blanding's populations in Illinois.
Week one has been full of incredible learning experiences and some super soggy feet. I promise you, walking in waders in three feet of water is much more difficult than it looks. My favorite thing I learned this week is that the best way to keep a Blanding's from pulling their head back into their shell is by holding their hand! I have also become very used to turtles peeing on me, and I only spent three days in the field. I am proud to say that I only fell one time in my waders, but I am not proud to say that it was on land, not even in the water… In all seriousness, though, I cannot wait to see what this summer brings. All of the biologists who work at the Lake County Forest Preserve are extremely passionate, knowledgeable and caring. Lauren has been an incredible mentor, showing me all the ropes in the field and in the lab.
My number one goal this summer is to learn more about what diseases are affecting the Blanding's population and to see if there is a certain demographic they are impacting. I am also looking forward to applying some of the skills I learned in my elective course this year, Reptile Medicine and Surgery. This is going to be a great summer!
Follow Us Forward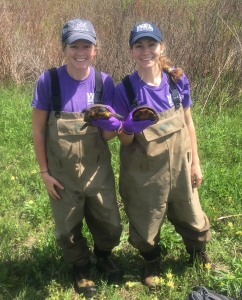 We are excited to share our journey with you as we attempt to perfect the skills of walking in waders, tracking and trapping, and doing all things possible to save a species. Want to contribute to conservation efforts yourself? It's easy. You can do things like keeping your cats indoors, conserve water and reduce and recycle whenever possible, prevent the spread of invasive species, and simply break for turtles when you are driving on the roads! Find out more ways you can help, from LCFPD Blanding's Turtle Recovery Program as well as learn about the Adopt-a-Turtle Program with the following link (shameless plug): https://www.lcfpd.org/conservation/blandings-turtle-recovery-program/

---
---
Our Camera Roll:
---
---
Total Turtle Tally:
33 
An ongoing tally of the total amount of turtles we have sampled