Hi and welcome back to the blog! Last week Kayla and I had great trap success and spend lots of busy days with stacks of Blanding's.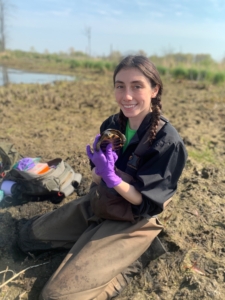 However, we did have one (major) hiccup:
It was a nice Friday afternoon and I was excited to start fieldwork. I pulled my very first trap of the day that contained two Blanding's; one coincidentally named Friday. Today was already off to a great start. After examining my first turtle, I lost my baby probe. I searched the surrounding grass for quite a bit before I called in a backup search party. 20 minutes or so had gone by with no baby probe in sight. We decided to abandon hope and move to our next trapping location. I was absolutely devasted as my baby probe is one of the most useful tools I bring into the field. It makes oral examination effortless, along with its many practical uses. Completely distraught and ill-equipped, we continued to our next traps. As I was pulling up the next trap, I felt something oddly stiff in the sock of my waders. I quickly scurried to the shore to investigate. Long and behold, it was my precious baby probe. It's such a simple and underrated, yet essential tool for my exam. I could not imagine sampling the number of turtles I do in a day without this simple tool that makes it all so easy. Your greatest piece of equipment doesn't have to be something elaborate or fancy; some of the best tools for science, research, and medicine are the most simple and basic things.