Hi everyone and welcome to the 2020 Box Turtle blog (a.k.a. The BEST blog)!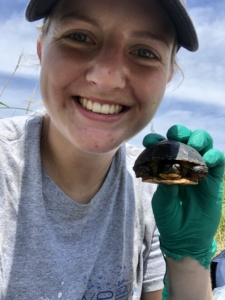 My name is Kelcie Fredrickson and I am a rising second year veterinary student at the University of Illinois. The blog's main focus will be on our health surveillance program which monitors box turtle population health and will feature my student research project through the Wildlife Epidemiology Lab (WEL). This summer I will be sampling multiple species of free-ranging turtles to determine the prevalence of the recently discovered shell fungus, Emydomyces testavorans.
---
Now that the school year has come to an end, the REAL highlight of 2020 begins. FIELD SEASON. We are hard at work preparing for this summer by creating our packing lists, getting our supplies together, doing research for our personal projects, and, like me, taking our WEL teaching turtles outside for some fun in the sun!
---
For now…I better get started on that ever-growing to-do list! Until next time, I hope you enjoy this video of my favorite photos from last year's field season and I can't wait to bring you along on the adventures of Turtle Team!
This video contains many images including the team of turtle dogs that help us search, students using a doppler to get heart rates on Blanding's turtles, and many images from the 2019 Blanding's Bowl.
Coming up next week: the inside scoop of the packing process that starts off every field season.