Hello readers! Thank you for hanging in there and patiently waiting for this LONG overdue post! I am super excited to give you all an update on my first field week back with the pups! Yes, the John and his dogs joined Turtle Team in May but I was still cramming way too much info in my head to join them. 🙁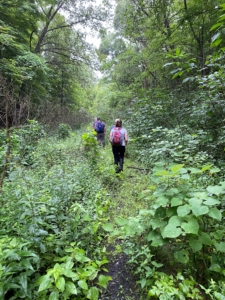 Last week Turtle Team tackled our four Vermilion County locations and boy was it a doozy. Starting off day 1, we visited the Collison turtles. We were joined by a couple new faces! Both rising second year vet students, Kelly and Carly ready to experience all things Turtle Team and boy were they in for a treat. When we showed up to the field site and stepped out of the truck, I KNEW it was going to be one heck of a week. How did I know? As we waited for John to arrive, I did nothing but walk around, swinging my arms, attempting to swat the dozens of mosquitoes hoping to make me a meal. After what felt like FOREVER, John and his doggos finally arrived and the week got underway. We had a lovely hike (minus the bugs), found a few turtles, and enjoyed the outdoors so I'd have to say it was a pretty successful first day!
On day 2 were headed to Kennekuk! Joined by Carly, Allison (another rising second year), and Kennymac, it was looking like a great day. After we truly got into the hike, the mosquitoes were much better! Not only were the mosquitoes better, but we found 18 turtles and a snake! Of course, catching turtles always means a photo shoot is soon to come and there isn't a cuter picture than one of a proud dog with it's turtle!
Day 3 we searched Forest Glen and the swarms of mosquitoes returned (did they ever really go away?). Although we searched the same area, we didn't find many of the turtles that we found in June, but we did stumble upon one of them! It's always a treat recapping turtles, because it gives us a chance to check in and see what they have been up to since we last visited. While many recaps don't change too much, some of them do! Between weight changes, the acquisition of new scars and damage, some turtles have QUITE the story to tell.
Day 4 we returned to the beloved Kickapoo. Although we avoided a few more brambles than normal, the number of mosquitoes we were fighting with made up for it. We were super thankful to be with the dogs again, because it didn't take too long before the dogs found a couple turtles! Yet again, we looked for the turtle we found in June but had no luck. Hopefully that turtle is living his best life eating all of the mushrooms. After we returned to the lab to complete blood work and unpack, the packing process began for Tennessee.
I was super thankful we were able to go back out and hike with the dogs again. I have been missing John's stories and jokes ALL summer, plus, I really needed somebody to help give Dr. Allender a hard time. It tends to get pretty old when you don't have someone to take your side. While the mosquitoes were less than ideal, spending the week with John, his dogs, and the turtles made it all worth it 🙂