Haven't finished all of your holiday shopping yet? There are a ton of fun and thoughtful conservation themed gifts that you can give this season! Here are just a few ideas for gifts that will make your family and friends smile all while helping wildlife and the environment.
Snazzy Socks!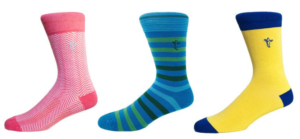 Everybody loves a pair of fun socks. They are a great gift to give to anyone – adults or kids! There are a few conservation inspired companies that sell a variety of socks with different colors and patterns. The company Gorilla Socks was created in order to raise awareness of endangered species including their threats and serious risk of extinction. Every pair of socks purchased helps to support their conservation partners in an effort to save endangered species around the globe. Shongolulu is another great company that also has other products available, including hats and scarves! For every purchase, 10% of the proceeds will go to non-profit organizations that are working to save wildlife, protect endangered species, and preserve critical habitat.
Endangered Species Chocolate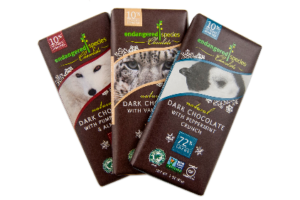 Know a chocoholic? If you do, this would be a great holiday gift to give them! Endangered Species Chocolate donates 10% of their proceeds to their GiveBack conservation partners and they have donated 1.4 million dollars in just the past 3 years alone. They even have holiday themed chocolate bars as well as a variety of truffles and bites.
4Ocean Bracelets
For the aquatic loving friends and family members, consider gifting a 4Ocean bracelet. These bracelets are made from recycled plastic found in oceans as well as from recycled bottles that the company collects. Each bracelet sold funds the removal of a pound of trash from the ocean!
TenTree Clothing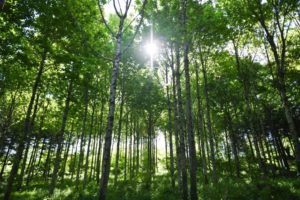 TenTree Clothing has everything from t-shirts, hoodies, and sweatpants to dog leashes, water bottles, towels and wallets. They use sustainable materials for all of their products, and partner with several organizations to plant trees around the world. Every product purchased supports the planting of 10 trees – to date, this company has planted over 34 million trees! You can even register your item to track the planting and location of the trees you have supported. You can order through their website or find their products through distributors such as Amazon or Target.
T-Shirt from the Endangered Species Collection
A company called The Mountain has a special "protect" t-shirt line featuring magnificent photos of endangered species. T-shirt options include the honeybee, elephant, rhinoceros, sea turtle, tiger, and many more. Choose a species you want to support and a portion of the proceeds of that t-shirt will go to organizations that are working tirelessly towards their conservation.
A Donation in Someone's Name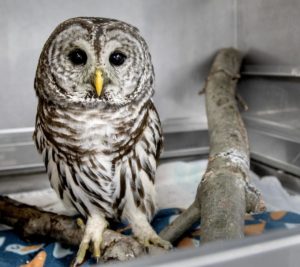 One of the most thoughtful gifts you could give your loved one this year is a donation to one of their favorite wildlife conservation organizations. The Wildlife Medical Clinic has several opportunities for this including a simple monetary donation, gifting clinic supplies from our wish list, adopting an ambassador animal, or even sponsoring a day at the clinic! Gifts such as these are also a great way to reduce the waste of buying and  wrapping a new item and are extremely heartfelt and meaningful. For more information on how you can give to the WMC as a present for someone special this year, visit our
website here – https://vetmed.illinois.edu/wildlife/giving/.