The Wildlife Medical Clinic Ambassador Animals are a special group of individuals that do an amazing job of representing their species and creating opportunities for all of us to learn more! Our nine ambassadors live at the University, educating students on their care and the public on conservation matters that affect their species. The ambassador animals are deserving of love all the time, and we like to lay it on extra thick around Valentine's Day!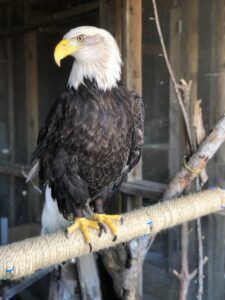 River is your Valentine if…you like uniqueness. River is our bald eagle who was found floating on the Illinois River (what a story!). We are so lucky we get to interact with her daily and watch how her talons and beak work together to tear up fish and other food items. River teaches us patience, as she can sometimes be skittish, but once she warms up to you her personality is quite large. She can often be heard "chattering" and making a "kuk-kuk-kuk" vocalization for our visitors. If this winter season has you dreaming of warmer days and swimsuits, you're in good company with this eagle. River is counting down the days until it is warm enough to splash around in her outdoor pool! 
Odin is your Valentine if… you're passionate about nature! Odin loves to spend his time outdoors enjoying the weather. Through rain or shine he will do his best to stay outside and enjoy everything around him. Odin would be the perfect date for a nature walk or hike in the woods spending time enjoying the great outdoors!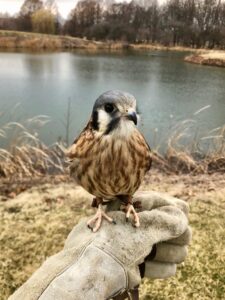 Thistle is your Valentine if … you love someone who likes playing hard to get. Thistle is our resident American kestrel and can be quite stubborn! However, if you win her heart over, she's yours forever! Spending time with Thistle means you have to appreciate a chatterbox, as she's never one to hold back on any thoughts she has to share! Thistle will always be down to get takeout (beware of her hangry side!), is fun loving, and loves to show off her training skills.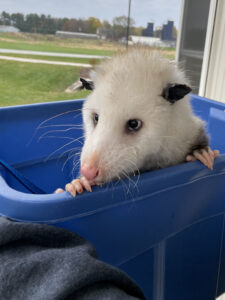 Patty is your Valentine if … you love someone who is all about drive and transformation. Patricia the opossum joined our ambassador program this summer and was significantly overweight. Through strict diet and exercise, Patty has transformed to a species appropriate size, is incredibly curious, and as active as ever! Patty loves taking walks outside, climbing around her multi-tiered home, and smelling all of the things she can find. So, if you love someone who likes to stop and smell the roses Patty is your girl!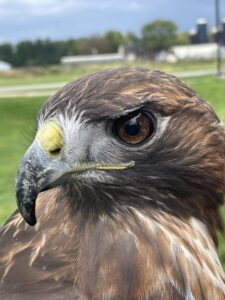 Ruby is your Valentine if… you like to do puzzles, board games, and brain games. Ruby, our female red-tailed hawk, is arguably one of our smartest ambassadors! Ruby shows off her intelligence through the challenging food puzzles we give her; it is fun to watch her brain work to figure them out! She is highly driven to work through challenges and would be the perfect date to a murder mystery party, not stopping until the puzzle is solved.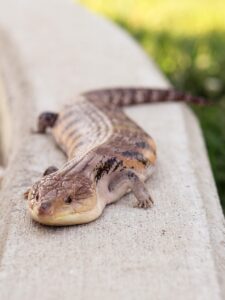 Onslo is your Valentine if… you spend the winter months indoors staying cozy and dreaming of the summer sun. Onslo is a blue tongued skink. Native to Australia, he enjoys warmth and sun a lot. If you need someone to sit by the fire with a book and blanket this February, Onslo is your man. Quiet natured, this low key dude is great for snuggles and simply observing the world around you.  
Hazel is your Valentine if … you're always ready for an adventure! Hazel is our Eastern box turtle who wants to go, go, go! Whether it's climbing or a race, Hazel is the one for you if you want to be active. Hazel has a spunky personality and an independent attitude, so if you want someone who can do it all on their own Hazel is your lady! 
Bucket is your Valentine if … you like someone to hold you tight. Bucket is a ball python who likes to spend her time basking in the heat and taking a daily bath. Bucket has a quirky personality but is overall relaxed and great to hang out with at the end of the day. She would enjoy sitting on your wrist and coming with you wherever you'd like to go. A good Valentine's Day date for this snake is one spent cuddled up on you and staying warm!  
Vara is your Valentine if … you appreciate a quiet night in watching a movie or listening to music. She is our barred owl, known for being a careful listener and incredibly observant. Vara's large eyes are captivating and alert, always watching for important details. And it's true – she does enjoy listening to music! Vara is laid back and would also love private box seats at the theater or an interactive museums so see all that she can and engage with her environment. Vara may feel like she's staring into your soul, but she's just captivated by yours and would like to get to know you better! 
Every day our ambassador animals remind us how unique they are, each sharing their unique personalities along with their typical species traits. Whether it's Hazel's energy to run or Ruby's inquisitive nature, they all bring something different to the table and each is lovable in their own way. I challenge you to find your perfect match from all our ambassadors. If you find your perfect match, adopt them here, give us a shout out on Facebook (@UIWMC), or consider sending them a Valentine this year!
Written by Alex Shaffer (class of 2024)