The Wildlife Medical Clinic would like to welcome our new student manager Bri Huff! Bri is a first-year veterinary student from Ringwood, IL. She completed her undergraduate education here at the University of Illinois, where she obtained her Bachelor of Science in Animal Science in 2021.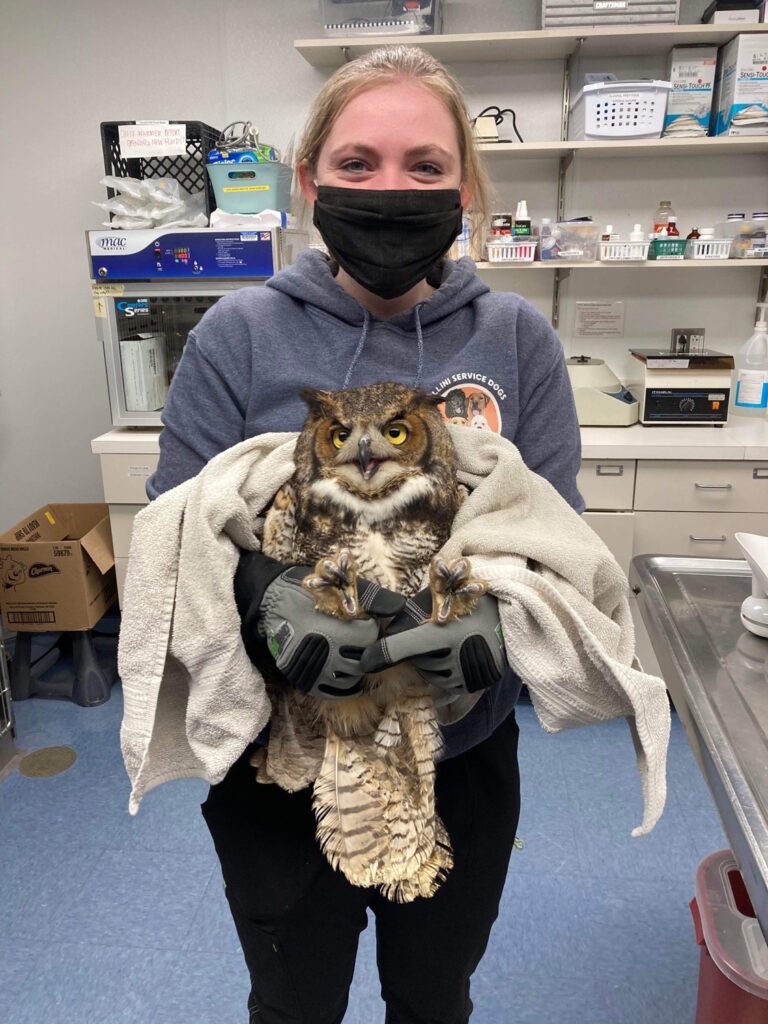 1. Tell us about your veterinary career journey so far?
I discovered my passion for veterinary medicine at a very early age. My love for animals led me to volunteer at a boxer rescue in my hometown during middle school, which opened my eyes to the world of healing animals both physically and emotionally. From there, I took every opportunity I could to expand my knowledge of veterinary medicine and my experience with various animal species. Some of my favorite experiences include volunteering at a local wildlife rehabilitation center in my hometown, training service dogs on campus, and studying abroad in Peru and Guatemala. During my trip to Peru, I had the opportunity to spend a day in a wildlife sanctuary, where I was able to work closely with wildlife such as pumas, sun bears, monkeys, toucans, and tortoises. Outside of working with those animals, my favorite part of the trip was being able to see chinchillas in the wild! Overall, my educational career has presented me with a number of life-changing experiences leading up to veterinary school, which have all strengthened my desire to pursue a career in veterinary medicine.
2. What field of veterinary medicine are you interested in?
I have a very strong interest in wildlife and exotic animal medicine. Through volunteering at wildlife rehabilitation centers, shadowing exotic veterinarians, and owning exotic pets myself, it has become increasingly apparent how much research and advancement is necessary in this area of the veterinary field. I have also come to realize how important it is for wildlife animals to have individuals advocate for them- for their physical health, conservation, and welfare. Wildlife veterinarians are the voice for their patients, and that is all I can hope to be as a veterinarian.
3. What made you want to join the WMC?
One of the reasons that I chose to come to the University of Illinois as an undergraduate student was the opportunity to volunteer with the WMC during my undergraduate years. I learned about the WMC program before applying to the university, and having the opportunity to learn about wildlife medicine, practice handling various wildlife species, and work closely with veterinary students/faculty was beyond exciting to me. I applied to the undergraduate volunteer program during my sophomore year of undergrad, and have been a member of the WMC since 2018!
4. What made you want to become a manager?
The WMC has provided me with knowledge, relationships, and experiences that have undeniably shaped me as both a veterinary student and as an individual. Becoming a manager means that I can give back to the clinic by helping to maintain standards of patient care and assisting other students during their time within the WMC. A large part of my decision to apply for this position was the ability to serve as a resource for students while they further their education in wildlife medicine. My main goal is to help students get the most out of their experience at the WMC, in hopes that their passion for wildlife medicine will continue to blossom and their experiences within the WMC will deepen their love for veterinary medicine as a whole.
5. What is your favorite animal to work with at the WMC?
That's a hard one! I really enjoy working with the raptors that come into the clinic (our owls, hawks, etc.). They can be a bit of a challenge at times, but it is amazing how smart they are. Observing their behaviors with enrichment items is fascinating, and watching them during their release back into the wild is so rewarding!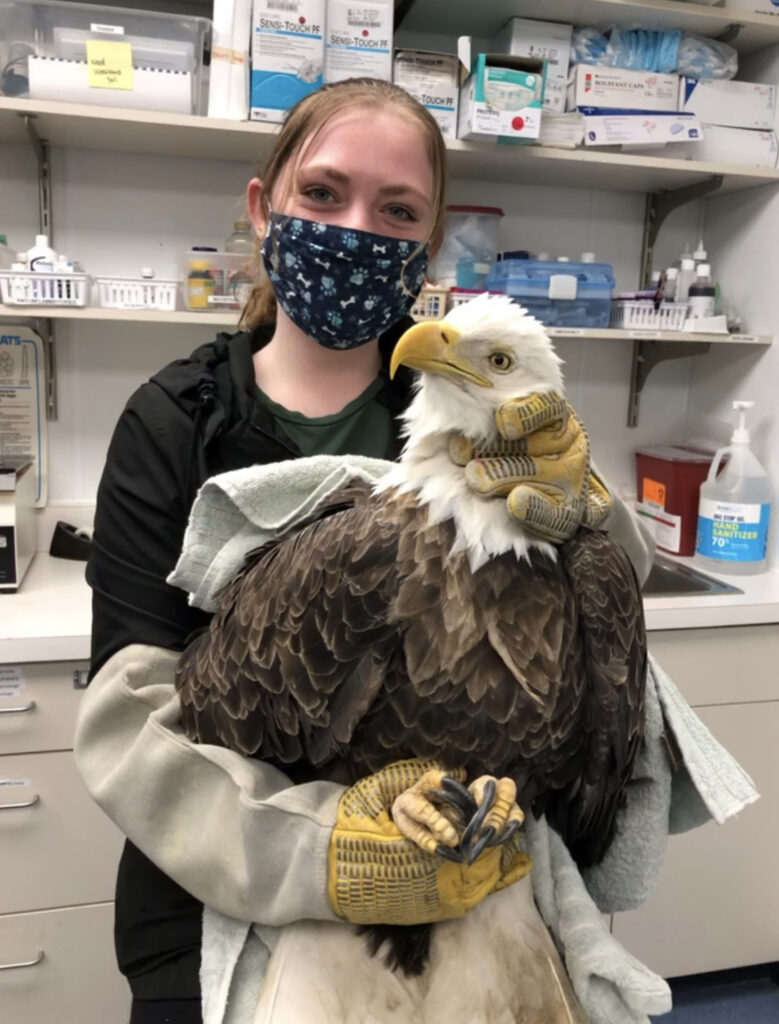 6. What has been a favorite memory/patient in the Wildlife Medical Clinic??
My most recent favorite patient is our American White Pelican! I had never worked closely with a pelican before he arrived at our clinic, so in working with him, I was able to learn so much about pelican species. Learning to handle him was a fun adventure, but my favorite experience with him was tossing fish for him to eat and watching him drink/bathe in his tub of water!