Several weeks ago, we made the difficult decision to humanely euthanize our resident opossum, Patty. This decision came about due to her increasing age and declining health. Patty was a huge part of our ambassador program at the Wildlife Medical Clinic, and she will be missed greatly. She was loved by many and will continue to make an impact through education even though her life has come to an end. She had many personal fans, from students and faculty to members of the public and even social media followers!  
Patty's story began as a joey when she was discovered by a concerned community member. They took her in and raised her as a pet, unaware of the legal requirements surrounding ownership of wildlife.  In 2021, they responsibly handed her over to the wildlife clinic when she needed veterinary attention after realizing their mistake. Upon her arrival, it was discovered that she had a life-threatening reproductive tract infection. Our team was able to perform a complex and dangerous, but life-saving surgery. She was then placed on an intense treatment plan and her recovery was rough, but she was a fighter!  
After her successful surgery and recovery, Patty's next goal was to lose some serious weight since she came in at about double her ideal body weight. She did not enjoy transitioning to a "healthy" diet, but she once again proved that she was a fighter! After months of work, Patty lost an appropriate amount of weight and was much healthier overall. Patty is a great reminder as to why wild animals should be left in the wild! Wild animals require very specialized care, housing, and diets that are challenging to replicate in human care. Despite the well-meaning intentions of the community member, Patty's needs were not fully met and because of this she had many health issues that she had to overcome. Patty also showed no fear of humans and due to her life saving surgery, was not able to reproduce, which made her ineligible for release back into the wild.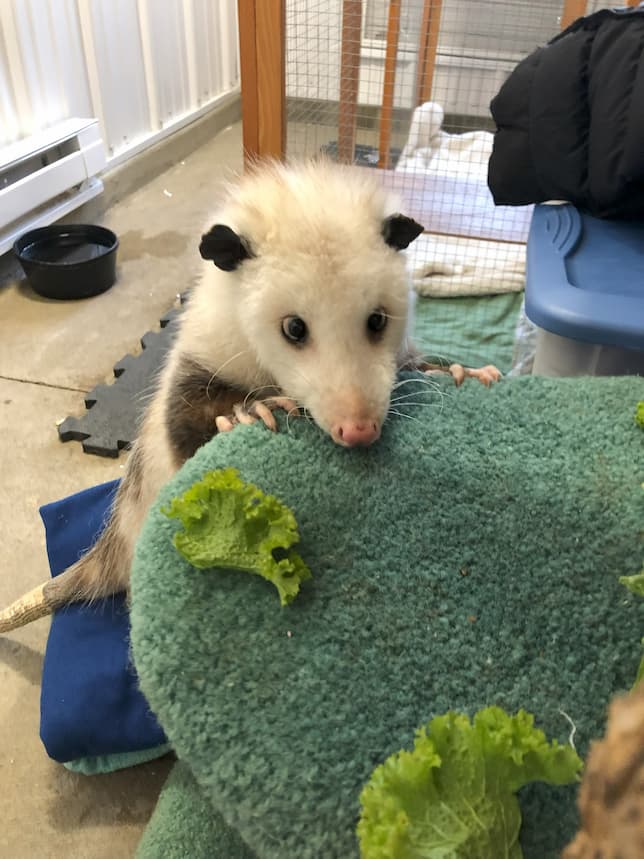 Patty's health and well-being were continually assessed during her time at the Wildlife Medical Clinic. Patty lived to be over 3 years old which is far more than what her life expectancy would have been in the wild. During Patty's time in our care, she had numerous visits to our rehabilitation service for weight loss and strength training. She was evaluated by our neurology service when she was losing mobility in her hind limbs and appropriate adjustments were made to her care. She had an individualized diet, enrichment, and wellness plan created specifically for her. She had an entire team caring for her each day and monitoring her health. Over the last month, Patty's mobility in her back legs declined drastically and she was unable to move around comfortably. It was also determined that Patty had lost a significant amount of her vision. These declines in her health are what led us to the decision of humane euthanasia.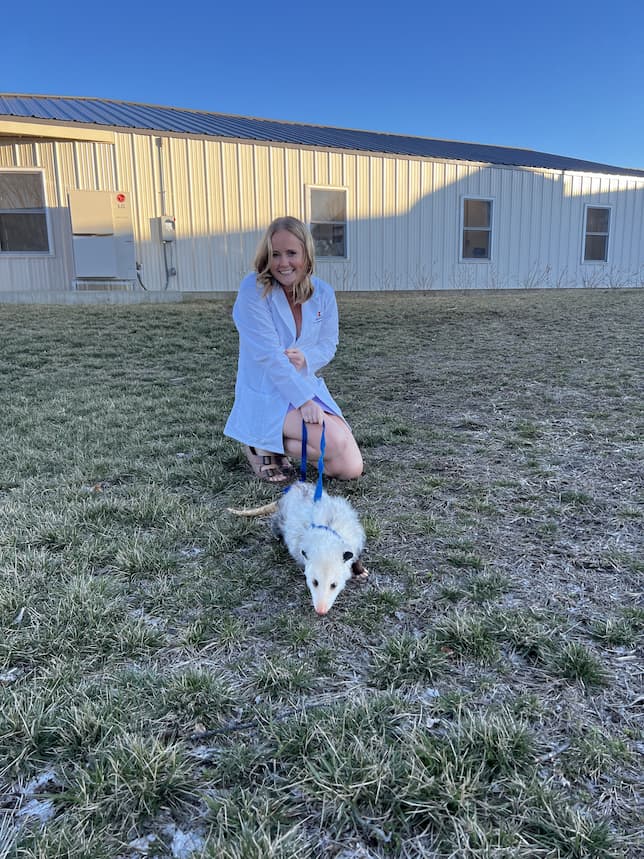 During her time with us, Patty made quite an impact on the students and faculty of the WMC and many other members of our community. Patty attended many community events and presentations as an ambassador of her species. She educated both children and adults on the importance of Virginia opossums in our ecosystem. Patty surprised many with her fearless yet very stubborn personality. She was happy to show off her intense love of kale and could be found munching away during most presentations. She walked nicely on her harness for her daily exercises but made it very clear when she thought it was time to return indoors for her snacks. Patty showed the public how opossums are vitally important to our wildlife ecosystem and are not the aggressive and disease-ridden animals they are often portrayed to be.  
Each member of her care team has gained invaluable knowledge from her life with us, which we will forever be grateful for. She connected with so many people and showed us that opossums can be sweet, playful, and stubborn.  Patty always reminded her caretakers to laugh with her funny and unique personality! She tested the limits with her persistence for treats and was always there to brighten the students' day. Our sweet Patty, we hope you are resting easy now, you will be missed tremendously.